Tuesday 10 September 2013
Tuesday 3 September 2013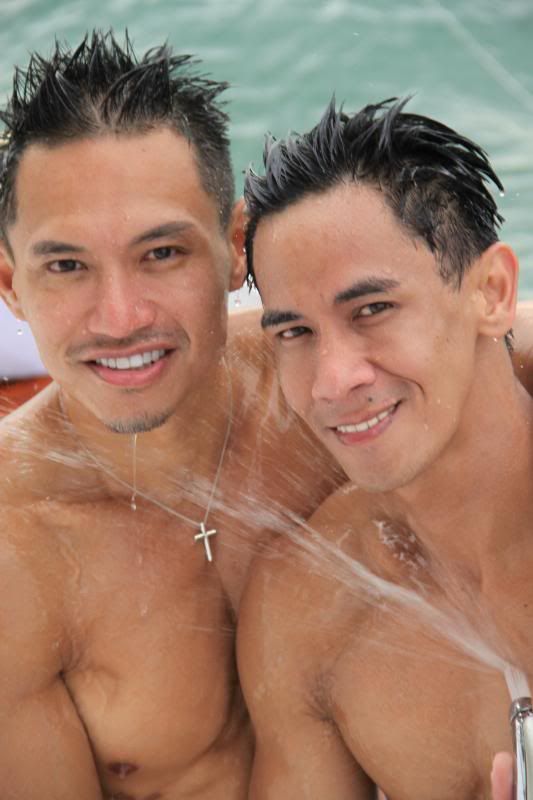 YEAH, SO THAT'S THE KIND OF HOTNESS YOU SEE AT MR GAY HK AND FLOATILLA...
...AND THAT'S HOW MUCH FABRIC I NEED TO COVER MYSELF WITH,
BECAUSE I'M AN UNFORTUNATE VICTIM OF A CONSUMERIST GAY CULTURE THAT SAYS
'NO SIX-PACK, NO RIGHT TO TAKE IT OFF!' *WAGS FINGER*

THE MGHK / FLOATILLA WEEKEND IS 6 WEEKS AWAY.
Helen Barker, Spa Director of Hong Kong's mani-pedi stalwart,
The Feel Good Factor,
is one of my favorite people to hear from. Whenever Helen calls, there's always something fun to do -- dining/spa co-promotion,
couple
's pedi for me and Chris,
sponsored beauty & wellness treatments
for Heihei - the 2010 Mr Gay Hong Kong, fashion show, and most recently, breast reduction for me. Helen is a marketer's dream.
"We told Helen we wanted
material
..." Gili, one of the three ladies attending to me that afternoon, looked at me doubtfully the moment I arrived. I was scheduled to have a trial
Bella Contour
session using a machine that exists only at one other private clinic in Hong Kong.
"I've got
material
," I hurriedly reassured her, "I just hide it well. In fact, I'm very insecure about it. It's there, I promise!"
"OK," Gili squinted at me sideways, still looking doubtful. "Take your shirt off, let's take some photos. Don't worry, we will not include your head."
And so I was made to do quarter turns, like beauty queens had to do back in the day - until Women's Lib called the practice demeaning and akin to a "cattle call," effectively ending the practice publicly. Privately, it still happened. Clearly, I was being sized up, and wasn't convincing enough as a prized heifer.
"We have had some guys here who had real material," Gili continued as she punched my details into the machine. Another lady was taking measurements where I hadn't even thought to measure before. This must be why it's called "body contouring" - there's a lot more refinement to it, as opposed to just "fat loss."
"Well, I used to weigh 200 pounds," I said proudly. "I got super fit when I was doing five shows a day at Disney, but when I stopped..." I frowned, "...it seems like the fat returned - more stubborn than before!"
"We'll see what we can do about that," Gili said. "Luckily, yours doesn't look like gynecomastia. It's just loose skin with
maybe
a layer of fat."
"It's
there
," I insisted.
A cold gel akin to what's rubbed on women's pregnant bellies prior to an ultrasound was rubbed all over my underboob before gentle electric pulses were applied. Meanwhile, Gili and I gabbed about our respective partners (her hubby is hot as sin - as is Gili), their honeymoon vacay in the Philippines, their kids, Israelis in Hollywood... and then I must have dozed off because the next thing I knew, the treatment was over and I had to wipe the gooey lubricant-like substance off my chest.
"2 centimeters," Gili pronounced proudly after having taken my post-treatment measurements. It was immediately encoded into the machine. "That's how much you've lost from your chest. Now, imagine how much you'd lose with 9-10 treatments!"
"See," I said smugly, "told you I had enough
material
."
Bella Contour is FDA-approved, which is awesome. It means it's completely safe. It's quick, painless, non-invasive and, as I found out,
instant
.
THE FEEL GOOD FACTOR
2nd Floor, Winsome House
73 Wyndham Street
Hong Kong.
T: +852 2530 0610
The H Factor:
FGF has got awesome WiFi coverage