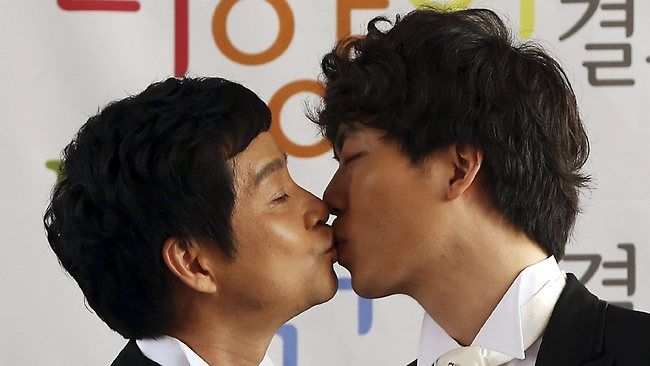 PHOTO FROM ASSOCIATED PRESS
Yesterday I was riveted to a photo of two, mature Asian men kissing whilst thumbing through the main broadsheet of the South China Morning Post. It was of South Korean filmmaker Kim Jho Gwang-soo and his partner of nine years, announcing plans to marry. It's a bid to pry the closet open in this super conservative country where homosexuality is still taboo and hate crimes against gays are commonplace. (I was stunned to hear some of the awful stories my brother-in-law, Ronnie, shared from his days in the military.)
I was captivated by the pic because older Asian gay couples have grown so used to discrimination, any display of public affection would be considered dangerous - even irresponsible. The only other Korean celebrity to have come out was actor Hong Seok-Cheon, way back in 2000 - 13 long years ago! He now says he regrets his decision because work promptly dried up. But, hello - he has since turned his fate around by founding a
restaurant empire
! I got to try two of his places out - fab, as you would expect from an A-List gay entrepreneur-slash-taste maker.
So anyway, the LGBT movement in Korea seems to be at a turning point. The
Korea Queer Festival
, which takes place over a 16-day (!!) period, is ongoing and includes performances, parties and a parade. One of the parties takes place at
Condom Cafe
(!!!). For that alone, I want to go back to Seoul NOW.
It'd be nice to have a Mr Gay Korea competition be part of the KQF, too. But I don't really have the bandwidth for that. Duh - as if it's not hard enough to mount a
Mr Gay HK
competition yearly! I must content myself with visiting my nephew, Robin, for now, in the hopes that Korean LGBTs emulate Kim Jho Gwang-soo
en masse
soon. Only after Korean LGBTs realize that coming out
can
be a cool thing could a Mr Gay competition finally fly.
Brava to Kim Jho Gwang-soo and his gentleman-love. Hopefully this grand gesture leads to an easing up of homophobic views not just in Korea, but throughout the rest of the world. I think it was John Lennon who once questioned why we conduct violent warfare openly but we make love in secret - how the hell does that make sense?? Or something to that effect.
More PDA, please!