Hello, Friends!
Contrary to popular belief, not all gay boys instantly achieve orgasm at the mere mention of "product."
I don't use any beauty product beyond my trusty tube of
Kiehl's Lip Balm #1
. Blame Drs.
Sylvia Jacinto
and Jasmine Jamora - the mother-daughter tandem who cleared my skin of horrid acne in record time - for my lack of contribution to the global cosmetics industry.
But self consciousness creeps in as the big 3-0 approaches and visits to my favourite dermatologists grow further between. I've grown paranoid. How can I not, when
Aaron Kwok
- who must be 100 years old - reminds me daily of my own imperfection as he stares at me benignly from men's beauty billboards?
The thought of marching into a beauty shop scares me. I don't want to try products as over-eager attendants shove this or that under my nose, trying to get me to buy, buy, buy. I like trying products from the comfort of home where, if I get an allergic reaction, I can quickly scrub everything off.
Luckily, it seems as though the universe heard and felt my ever-increasing panic. Yesterday, a big bag of
Nuxe
goodies was delivered to
FINDS
, tagged: "Attention:
James Gannaban
." I almost wept with joy as I went through bottles and vials and tubes of natural, luxurious products that soothe, nourish and repair sensitive skin.
Now, if I can only figure out which one to try first...
With Affection,
James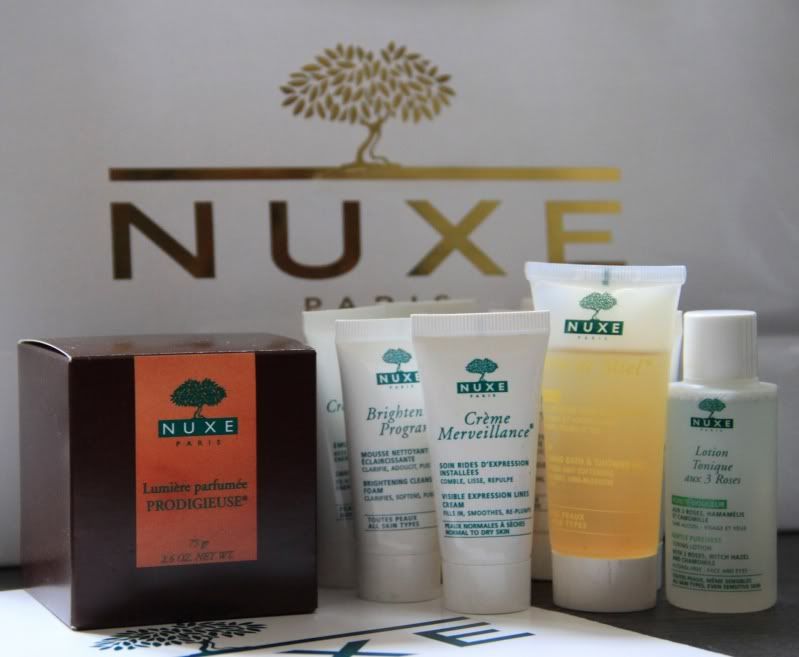 Big thanks to the dashing Charles Wong, Nuxe's POS Events Manager - Asia/Pac and to the lovely folks at Nuxe for the early Christmas goodies!