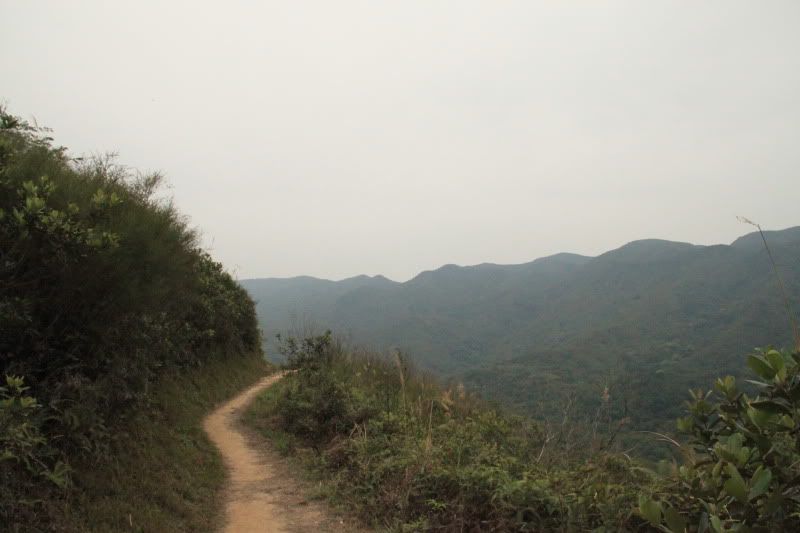 THE LONG AND WINDING ROAD
TO SAM A TSUEN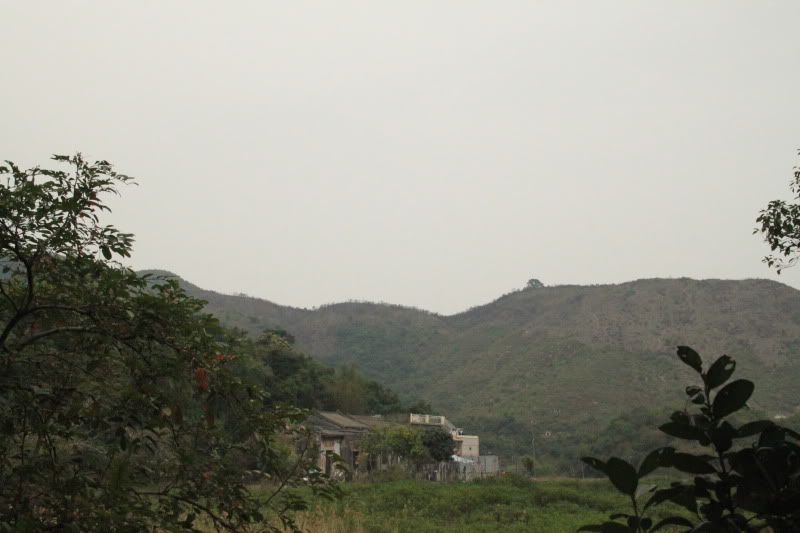 THE HUMBLE TEA HOUSE AT THE FOOT OF THE MOUNTAINS -
FOOK LEE.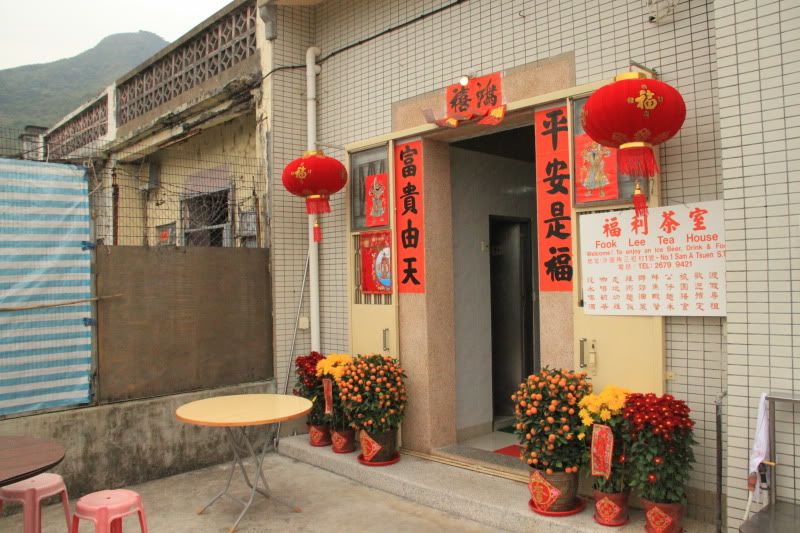 REMOTENESS AND ISOLATION
CAN'T QUELL THE HUMAN WILL TO CELEBRATE.
IT'S A NEW YEAR HERE, TOO.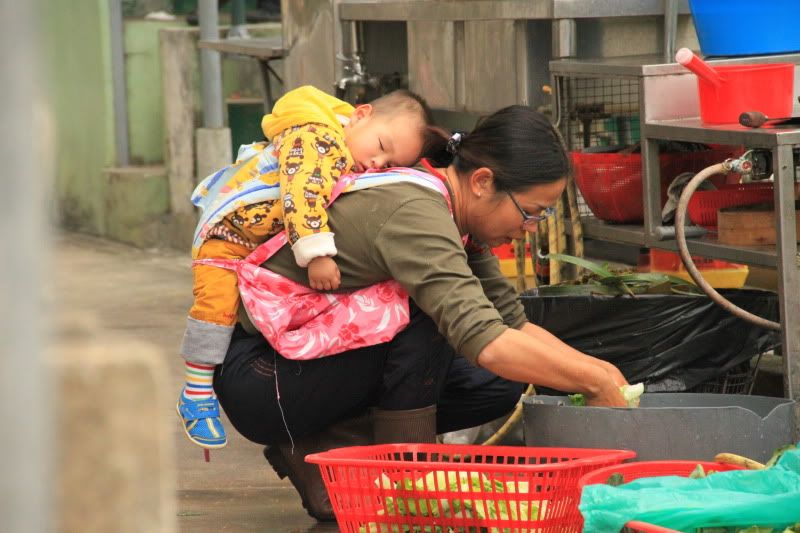 MAMA WASHES VEGETABLES WHILST BABY TAKES A NAP.
I HAVE NO EXPLANATION FOR THIS.
MAYBE CLAMS JUST LIKE TO 'EAT' GREEN CAPSICUMS.
CATCH OF THE DAY -
THE LITTLE BOY'S!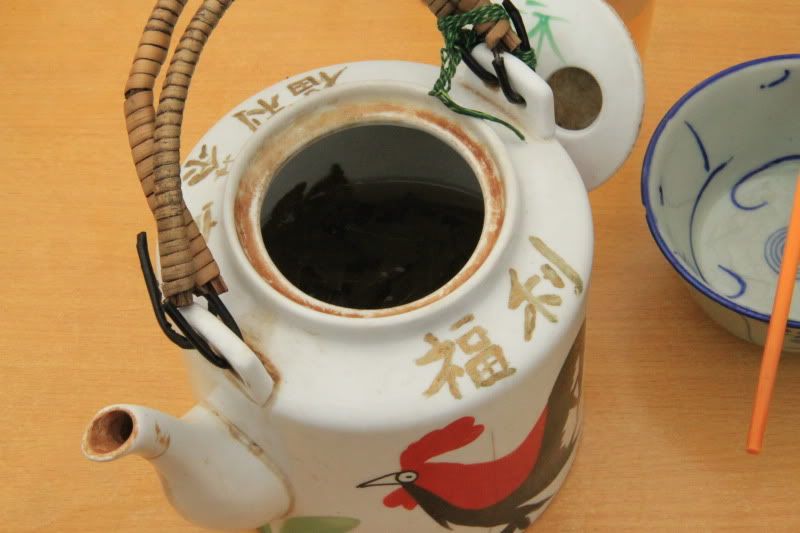 WHOLE LEAVES STEEP IN A BIG TEA POT.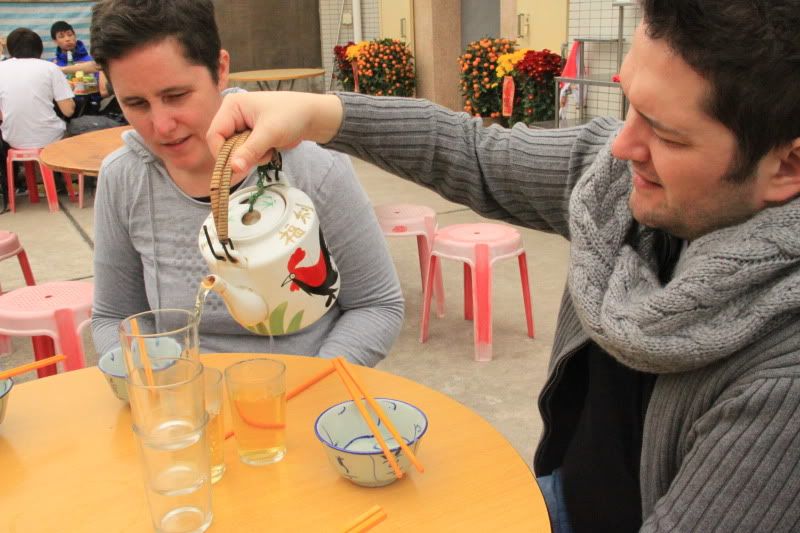 RODDY DOES THE HONOURS.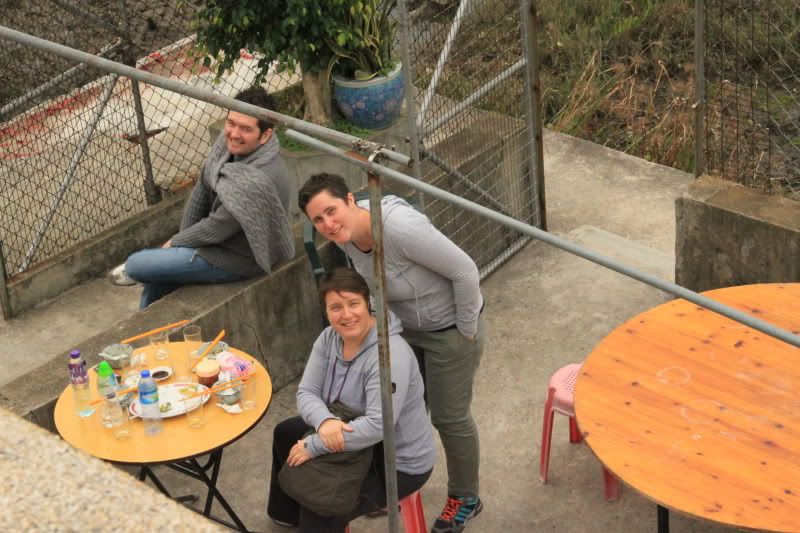 HAPPY VIEW FROM THE TEA HOUSE'S ROOF TOP.
I am a competitive bitch. The minute we arrived at the fork in the road towards Sam A Tsuen, I jumped on the uphill trail and never looked back.
"That's a torrid pace you're setting," wheezed a British retiree as I sped past him.
"It's the coffee," I yelled over my shoulder, skipping over huge rocks in what seemed to me like breakneck speed. I passed 20 of these retirees on the trail. I felt great about myself for a moment - until I realized that their average age is probably 80 years old, they're still trail walking, huge, blue, varicose veins notwithstanding, and I probably wouldn't even get to see the light of day for as long as they have. Which just made me even madder, so I ran faster.
I couldn't get to Fook Lee Tea House fast enough; that little bit of food I had at McDonald's in Tai Po barely tickled my esophagus. Dammit, I was hungry.
When, just beyond some trees I saw an old house, I immediately knew I was mere minutes away from a proper meal. My body was screaming for carbs.
I got to the tea house at the foot of the mountain at around 12.25pm. I collapsed on a plastic chair, ordered an ice cold beer, closed my eyes in sheer exhaustion (dizzy bitch - serves me right) and tried to regulate my breathing. Memories of childhood asthma came flooding back in, voices from a distant past, laughter, juicy, gay conversation...
My eyes snapped open.
Chris, Caro, Lore and Roddy have arrived.
It was 12.50pm.
Fook Lee Teahouse
Sam A Tsuen, Sha Tau Kok
T: +852 9789 8295