Hello, Friends
I fell in love with him first.
And, with the headstrong incredulity of the young, I was angry that I couldn't seem to make him fall in love with me.
We're a whole generation apart. He's Caucasian. I'm Asian. If my sole mission in life were to be a
tai tai
and his were to perpetually chase twinks, we would have ticked off all the boxes in the East-West gay couple stereotype. Except I think the roles are actually reversed: He might secretly want nothing more than to be a
tai tai
; I might end up being the perpetual twink chaser. Even now, I feel like a dirty old man.
Between the two of us, I suppose he felt like he had to be more responsible about how a possible relationship with me might be perceived - how it might negatively affect us both in the future. Besides that, there are the
real
effects - the ones that happen to us because of
us
, and not because of what other people say or do. But that's a chance every couple needs to take, anyway. Who's to say what's gonna happen 5, 10, 25 years from the first, perfunctory hello-fuck?
"Why deny yourself of the pleasure of being with me now just because you don't know where you're gonna be two years later?"
Life is full of uncertaintainties. Kill me now, because I hate platitudes. I laugh so hard when other people mouth off platitudes, boogers start shooting like cannon balls out of my nose. But in moments of reflection, I do find myself falling into cliches. So to break the pattern - just to see what might happen - I do things to kick sand in uncertainty's face. I do something unpredictable, myself. I try hard; I always do.
"I love you," I said.
He gently caressed my hand, then, he took a deep breath.
"Thank you," he whispered.
I was shocked -
stunned
- that I didn't know whether to laugh, cry, or exit in a huff.
So I did none of those to serve myself some uncertainty, too.
I waited.
And waited.
And waited some more.
Chris just turned 49.
From the moment I first verbally expressed my love for him, I've learned to say "I love you" without any hint of pressure for him to verbally reciprocate.
Yet, it's been four years since he first told me - and threw more uncertainty both our ways - that he loves me, too.
Tonight, I fly to Hanoi to be with the man I love.
With Affection,
James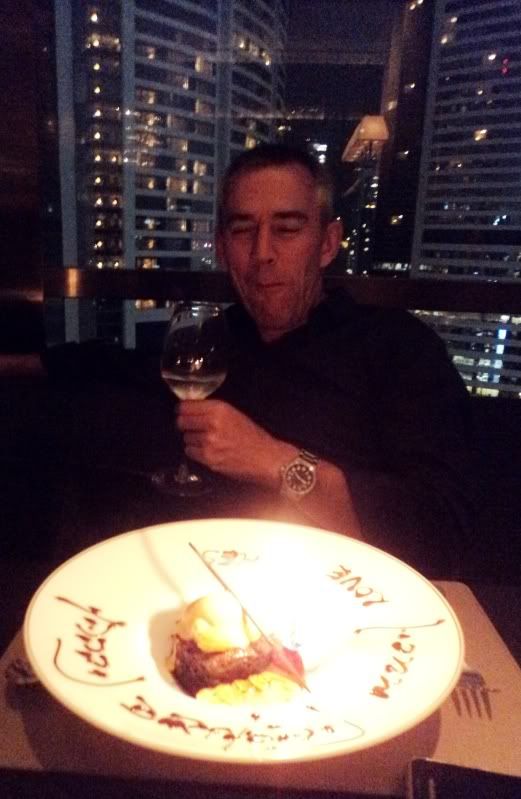 Surprise birthday dessert from the staff of Cafe Gray in The Upper House. Written in chocolate around the plate are the words: Happy Birthday, Chris. Love, James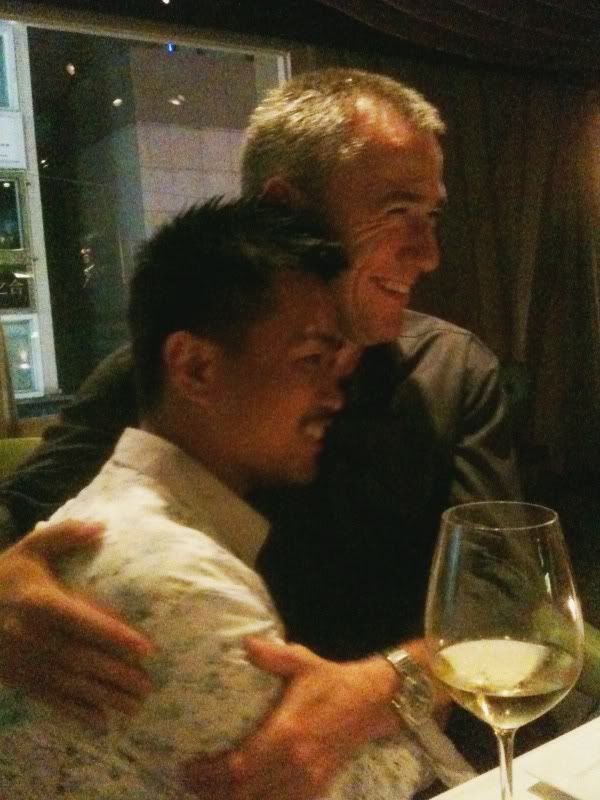 Birthday dinner at FINDS with "family" - 14 close friendswho celebrated the final year before Cris' big five-oh
Too much champagne in the fridge - presents - with nobody to share it with... Chris flew to Hanoi the next day. I promptly finished two bottles by myself.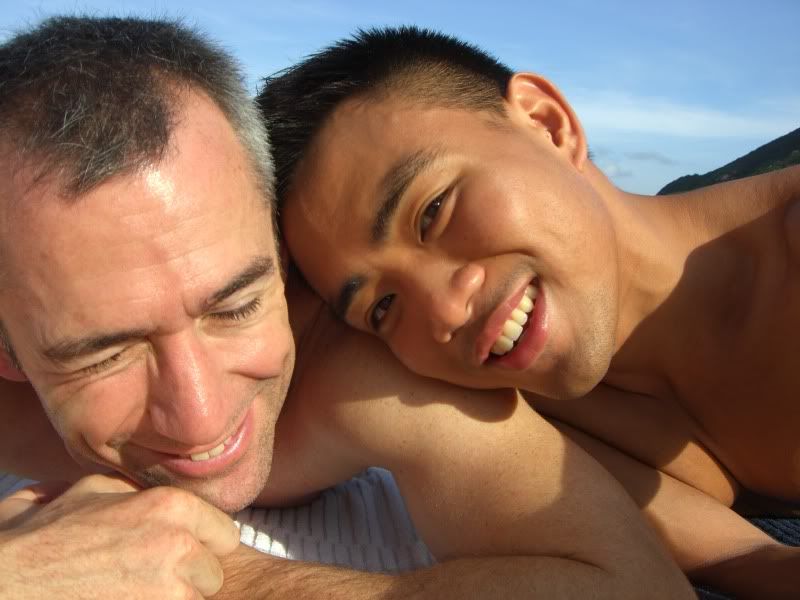 Chris & James circa June 2007