Hello, Friends!
It's nice to have famous friends. I get to attend the most kickass events in the city.
It's the 20th year of Heep Hong Society's Great Chefs. Heep Hong is a charity that assists families whose children may have autism, Asperger Syndrome, ADHD, or other learning difficulties and special needs.
Charity fundraising is a bona fide sport in Hong Kong, and there's no better way to get the numbers in than to attract hungry hordes with snobbish grub from the city's top chefs. This year, my good friend and
FINDS
' resident celebrity chef
Jaakko Sorsa
was one of the featured participants. Jaakko served up salmon, of course. The Ritz-Carlton was represented, Marriott, Hullett House, Hyatt of course, and all of the city's top hospitality brands.
My date was my boss, Anna, who looked hot in a black bandage dress. If Jaakko was busy smoking salmon, Anna was just smokin', full stop.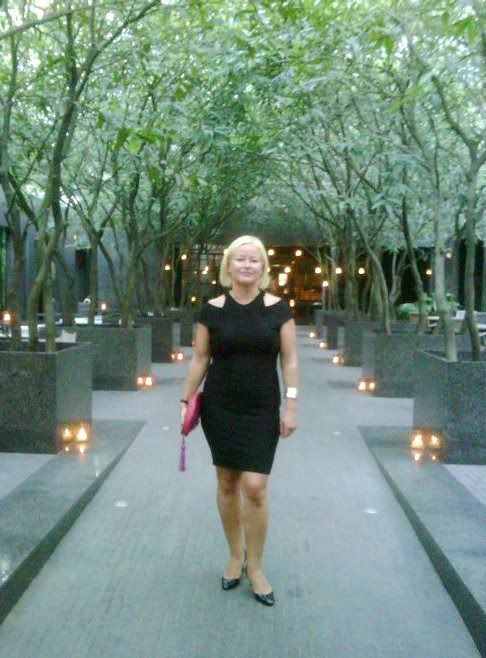 Anna Adasiewicz in a figure accentuating black bandage dress with shoulder cut-outs
and a fuchsia clutch from Shanghai Tang
I had the hottest date of the night, in the city's hottest event. Case closed.
Anna and I started with cocktails at the Champagne Bar, which was civilized. The bar nibbles were served on matte silver bowls, natch, which I swear made the nuts taste infinitely better. There's something musty about most hotel lounges, but everything about the Champagne Bar is simply done with supreme confidence, you can't help but be appreciative. I mean, seriously, it was such a throwback. The bartender was dressed better than I am.
Anna and I attacked the ballroom next, but not before autographing the branded wall and posing for the paps. Seriously? This was so hi-so, It's almost hilar.
"Look, ma! I'm representing Tuguegarao!"
Anna Adasiewicz and Asia's Most Hyperactive Gay Boy™ pose for the paps
The entire ballroom was packed with so much award-winning cuisine, it was almost obscene. I must have had three pieces of foie gras, OK, four. Fresh oysters! Spicy air-dried beef, cut into paper-thin slices! Cheeses for days! Steak, steak, steak! And champagne. All for a good cause. Tickets were not cheap and had sold out early. Thank goodness, I have nice friends who take me to nice places.
The next nice place Anna and I wandered off to was The Waterfall Bar on the 11th floor, where we sipped more cocktails by the pool. We started with margaritas, then graduated to fiercer signature martinis.
Then it was off to Tiffin, finally, to visit Jaakko's booth. Tiffin was the super-premium section for top-tier ticket holders. The food was even more mind boggling. The macarons from Hullett House, the wines from Abrate & Sons, the chocolate by Francesca, pata negra, fresh mackerel on cold noodles, cheese, cheese, cheese! And salmon by my favourite celebrity chef, of course, who was assisted by... holy shiznit! It's
Valerie Soh
!
Valerie is HK's top fashion blogger, who also happens to be the Empress of
Elysiants
. And here, Val was about to serve me some salmon. I flipped, totally tripped out, and collapsed into a gushing fanboy moment. When I grow up, I wanna be like Val. Can you blame me?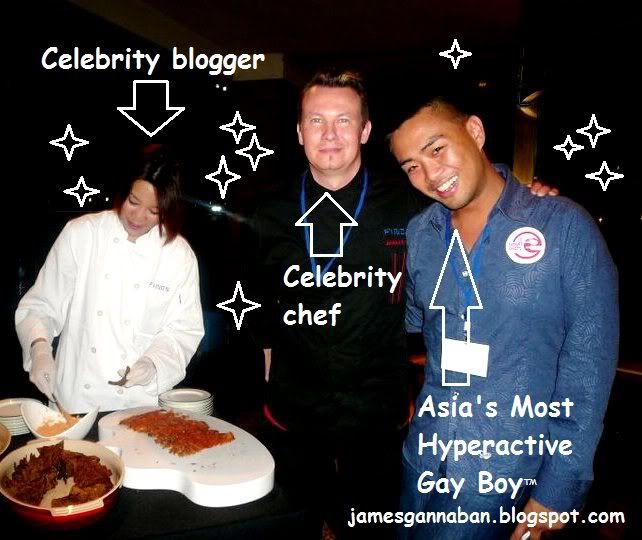 Anna, at this moment, probably realized that she was babysitting me more than going out on a date with me. So we said our goodbyes 'coz the lady had to catch a ferry. I stayed behind to visit my dear friend Mandy Ngai who runs Grand Hyatt's iconic Jap resto, Kaetsu. There was a bottle of plum sake resting in a bamboo pail - so how can I say no? It's simply impolite. We had two shots - one for goodwill and one for luck - with Hyatt regulars, the congenial tandem of Mrs. Sung and her daughter, Charmaine.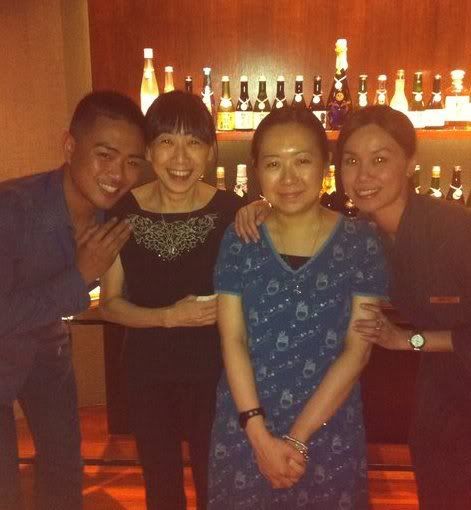 Afterwards, I returned to Tiffin to see that most of the booths were already being tidied up. Valerie was still there, although she had changed out of her chef's whites and into her fashionista rags. Val and I prowled Tiffin together to hunt down a cute, newbie chef from The Ritz who "forgot" to tell us his name. We didn't find him. Boo.
So we queued up for cabs in the hotel's stately driveway, and, whilst lustily singing happy songs, we said our goodbyes.
With Affection,
James