Hello, Friends!
I'm always delirious and (nearly) delusional, anyway. But that particular morning, I was simply delirious with fever.
"Am I gonna die?" I croaked as I shivered like a wet robin on the couch.
"No, you're not,"
Chris
replied, flipping the newspaper to the next page.
I was cross. I started feeling worse. I wanted cuddles and pillows and a blanket, not practical words.
But how could I possibly extend the dramatization of my own death on the couch when we were scheduled to launch
Pink Dot Hong Kong
that same evening? So I blasted my body with cough syrup and pills - 5 kinds of pharmaceutical drugs, all in all - before I started feeling as high as the helium-filled pink balloons I was walking up Lan Kwai Fong with.
Pink Dot
is a movement that supports the freedom to love through a pink visibility campaign. It started in Singapore and is now gaining worldwide traction.
The night started with an interview on HK's "Pink Season," with
DNA Magazine
's correspondent, Tim Cribb, in
Psychic Jack
. What ensued afterwards was a flurry of pink clouds and pink martinis and pink bubblegum... even pink salami! I was practically floating - from the meds, from plain happiness, from the helium balloons.
Each guest was asked to personalize a pink balloon, which symbolizes their commitment to the Pink Dot campaign.
I gathered all the balloons towards the end of the night and headed towards the iconic
Hong Kong Fringe Club
.
With my good friend, AD, holding the camera, I gently released the balloons as though to storm the heavens with whispered prayers for the freedom to love. Our Pink Dots lazily caressed the side of skyscrapers, going further and further up until I could see them no more.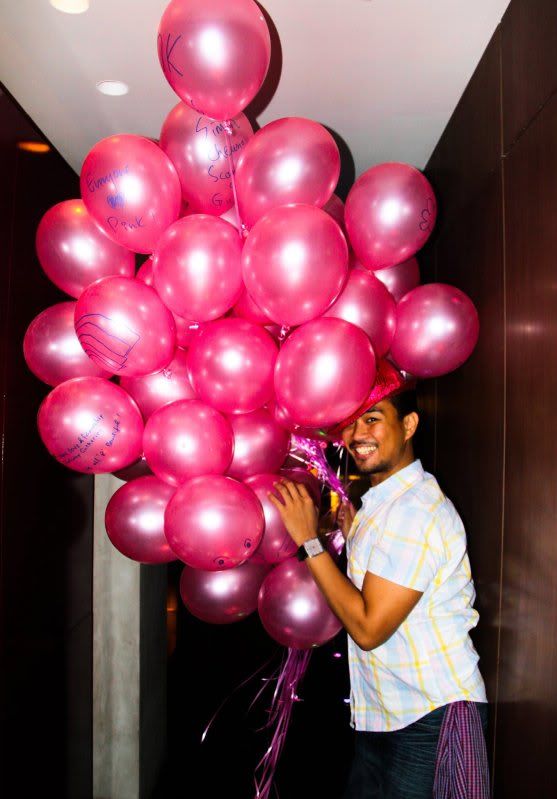 Pink Dot comes to Hong Kong!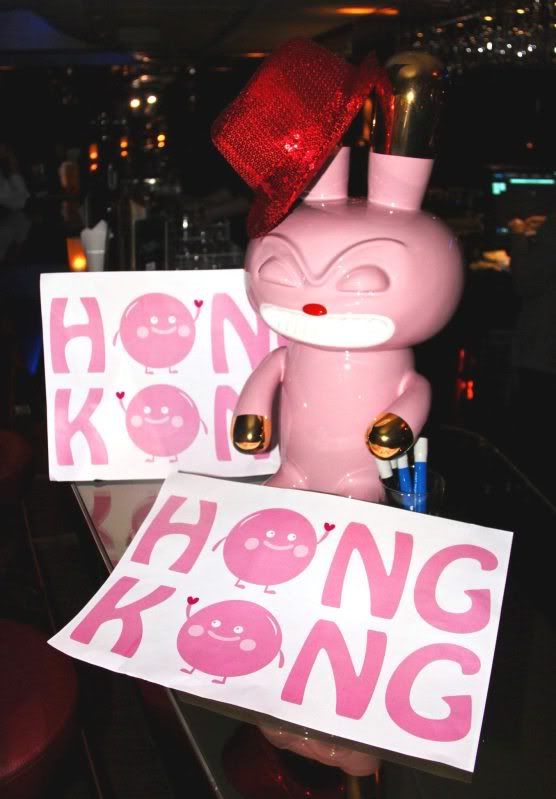 Even Bunny is Pink...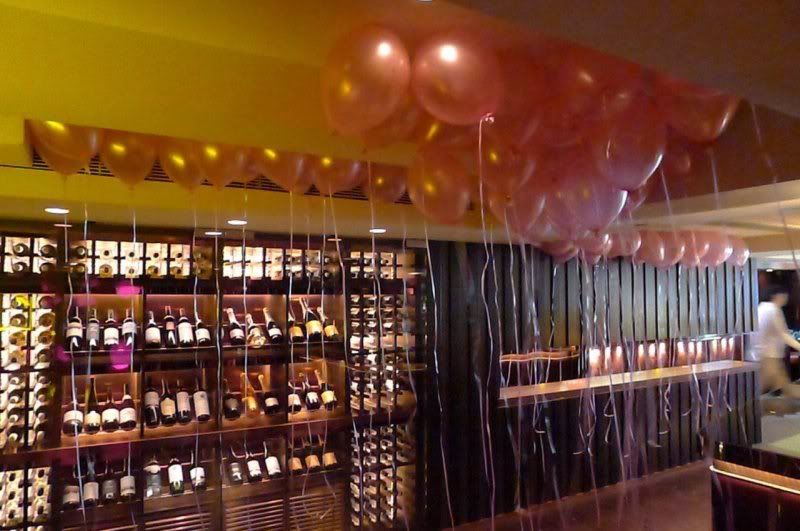 ...coz tonight, we're all pink!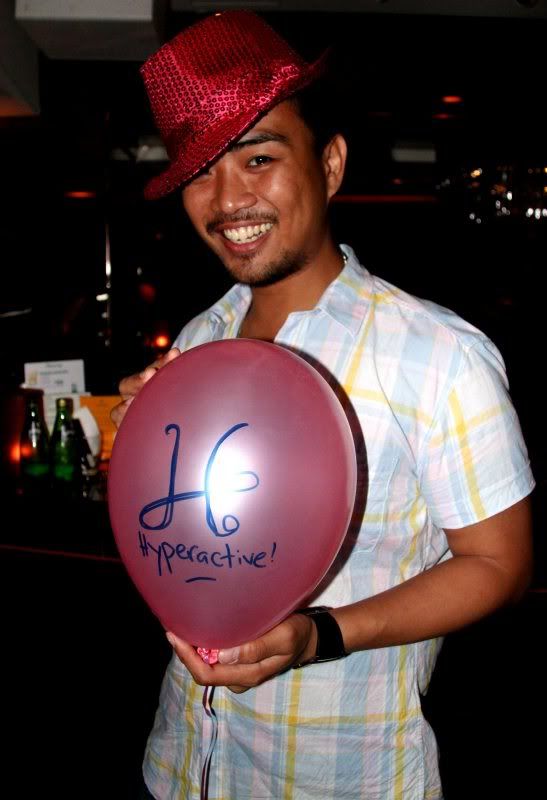 Hyperactive
is Pink!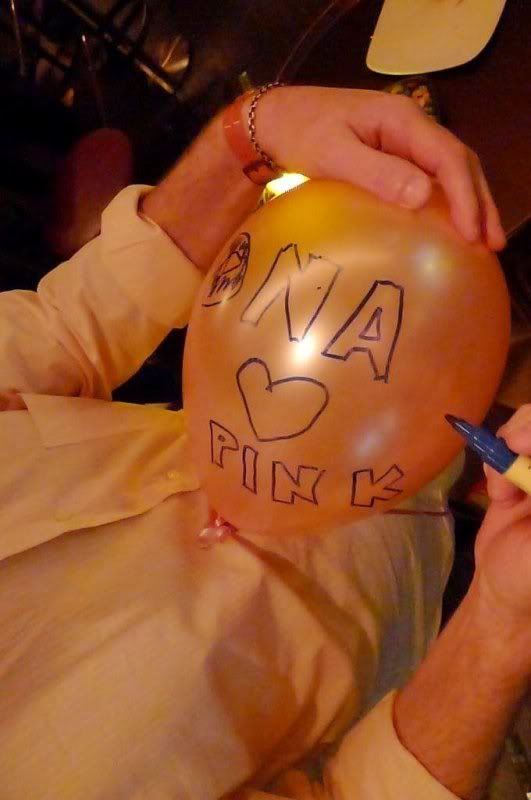 Tim Cribb's Pink Dot. DNA was here!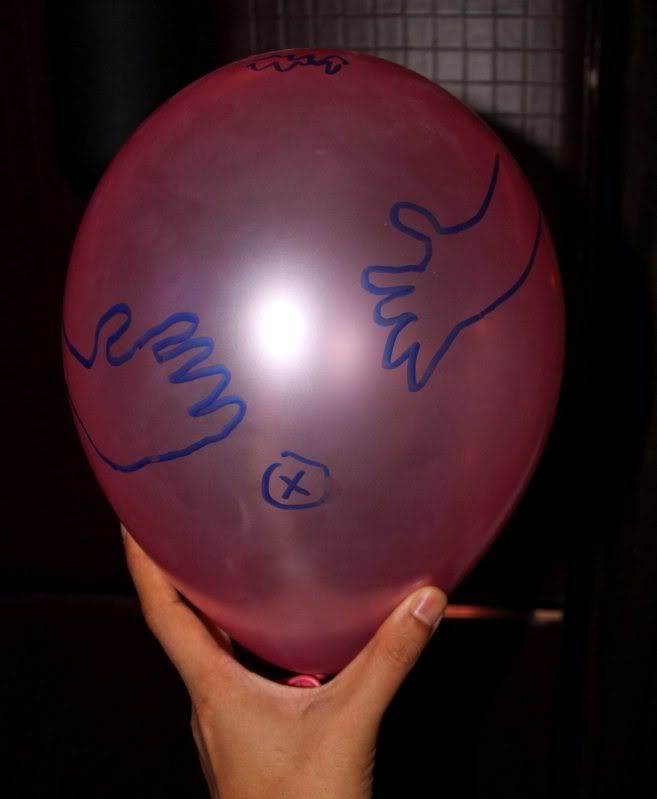 Give me your hand.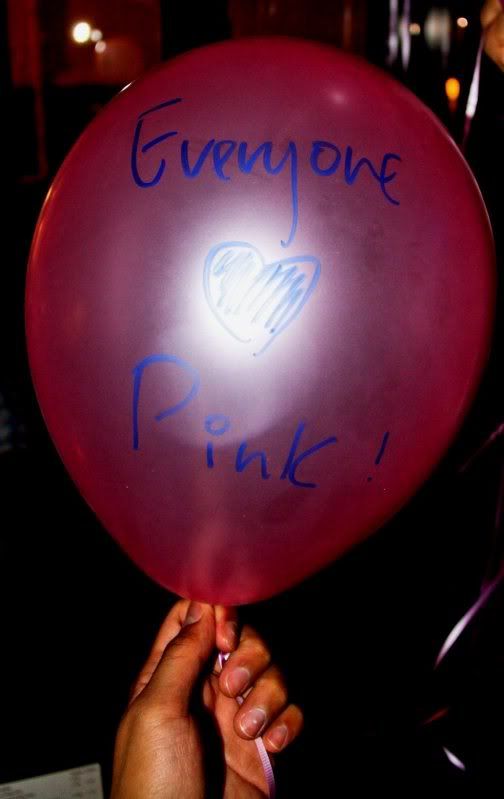 Love is for everyone!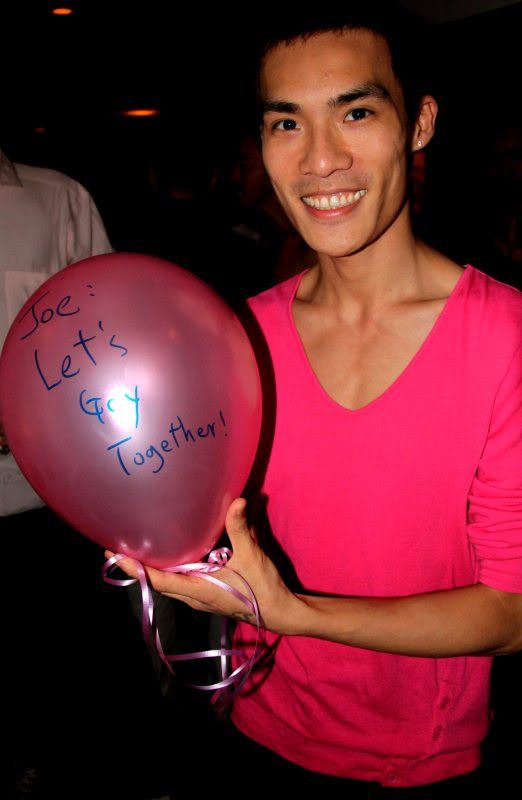 Mr Gay HK's PR Manager, Joe Leung, says: "Let's Gay Together!"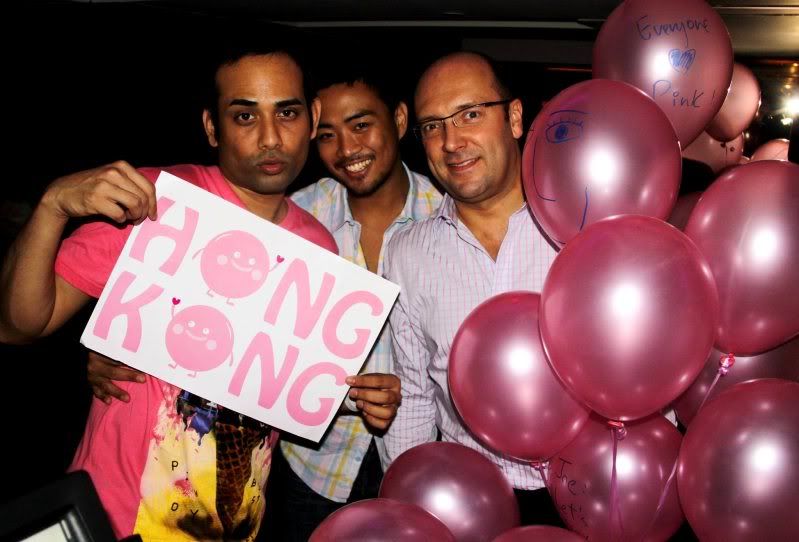 With my beloved friends, AD & Peter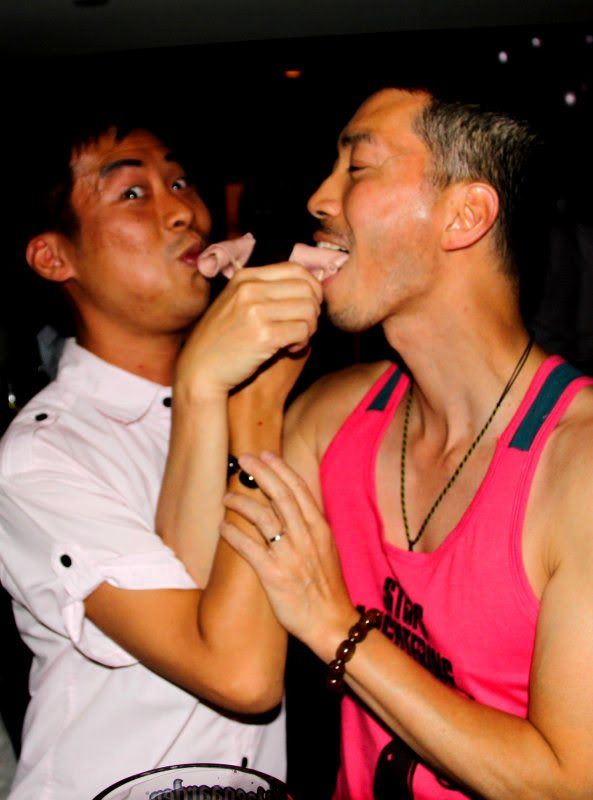 Husbands Henry & Guy feed each other pink canapes.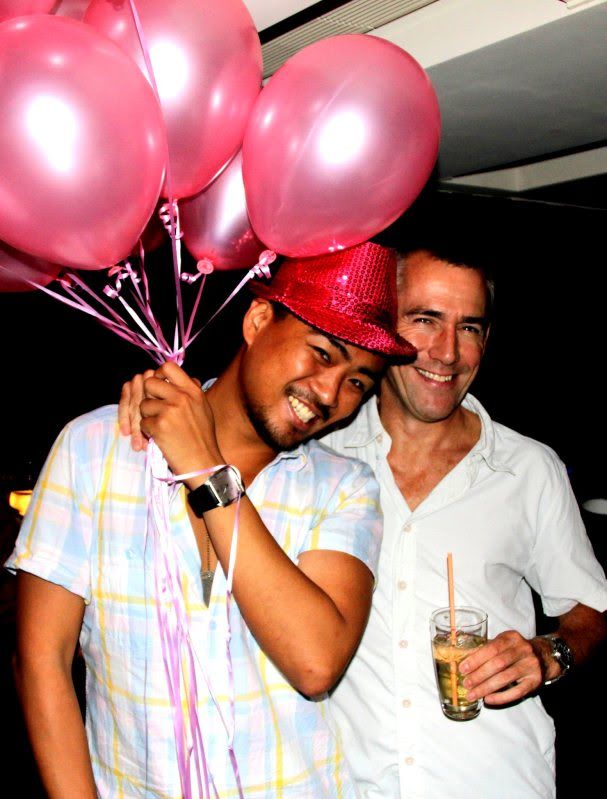 OK, Chris and I are sweet, too!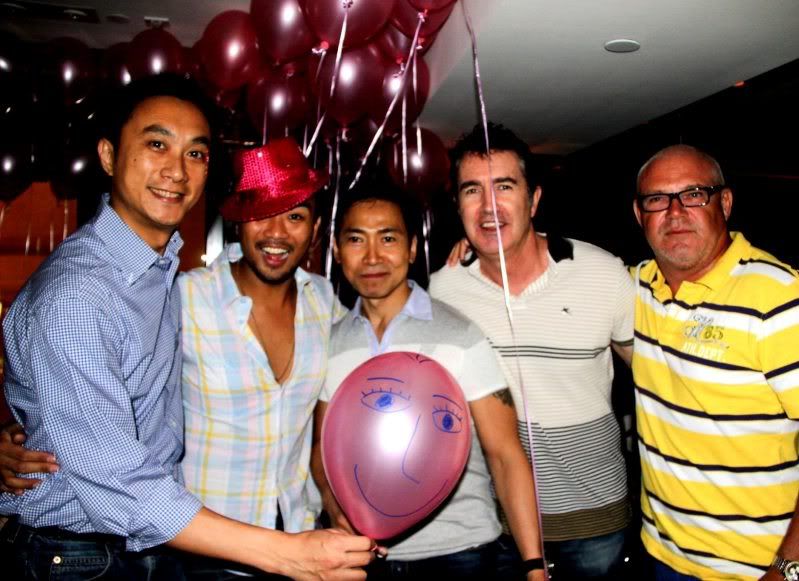 From Left: Psychic Jack's Stephen,
Hyperactive
, Bono & Jeff (a couple from London who have just relocated to HK) and Holger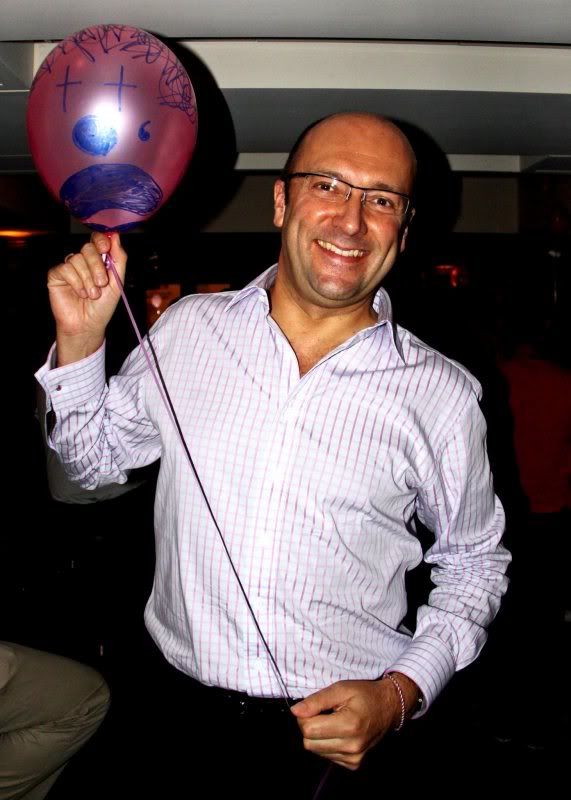 Peter and his melancholic clown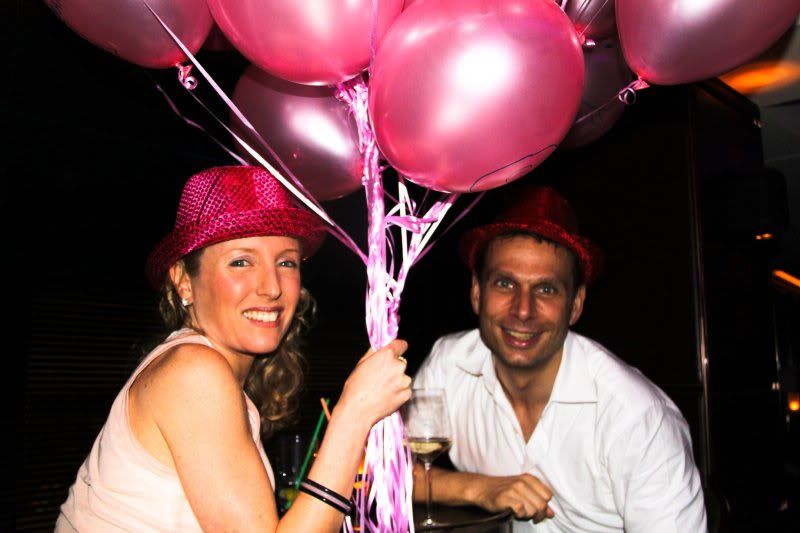 Hets are happy to be Pink, too!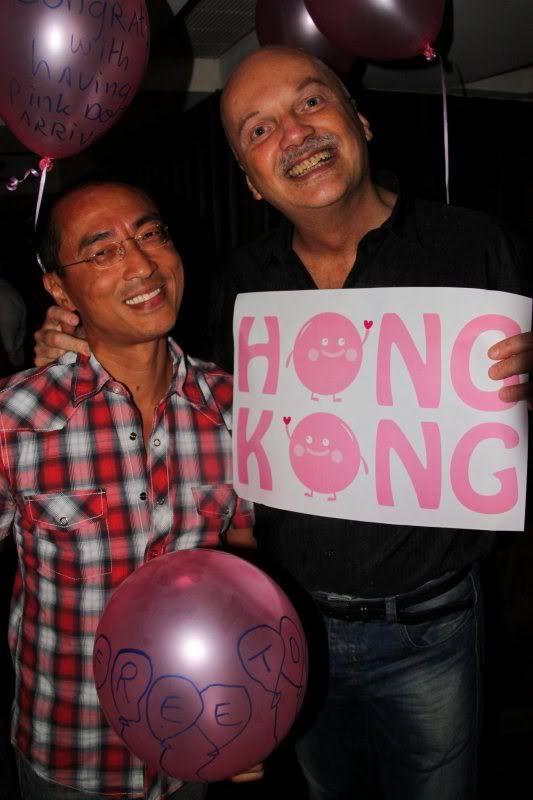 And so are Edowan (right), "Lord Mayor of Gay HK;" and his consort, Michael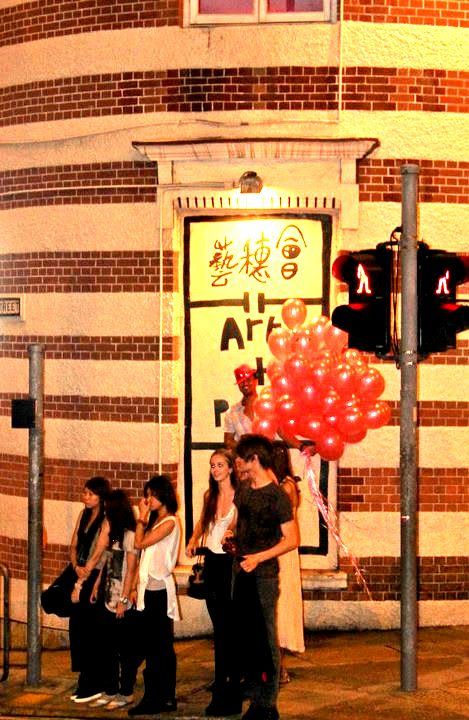 Ready?

I am a
Pink Dot
With Affection,
James
Photos & Video by Anshuman Das