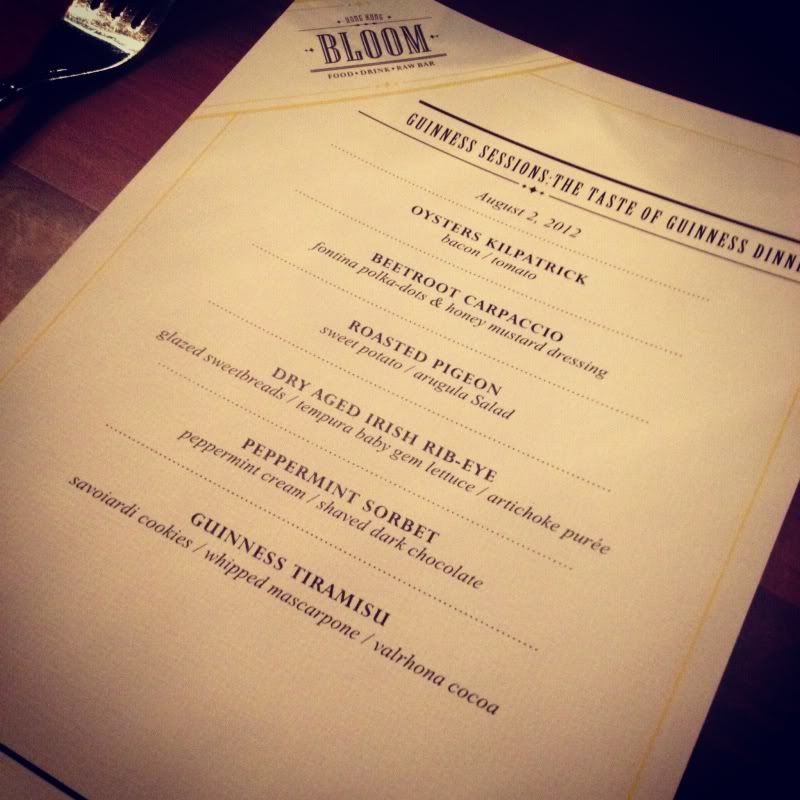 Guinness Sessions: The Menu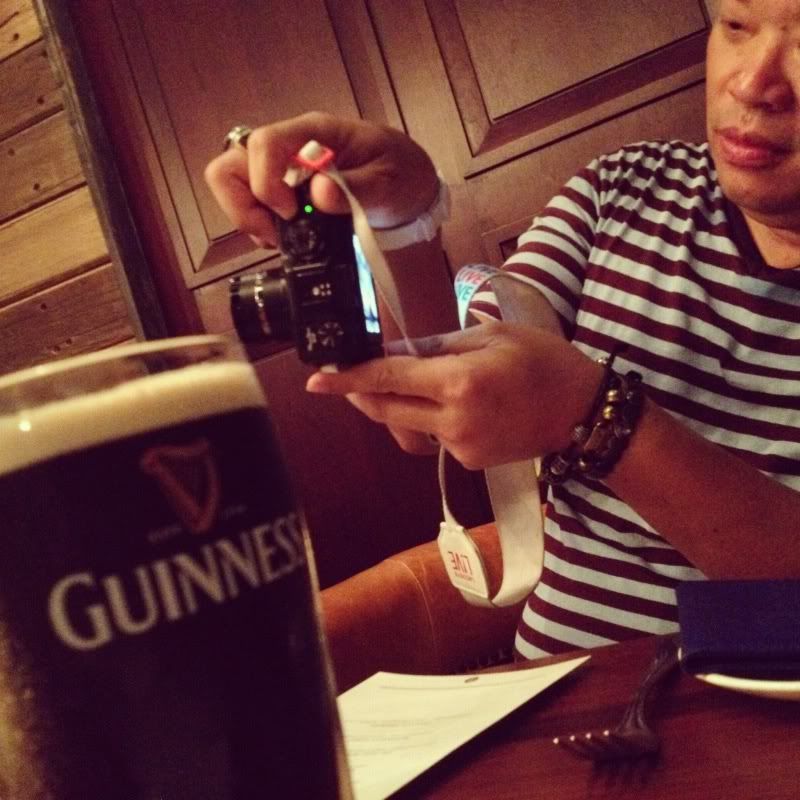 The dark brew.
"Jamesie," chirps a familiar voice over the phone, "it's Alli!"
"Allison!!!" I shriek. It's Friday. Allison would never call unless she had something fun in mind - it's just one of the natural laws of the universe. "Watsup, babe?"
"We're organizing a Guinness dinner for bloggers at Lily & Bloom tonight. Free to join us?"
"I have a 6pm meeting for Mr Gay Hong Kong," I reply regretfully.
"It's not until 7," Alli is quick to reassure, "and it prolly isn't starting 'til, like, 7.30."
"In that case, sign me up!"
"OK babe, I'll send you the details through e-mail!"
"Thanks, sweetie! See you tonight!"
Together with celebrity chef
Jaakko Sorsa
, I once put together a beer-and-food pairing menu when I was marketing manager at
FINDS
. Deciding which wine to pair with dinner is often intimidating - what with grape varietals, country of origin, year, terroir, history of the vineyard, price per bottle etc. to consider. Sometimes, when I fear being exposed as a poseur, I just ask for tap water and claim, "I'm on detox; no wine for me, thanks."
Beer is arguably simpler and far more approachable, often allowing me to have an easier appreciation for the food and the artistry with which the chef has composed every dish. With wine, I feel like I need to say something insightful and effete (read: pretentious) to show off how much (or, in fact, how little) I know. Wine is just too much pressure! Bring on beer!
In other words: We're game for Guinness.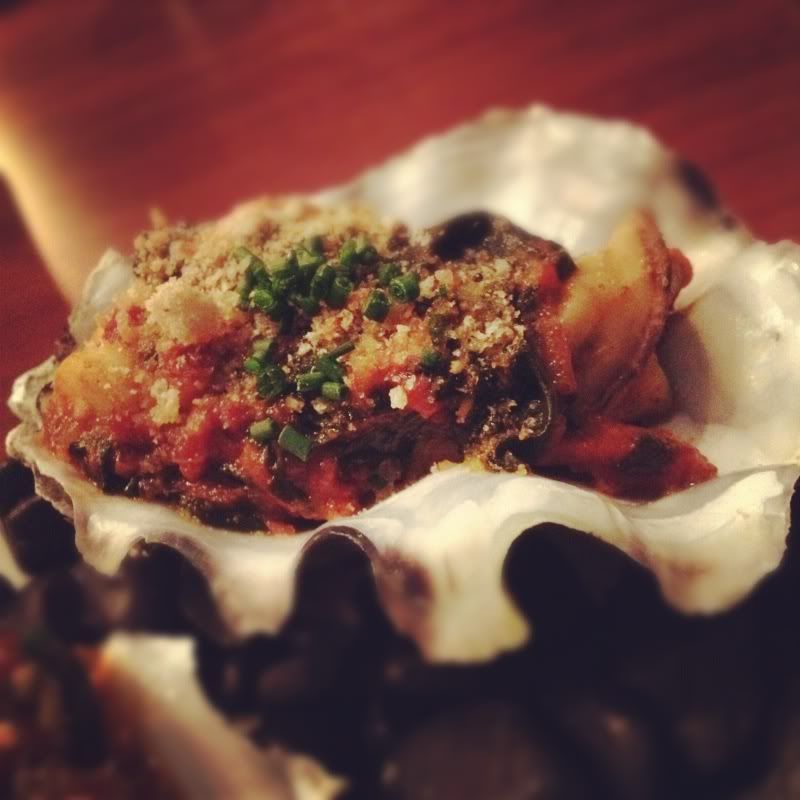 Oysters Kilpatrick
The first course is a surpisingly savoury Oysters Kilpatrick. Surprising, because I'm used to eating my oysters raw and unadorned, with a smooth and rich texture tasting only of briny saltwater. These oysters, on the other hand, are dressed with tomato and bacon. The pleasant sweetness of tomato and the smokiness of bacon provide an intriguing complexity against the natural bitterness of Guinness.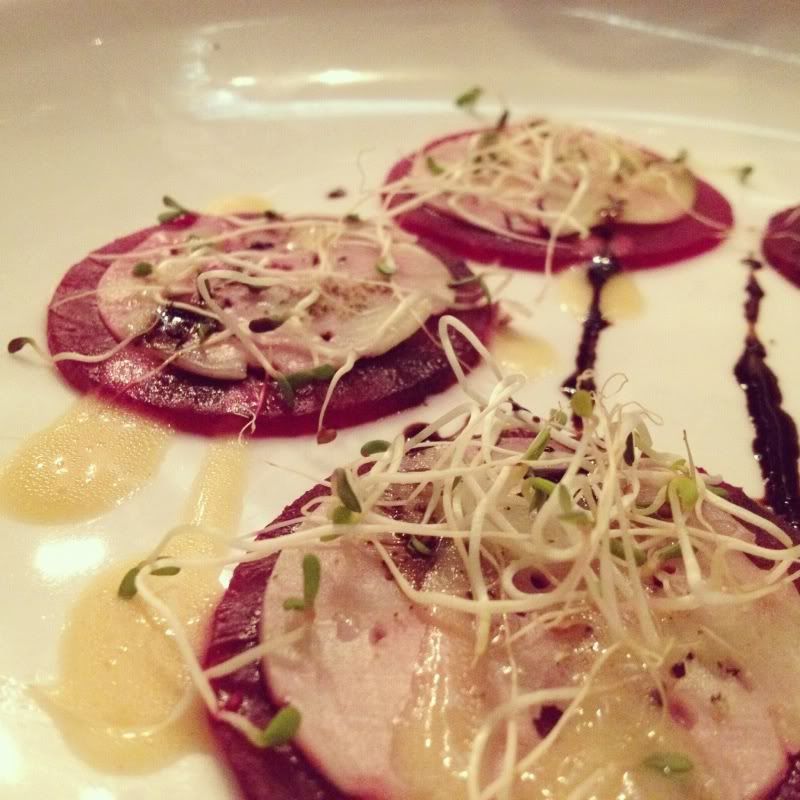 Beetroot Carpaccio
The smooth-on-smooth / sweet-on-sweet tag team of beetroot carpaccio and honey mustard isn't as successful as the first course. If not for the snappy and bittersweet goodness of alfalfa, this dish would have been totally absent of any dimension. Plus, salad (OK, carpaccio) and Guinness isn't exactly an inspired pairing - even in thought! On the positive side, this course only whets my appetite for protein.
Fenix, seated to my left, assures me there'd be two main courses. I proceed to salivate.

Good pigeon is hard to find. There's not a whole lot of meat on the bird, firstly, and whatever meat there is feels rubbery when overcooked. Yet, it is pungent (am I allowed to say it - like armpit) if undercooked. And because it is not a big bird, the difference between perfect doneness and over/under is miniscule. It takes real guts to put pigeon on the menu.

This pigeon is stellar.

"This bird died a noble death," I proclaim as I chew, almost regretful that I eventually need to swallow and give up my delicious gourmet game. I take a swig of Guinness to wash it all down and I'm immediately transported to an Irish countryside, feeling so content as though I shot this bird myself.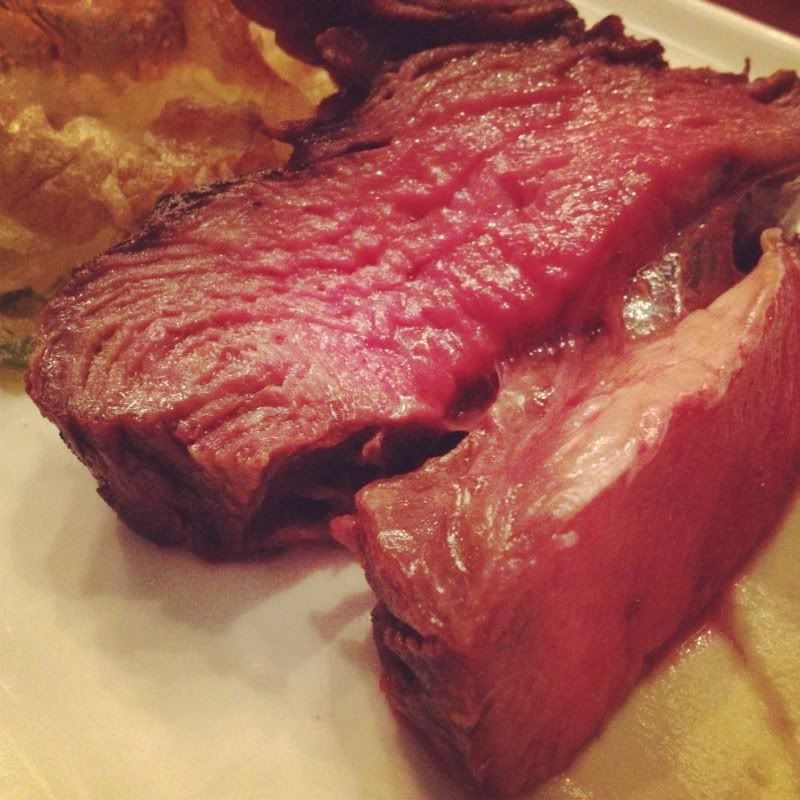 Dry Aged Irish Rib Eye
It's dry aged Irish ribe eye - what more can I say? It's gloriously pink in the centre and - I hope I don't get stoned for this - I can almost feel the great animal's vitality as my knife cuts across the succulent meat. It is at once tender and intense. No bombastic char, no heavy glaze or gritty rub to mask the meat's real goodness. No gimmicks. I close my eyes in sublime contentment.
This is exactly what I mean when, sometimes, wine takes away from a genuine enjoyment of food because wine demands too much... thought process, perhaps? Guinness, whilst easy and versatile enough, still possesses enough assertive character to keep one's taste buds perpetually engaged.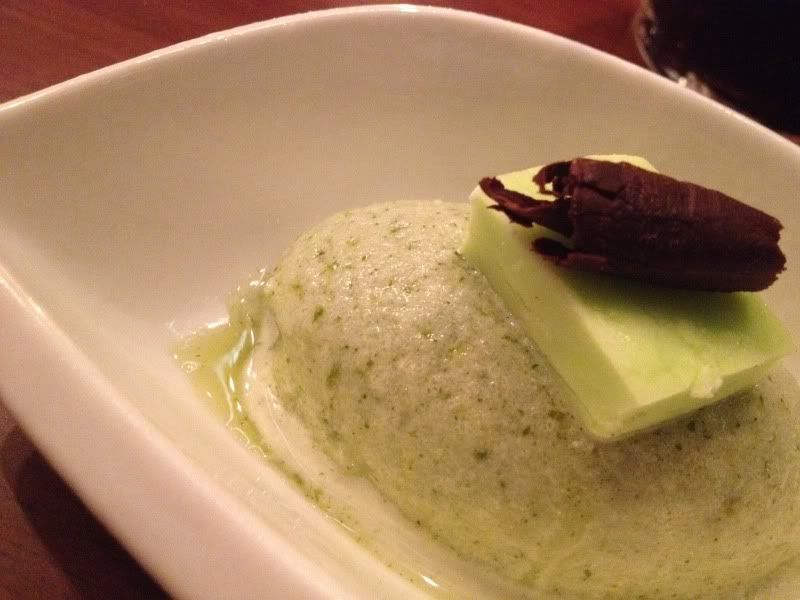 Peppermin Sorbet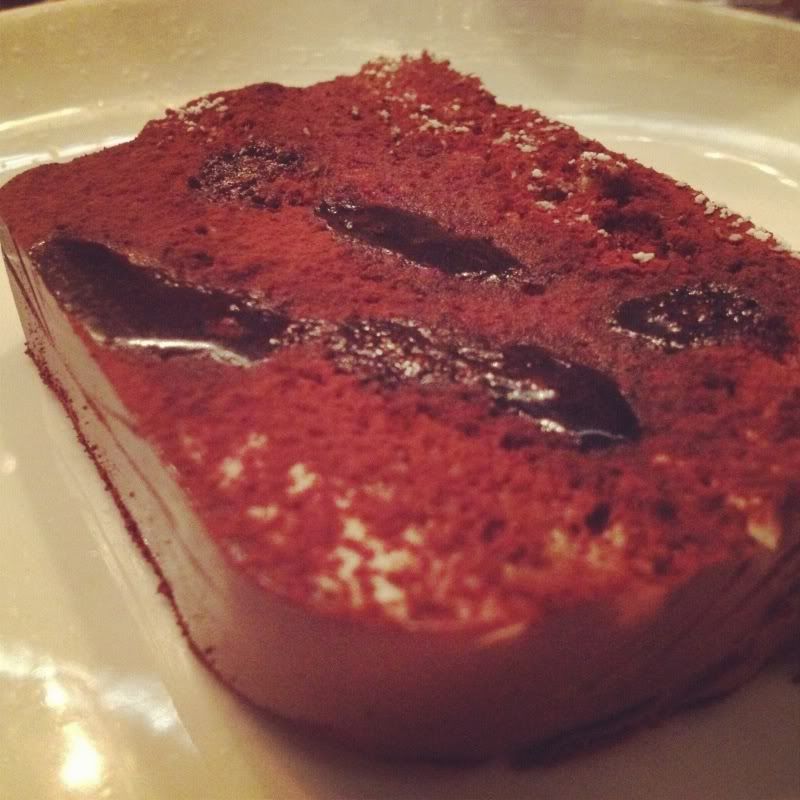 Guinness Tiramisu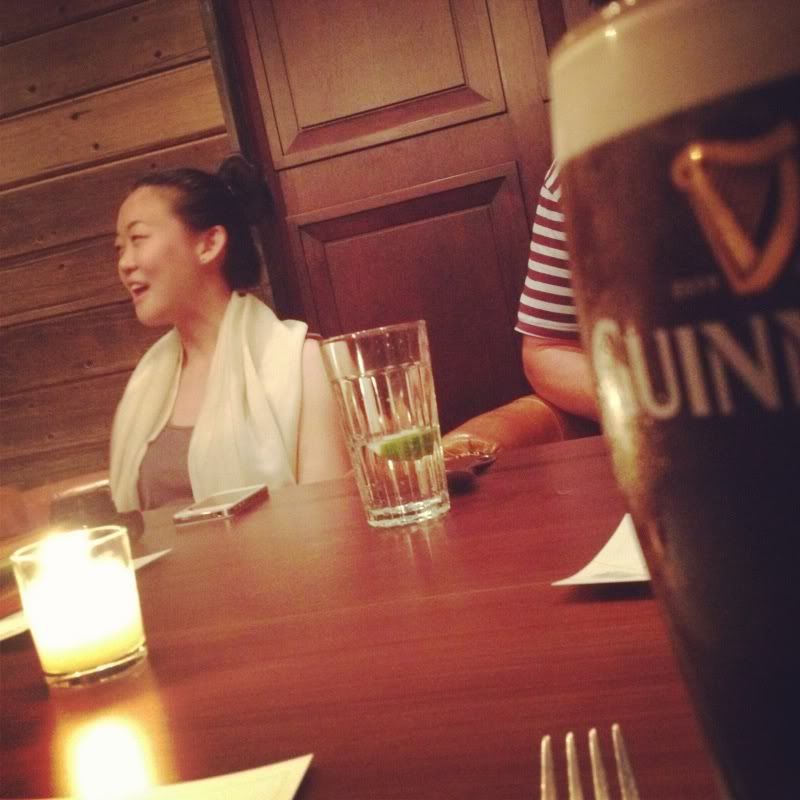 Popular blogger Janice Leung of e-tingfood.com
The palate cleanser (Peppermint Sorbet) is sharp, smooth, tangy, sweet, sophisticated, refined, pepperminty... At this point I wish I might consult
thesaurus.com
for more adjectives but I'm too busy trying to (discreetly) lick my bowl. Bernice of the South China Morning Post, seated diagonally from me, tells executive chef Rene Michelena: "You should consider having this item on your a la carte menu."
The Guinness Tiramisu was a sort of pièce de résistance. Boldly flavoured, delicately portioned, enticing, exciting... I could go on. I've utterly, completely forgotten that the whole purpose of the meal is to coax, nudge, convince influencers in the foodie community to consider pairing beer (Guinness, in particular) with dinner.
I don't need any more convincing.
Look at me - I'm not just drinking Guinness; I'm eating it, too.
I'll do my fine dining with wine when I'm so inclined; I'll do my fun dining with beer.
Best of all - and this I announce loudly on my Facebook wall the next morning out of sheer elation, for all my other gay friends to know - drinking Guinness apparently spares me from having a beer belly.
Who knew?