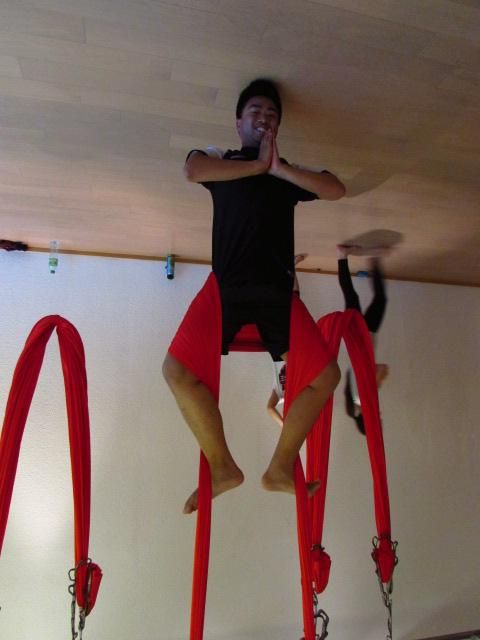 HYPERACTIVE HANGS.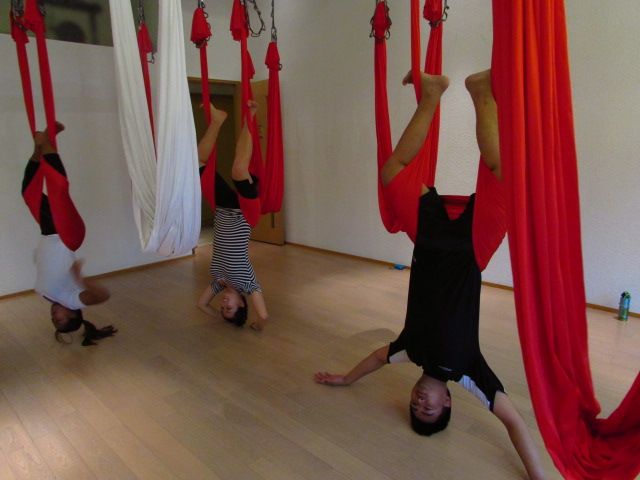 CHARMAINE, SARAH AND HYPERACTIVE GO TO WERQ ON THE CRIMSON HAMMOCKS.
I feel longer, more sinewy and positively energized today; I can actually feel my muscles at work. This is a miracle. Yesterday, I was dull and dumpy. A trial session at
Bodywize
's AntiGravity Yoga was all it took to re-engage long-forgotten parts of my body. Didn't hurt that the class was led by a svelte Venezuelan named Daniel. Daniel has 0% body fat. He also likes to hum Adele songs during class, which is cute.
I heard about AntiGravity yoga years ago, from former Disney colleagues. AntiGravity Yoga is a hybrid containing traditional yoga poses, aerial arts (circus!), pilates and dance. One of our rehearsal halls in Hong Kong Disneyland had silks and webs installed for suspension fitness training. And so whilst I had some experience with so-called "anti-gravity," it was devoid of any yoga element.
Very recently I heard about AGY again from my boss, Greg, whose husband, Allen, was then undergoing a course to become a certified AGY trainer.
"I love it," Greg enthused. "I've signed up for 52 classes. It really helps my back." Greg went on to explain that whilst conventional yoga demands a great deal of balance and focus and stamina, the hammock used in AGY actually frees the mind from worrying about falling over. The hammock does most of the work as it gently nudges bones and muscles toward correct posture and promotes better blood flow.
Class was super fun and, as Greg had promised, easy to follow. But you definitely felt the exertion and the stretch - more so the next day.
Bodywize is the only studio in Hong Kong licensed for AGY.
HK Magazine
will soon be organizing trial classes for readers. Stand by for more details. This is not to be missed.