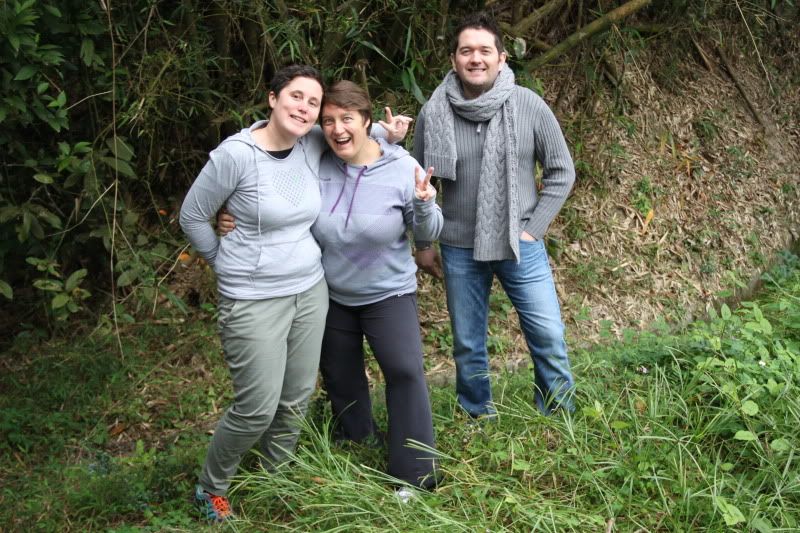 CARO, LORE AND RODDY
AT WU KAU TANG.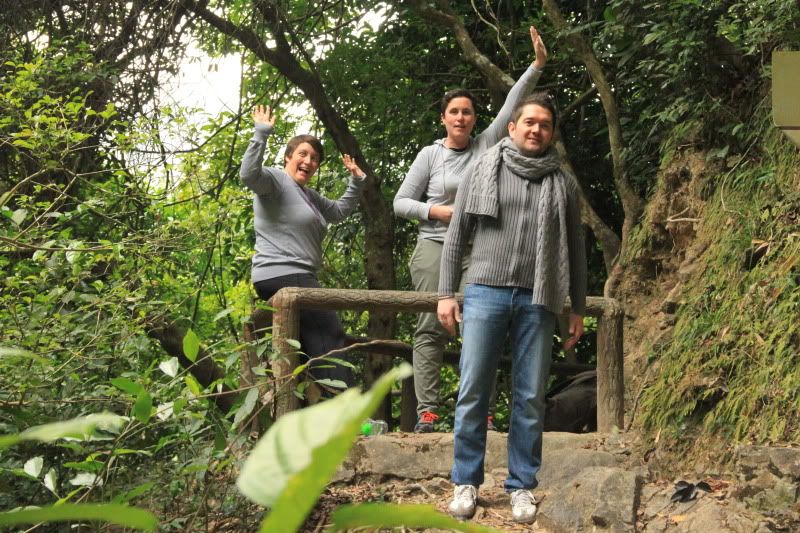 LORE AND CARO WAVE US OFF;
RODDY CONSIDERS WHETHER OR NOT TO FOLLOW CHRIS AND MYSELF.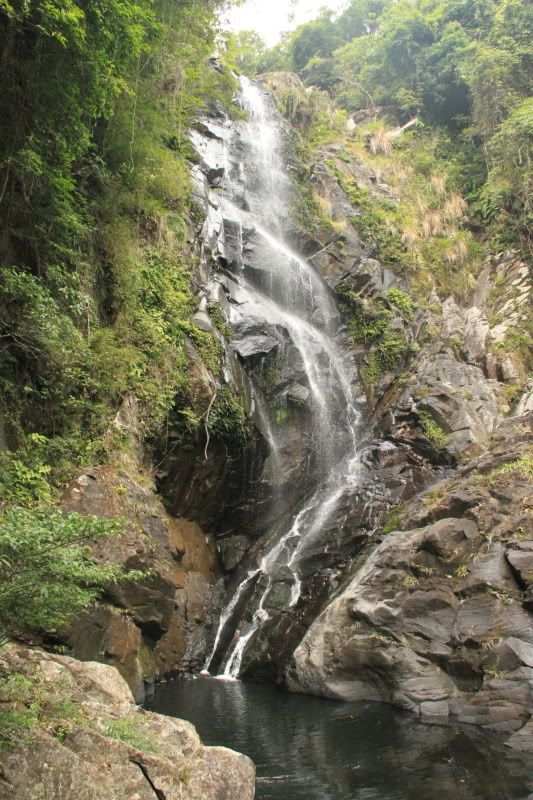 BRIDE'S POOL LOOKS HARMLESS,
BUT ITS DEEP, DARK DEPTHS TELL
A MORBID LEGEND.
SHUDDER.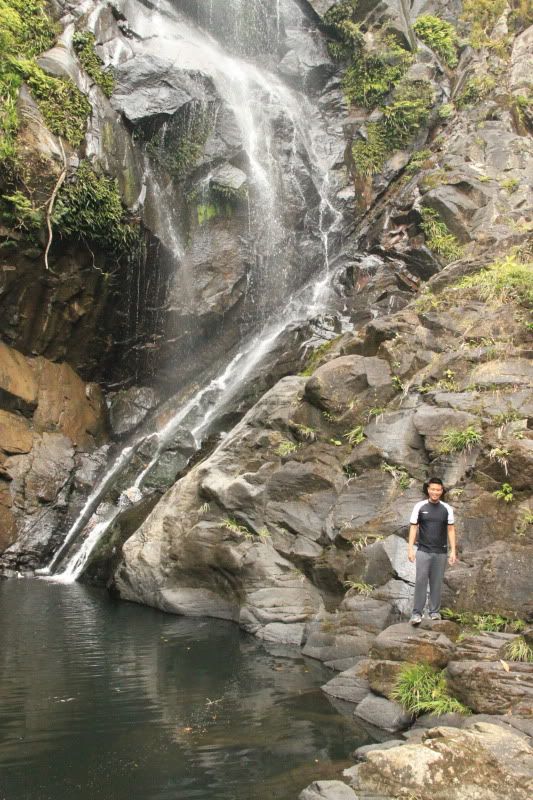 LOOK, MA!
I'M BESIDE THE WATERFALL!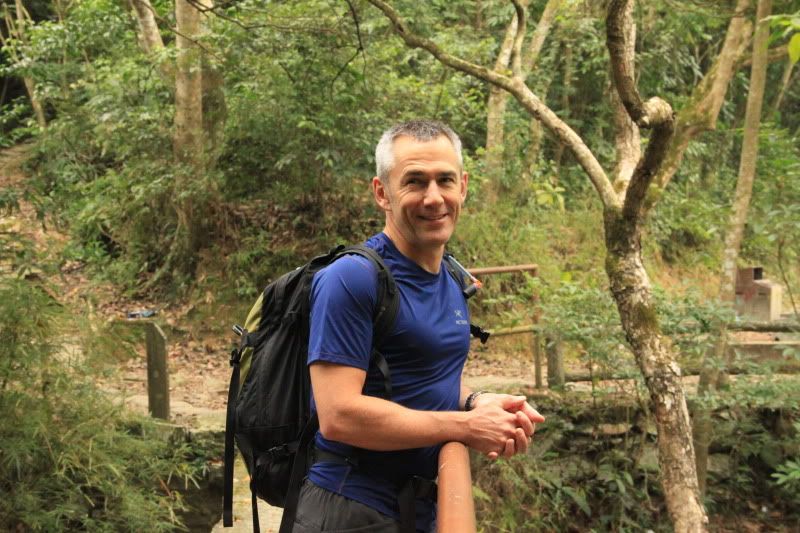 WHO NEEDS A DEAD BRIDE WHEN YOU HAVE A HUSBAND SO ALIVE AND GOOD LOOKING?
CHRIS, CARO, LORE AND RODDY POSE FOR MY CAM BEFORE WE TACKLE THE TREK TO SAM A TSUEN.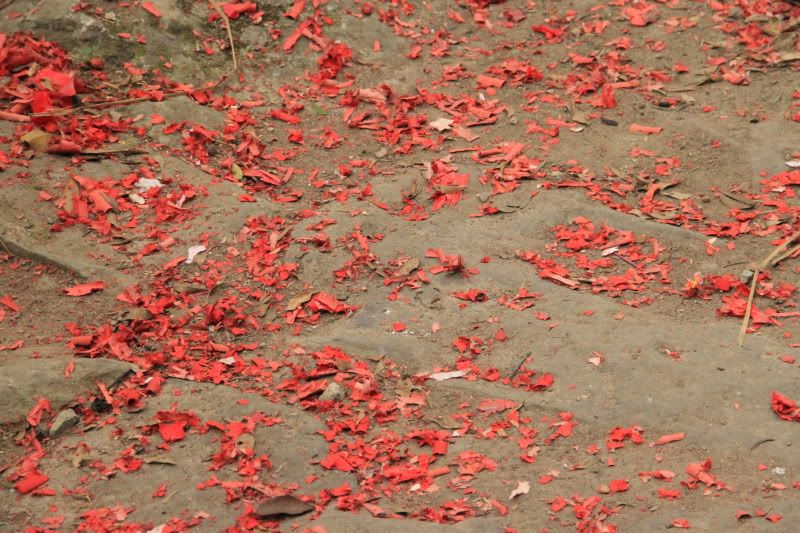 REMNANTS OF FIREWORKS.
THE YEAR OF THE SNAKE HAS BEGUN.
Chris pressed the snooze button.
And of course, as is wont to happen, neither of us woke up when the alarm clock shrieked the end of the allocated minutes for a "snooze." We were in a panic when, finally, I woke up at 8.20am. We were scheduled to meet Caro, Lore and Roddy at Admiralty MTR at 9am. Big day for us. We had intended to go trail walking overnight - the first ever for me.
Luckily, we had packed the night before. For breakfast, I had a tin of tuna; Chris scarfed down two pieces of toast brushed with a bit of margarine and Vegemite. Aussies.
We were out of our flat and into a cab in no time.
"Relax," Caro laughed when she saw us thundering down the MTR station. "Roddy just woke up. He said he'll be here in 10 minutes."
When Roddy finally arrived, we hurriedly jumped into a train to Mongkok, transferred to a train towards Kowloon Tong, and finally, made one more transfer towards Tai Po. Upon reaching Tai Po, we marched purposefully towards McDonald's. Hunger knows no prisoners.
"My second time to have Maccas in a week," Chris grimaced as he bit into a hash brown.
"It's not so bad," Lore hummed, sipping her coffee. "They have better coffee here than Starbucks."
I was teasing that at the rate we were going, our walk towards Sam A Tseun might end up being just a few laps around the Tai Po shopping mall, instead. Not to be deterred, we eventually piled into a green NT cab at around 10.30am. We arrived in Wu Kau Tang over half an hour later. It was to be our starting point for a walk that would lead us almost at the door step of Shenzhen.
"Take a pic of me," Lore urged, "so that everyone can see that I went on this walk."
"We're taking a detour towards Bride's Pool," Chris shared to a fellow trail walker who, like him, was looking at a route marker.
"More like Rubbish Pool," she mumbled. "That way."
Chris, Caro and Roddy powered ahead. Lore and I brought up the rear. I was busy taking photos; Lore was busy being cautious. We immediately got busy gossiping about mutual acquaintances. We had to be civilized, I thought; we must only talk about other people behind their back.
We got to Bride's Pool about 20 minutes later, hardly having broken a sweat. It was stunning, and - thank goodness - there was no rubbish in sight. Typical of Hong Kong, though, there was a fence preventing walkers from getting close to the waterfalls. Chris and I didn't care. We promptly skipped over the low fence and nimbly hopped over some huge-ass rocks to get as close as possible to the falls.
Legend has it that a bride was being carried in a sedan by four porters on her way to meet her groom in yucky, wet weather. As they passed the pool, one of the porters slipped. The bride fell into the pool. She drowned. She died. Sad - but that's the tragic story behind "Bride's Pool."
Better her than me.