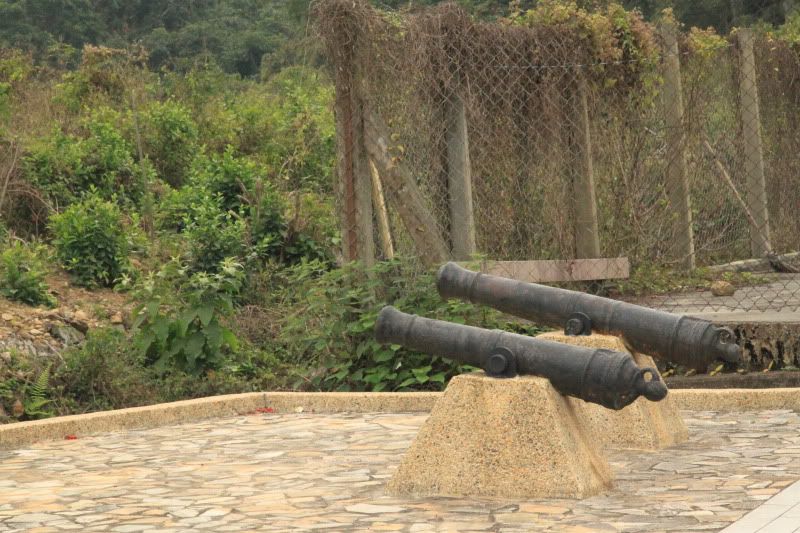 CANNONS.
GREAT WAY TO MEET VISITORS!
RED LANTERNS.
THAT'S MORE LIKE IT.
NEVER MIND IF THEY WERE INSTALLED BY THE HK TOURISM BOARD.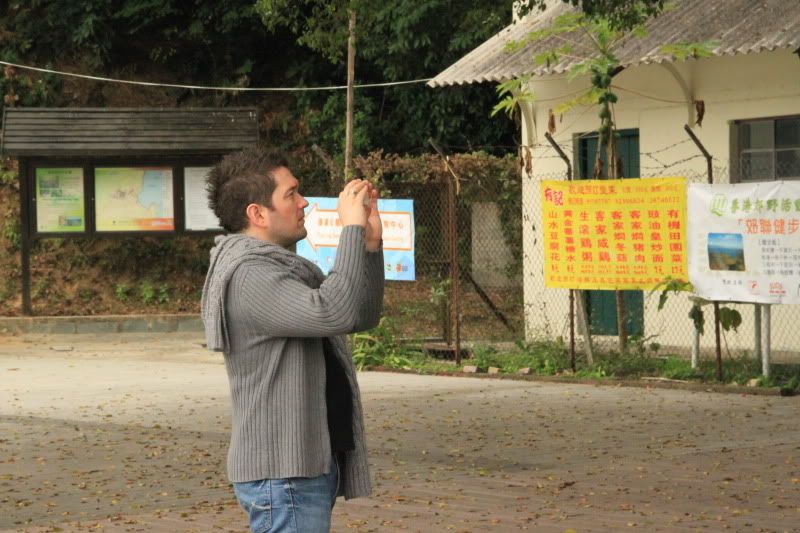 RODDY SNAPS A PHOTO OF A PRETTY, RED LANTERN.
PLENTY OF CONCENTRATION IS REQUIRED.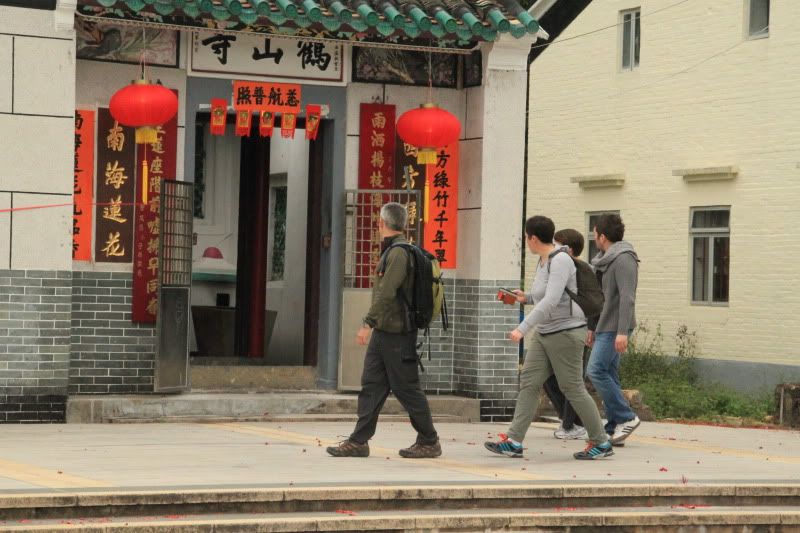 CHRIS, CARO, LORE AND RODDY DON'T LOOK VERY IMPRESSED BY THIS TEMPLE...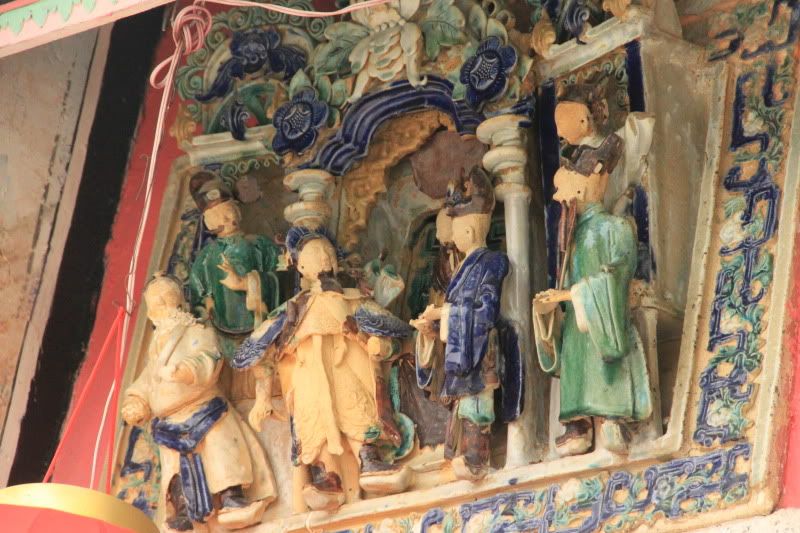 ...BUT THAT'S 'COZ ITS TRUE GEMS ARE WAY UP HIGH!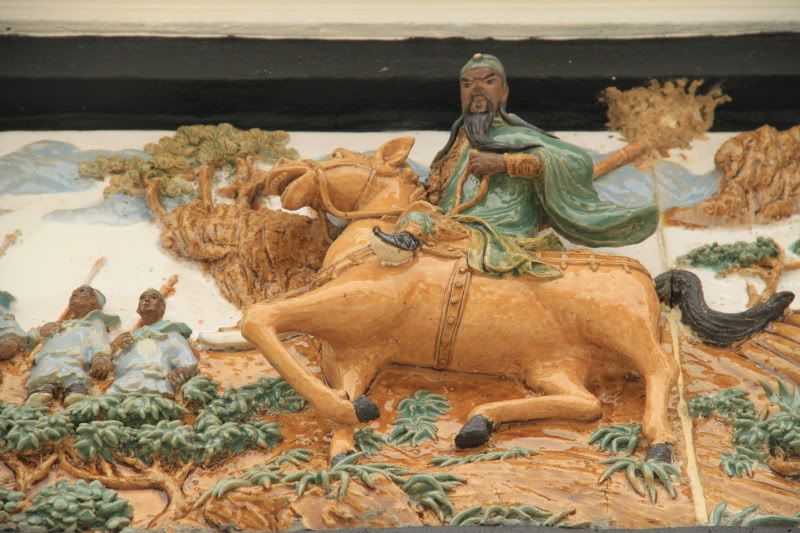 THIS HORSE IS SO ALIVE,
I FEEL LIKE IT'LL SNEEZE ANY MOMENT.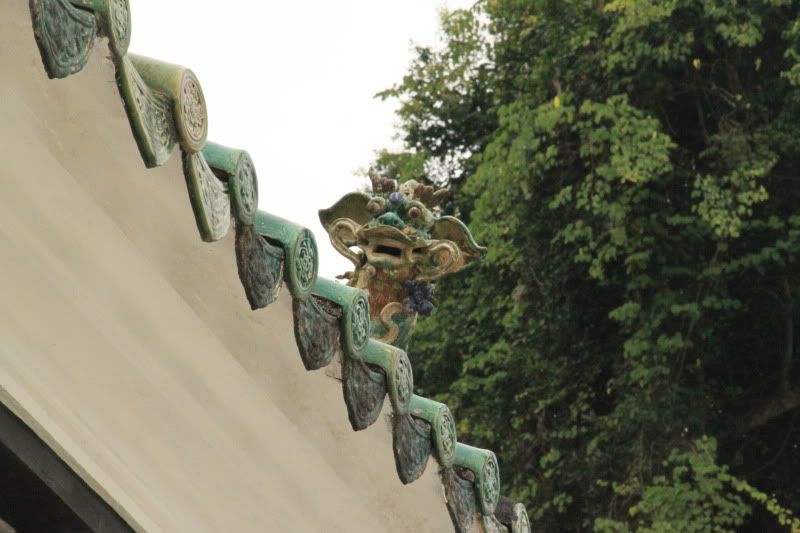 HELLO, FRIENDLY DRAGON ON THE ROOF!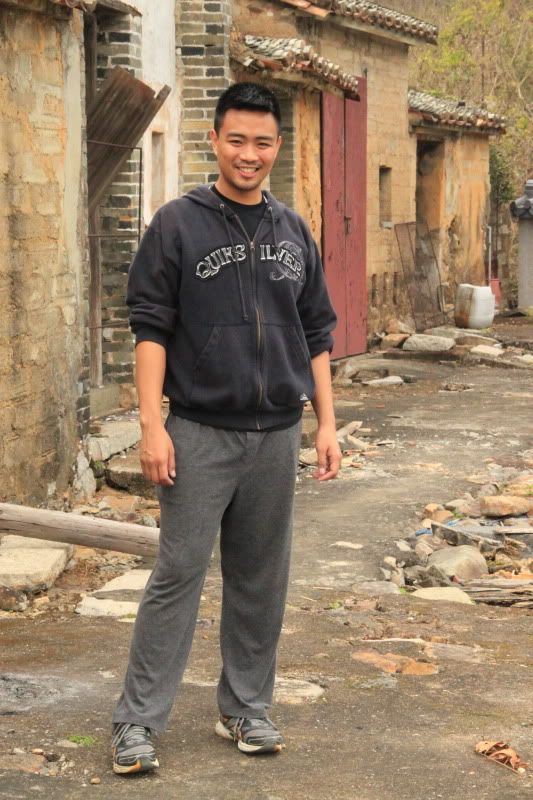 AND WE'RE FINALLY AT THE ANCIENT WALLED VILLAGE,
WHICH THE HK TOURISM BOARD THANKFULLY LEFT JUST AS IT IS.
THE GRANDEUR OF THE CONSTELLATIONS REMAIN THE MOST MAJESTIC ROOF OVER OUR HEADS, MY LOVE.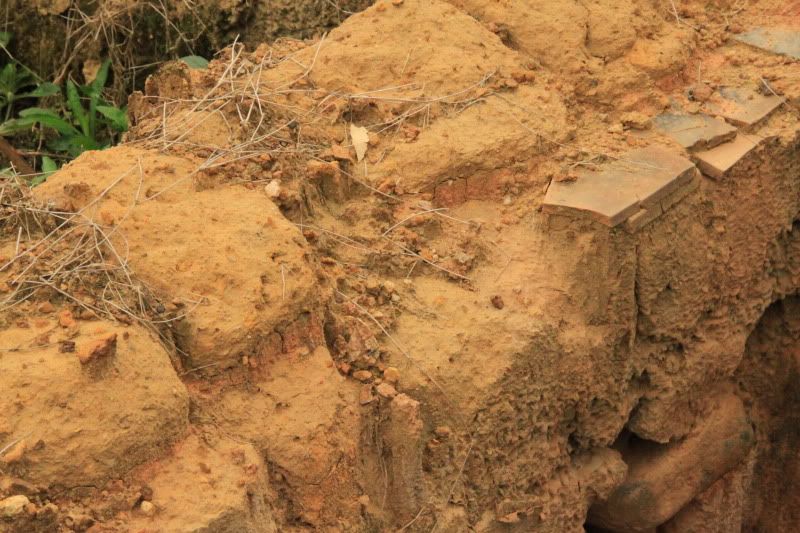 DON'T KNOW MUCH ABOUT OLD BUILDINGS.
BUT IF IT RAINED AND YOU HAD USED MUD TO SEAL YOUR BRICKS, WOULDN'T YOUR ENTIRE HOUSE MELT?
THERE ARE RESIDENTS HERE, AFTER ALL.
SOME PRETTY GREEN PLANTS, PREENING AMONGST THE SHOCKING BROWN-NESS OF ITS ENVIRONMENT.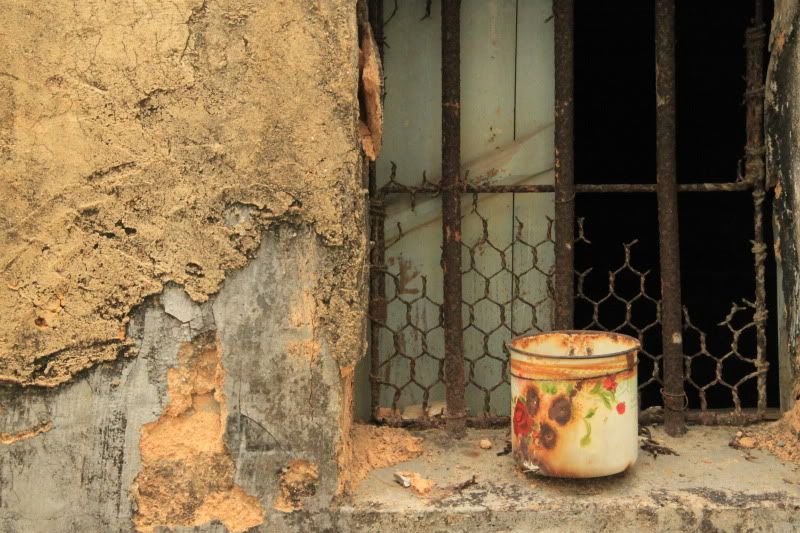 DIDN'T WANNA LOOK INTO THE MUG;
THAT WAS WHERE GRANNY WOULD LEAVE HER DENTURES OVERNIGHT.
A SPECTACULAR NETWORK OF VINES EMBRACE THIS NOBLE TREE.
UPON CLOSER INSPECTION,
THE VINES KINDA REMINDED ME OF NEURONS.
NEAT.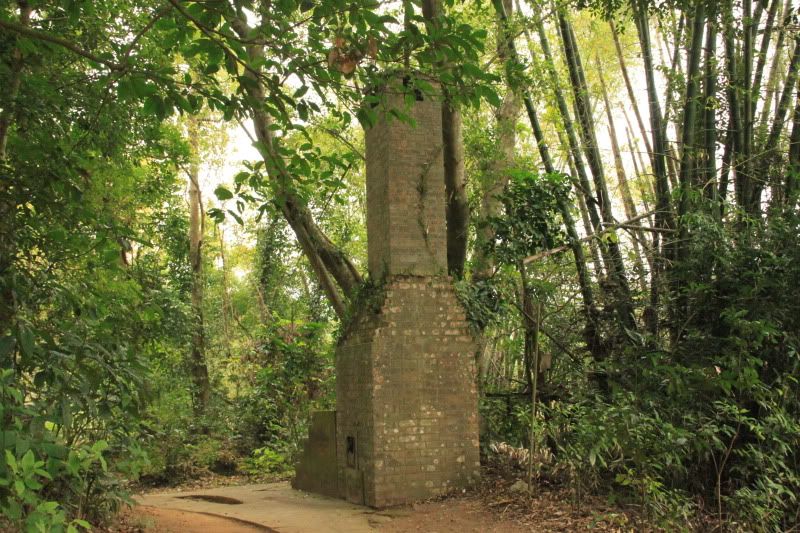 RODDY SWEARS THIS IS/WAS AN INCINERATOR.
I BELIEVE HIM.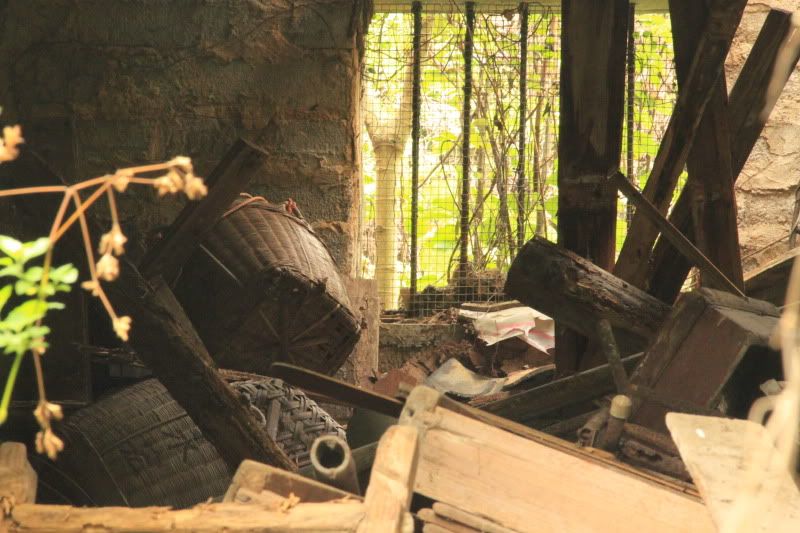 I WOULD HAVE TAKEN MY PRETTY BASKETS WITH ME BEFORE I LEFT.
JUST SAYIN.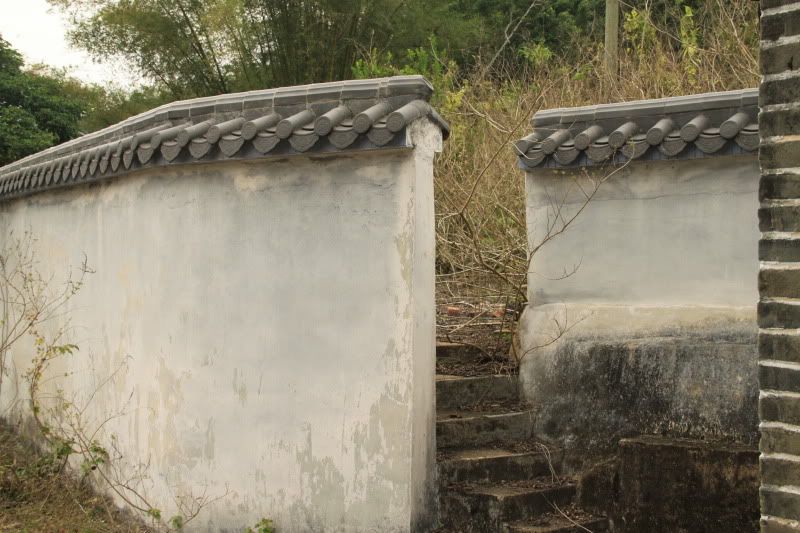 WE KISS IN A SHADOW...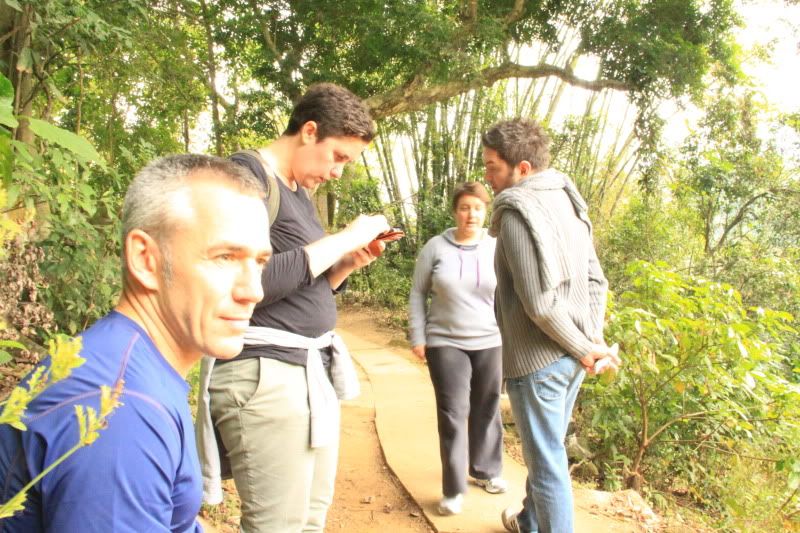 CHRIS CONSIDERS WHETHER THE TRAIL TO THE RIGHT MIGHT BE THE BEST ROUTE TO THE CLOSEST PUBLIC TRANSPORT TERMINUS;
CAROLINE CONSULTS HER MOBILE MAP FOR A SECOND OPINION.
LORE AND RODDY ARE HAPPY TO BE THERE.
Just half an hour more walk away from
Fook Lee Tea House
is Lai Chi Wo, a 400-year-old Hakka walled village. It is now deserted. And it had nothing to do with the Chinese New Year holiday. Its residents just packed up and left years ago.
"The lure of the city is too strong," Chris explained. "Why stay here when you can earn 6 to 7 times more money working in Tai Po?"
I get it.
It takes 2.5 hours to get to Lai Chi Wo. By foot. Through one of only two hiking trails. Which means, not flat walking. And mostly no 3G signal. And to efficiency-addicted Hong Kong, I guess villages like Lai Chi Wo just never stood a chance.
Chris and I had intended to see Lai Cho Wo the next morning, but since Caro, Lore and Roddy were still gung-ho for more trail walking, we went ahead immediately after lunch.
The place is creepy. Nobody lives there anymore. It's now just a tourist spot for more assiduous (and physically fit!) travelers who enjoy treading off the beaten path. Honestly, I was surprised that there weren't even concession stands selling soft drinks or snacks or souvenir items. This is Hong Kong! I guess for even the most enterprising merchants, the Lai Chi Wo is just too much of a bitch to get to and out of, on a daily basis.
After having circled the village once - there was nothing else but beautiful, old, crumbling, empty houses - the girls and Roddy decided it was time to head back for home. Chris consulted his large paper map; Caroline consulted her digital mobile map.
"We won't get lost as long as we follow the WI," Lore said matter-of-factly, referring to the large group of shockingly fit British octogenarians.
"Indeed," I agreed. By the looks of them, they're hardcore trail walkers. Forest animals might get lost but those folks will always find their way.
We kissed Roddy and the girls goodbye promised to do another walk before Chris and I took off for
Niseko
.
There was a noisy, happy group of diners when we got back to Fook Lee. Former Lai Chi Wo villagers, we later learned. They're now in their 50s. Many of them were sent overseas by their parents the moment they left the village. The accents are fun to listen to. Northern American, Aussie, Irish...
It's now part of their ritual to come back once yearly, during Chinese New Year, to remember.