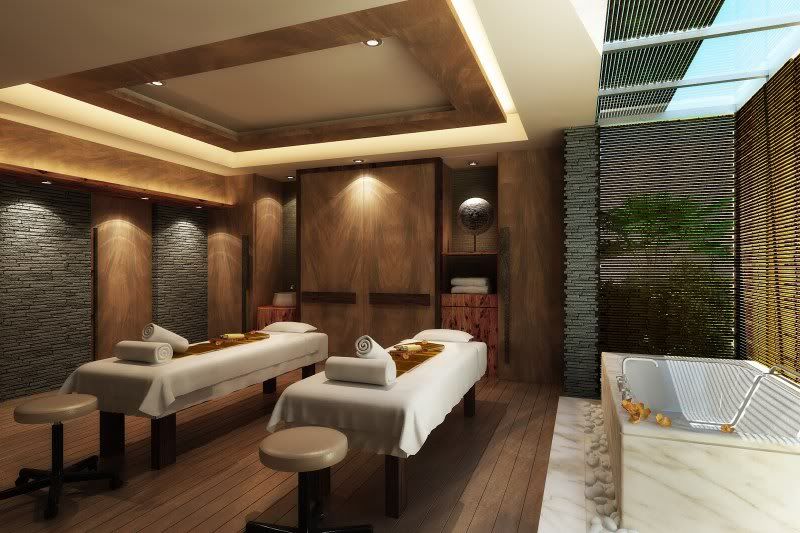 OUR PRIVATE TREATMENT ROOM.

(IMAGE FROM SENSE OF TOUCH, SINCE I WAS A DOOZY AND DIDN'T BRING A CAMERA OR MY iPHONE.)
Valentine's was a pretty Hyperactive work day (so what else is new) with
my girls
Charmaine and Running, in a mad rush to get everything organized before my and Chris'
snow holiday
. And after the seemingly endless miles of nature
trail
Chris and I took on over Chinese New Year, my body was screaming for relief.
I had been meaning to visit
Sense of Touch
's newest branch at the Crowne Plaza Hotel in Tseung Kwan O. Yesterday, I finally had that chance. I have been to the spa's branch in
Repulse Bay
, and it had far exceeded my expectations. What could they have done to top themselves?
"The venue's a 10," Chris enthused.
"It's awesome," I agreed.
We were ushered into a couple's treatment room that looked more like a hotel suite. Rain shower, steam, huge party bath tub, a ginormous closet, lots of huge, fluffy towels, state-of-the-art
Bowers & Wilkins
Zeppelin Air
speakers, Elemis products everywhere. It must have been twice the size of our humble flat in Sheung Wan, and definitely far more luxuriously finished.
We started with a half hour milk and oat bath; followed by a steam bath with a wild crafted Indonesian recipe of ginger, lavender and spices; a full body scrub; and then finally, a glorious, hour-long aromatherapy massage.
"Give it to me," I challenged my therapist, Dolores - a fellow Pinoy. She rose up to the challenge, dealing powerful strokes that belied her diminutive frame.
Grabe
, it hurt so good.
For the next 2.5 hours, over 20 different products must have touched my and Chris' bodies.
We ended the night with a diet-busting dinner of nasi goreng, seafood laksa and beer.
Bliss.
*The Two Tropical Bliss Signature Treatment costs HKD3,350 for 2 persons, for 2.5 hours.
A: 3F Crowne Plaza Hong Kong Kowloon East, 3 Tong Tak Street, Tseung Kwan O, Hong Kong
E: enquiries@senseoftouch.com.hk
T: +852 3983 0406