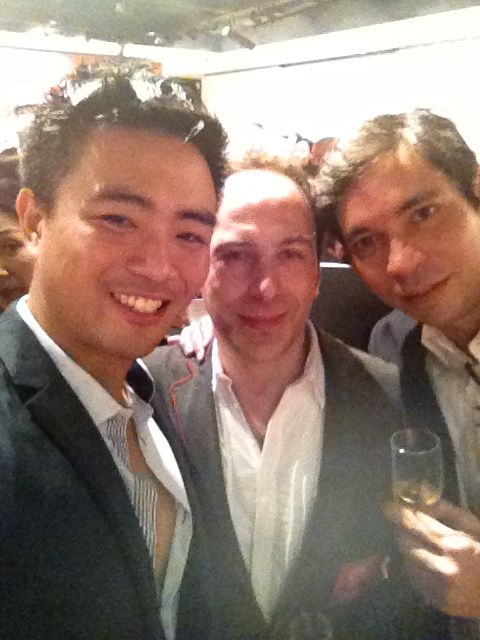 HYPERACTIVE, KEE CLUB'S MARC-DAVID
AND CHARMING BUSINESSMAN CARLOS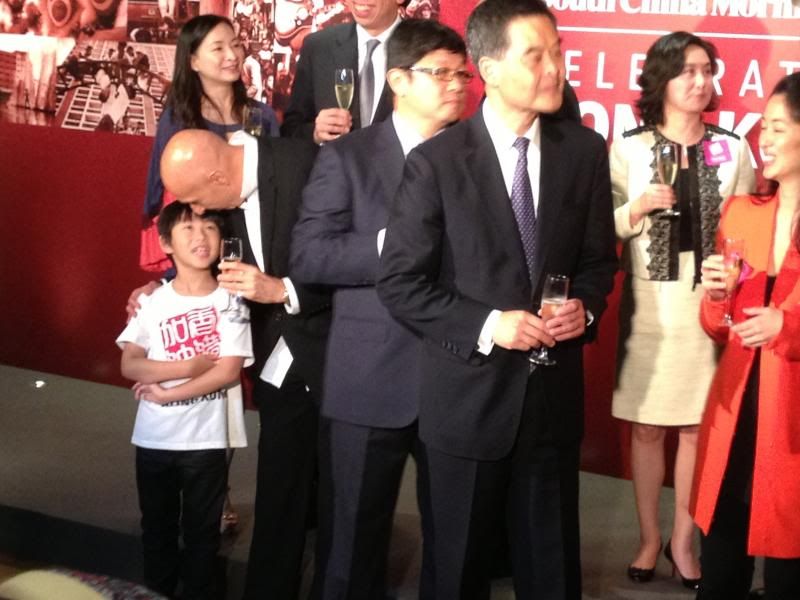 CELEBRATING HONG KONG'S AMBASSADORS INCLUDE HK'S CHIEF EXECUTIVE CY LEUNG (FOREGROUND),
PANSY HO (IN CREAM), ALLAN ZEMAN (LEFT; BENT OVER THE LITTLE BOY)
AND 7-YEAR OLD ARTIST KENNY LAU,
WHO DELIVERED A SPEECH IN CANTONESE AND ENGLISH.
Last Tuesday my boss Greg and I trekked to Sotheby's at One Pacific Place to attend the launch of the South China Morning Post's Celebrating Hong Kong campaign.
My eyes grew as big as saucers as soon as we got to the venue. There were priceless pieces of art everywhere, including paintings by Warhol and Banksy. That was just to start with. As soon as I finished gawking at the art, I realized that the most important people in Hong Kong were at the event - including Chief Executive CY Leung and former Chief Secretary Sir David Akers-Jones, who delivered a stirring speech. I wasn't expecting to see anyone I knew personally, but was especially pleased to see Kee Club's Marc-David and his partner Carlos, and Ecovision's Lisa Christensen and Nissa Marion.
The SCMP's CEO, Robin Hu, noted that bad news - scandal! tragedy! calamity! - often gets reported whilst good news almost never does, and no news is good news. And so on the SCMP's 110th anniversary, it's fitting that the paper leads a campaign to celebrate the things that make Hong Kong what it is.
It's easy to complain on a day-to-day basis, to find fault with everything, really! This creates a cycle of negativity which then turns into a lifetime of misery. That's yucky - nobody wants that. And so through a series of debates, a charity auction, and an awards ceremony recognizing the city's unsung heroes, the SCMP leads the charge in focusing our energy towards the positive around us.
That's awesome.
The event went like clockwork, no hiccups or missteps or surprises.
The only thing I could have wished was for LGBT representation amongst Celebrating Hong Kong's ambassadors. All the while, I was wondering:
Where's Gigi Chao?
***
After the event, Greg and I zipped to Shore Steak to catch the tail end of our own event - the launch of The List Magazine's monthly GuestList Happy Hour. My girls, Charmaine and Running, had to manage the event by themselves whilst I was at the Celebrating Hong Kong launch. The main agenda was to introduce The List's new editor, Kate Springer, to the magazine's readers and advertisers.
It went without a hitch, too. Super proud of my girls! Of course I had to do the pack-up, but that's OK coz I got all the leftover Godiva bars (which I promptly gave away - I
promise
).
Many thanks to Troy Roberts and his fab team at Shore, and to Godiva!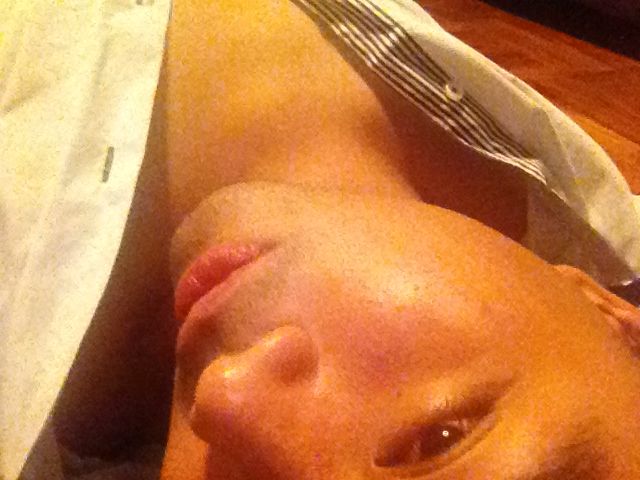 PROMPTLY PASSED OUT AFTER A LATE-LATE DINNER OF GINORMOUS BURGER
WITH FAT CHIPS.