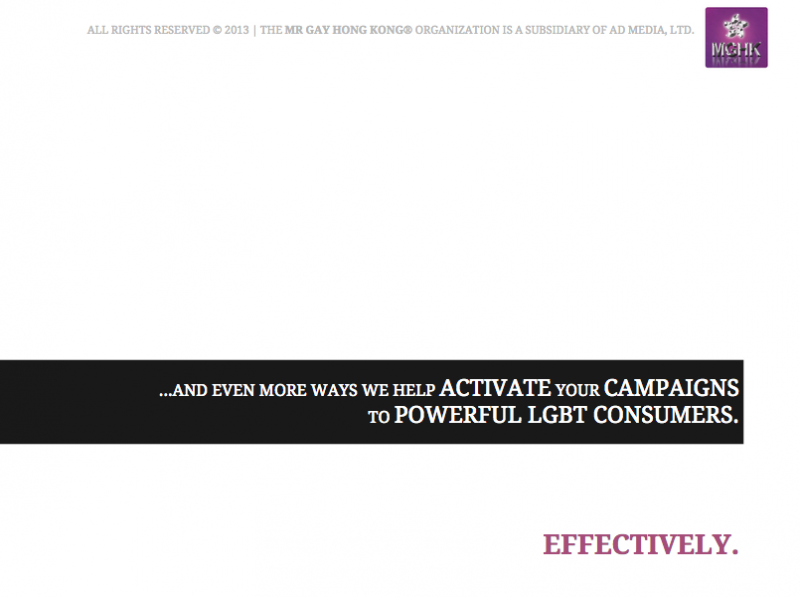 I'm in the process of updating the
Mr Gay HK
media kit for 2013-2014. It's mostly tedious - re-looking at numbers, lay-out, new success stories, trends to watch out for, etc, etc - all in the name of grabbing potential brand partners by the balls and shaking them from side-to-side, until they relent and sign over precious sponsorship dollars for me to see my pet project through another year.
2013 is Mr Gay HK, Year 5.
I'm having a bit of a moment, reminiscing about what has been the past four years. How stories were created, how they were shaped, where I found fertile ground to plant the seeds of a campaign, and then watch it grow and intensify...
I used to enjoy this. I was really good at it, too. It's incredible, looking back at what you've done and realizing that you've accomplished some super-fucking-human feats. If I had met myself five years ago, I would have said:
Holy shit, princess - where'd you find time to get all of these done, plus manage a social persona, maintain friendships and a meaningful relationship with Chris, keep in constant touch with family, do drag, and blog??!
I was of course a lot more persistent when I was younger. These days, I wouldn't deem waste anybody's time. I'd move on as soon as I hear a
No
, because, I tell myself, it's not the end of the world. There are other things in life which will be a
Yes
, and they're just straight ahead, so keep on walking! But looking back at what I've been able to accomplish, armed with nothing more than youth and persistence and naivete, I'd say:

You fucking wore people out with your enthusiasm, until they just said Yes so you would go away!
I would have liked to be friends with that guy - that penniless, Hyperactive gay boy. He made things happen without knowing, fully, how he made them happen. He simply jumped into the deep end - and he'd ask questions later. But only if he absolutely had to. He was self sufficient and independent and driven and bullheaded and positive.
He was happy and energetic.

He was free.
Sometimes we need to force ourselves to look back, to inspire ourselves in the present, for what we need to get done tomorrow. That's just what happened to me.
POST-SCRIPT
Looking back on it, pondering, writing about it and congratulating yourself isn't enough. Pause for a moment and thank the universe for always making sure you see the redemption after every conflict she throws at you.
-Ryeness