VIEW OF 'THE VILLAGE' FROM ROOM 516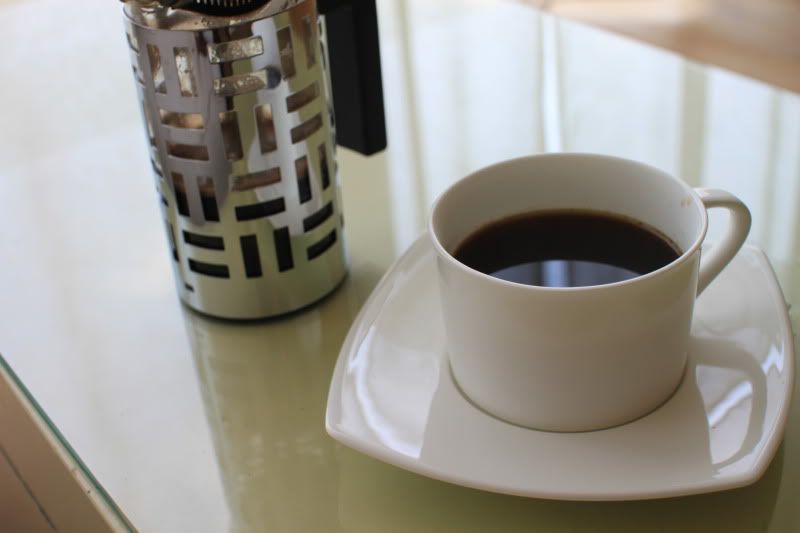 NOT INSTANT.
ARABICA.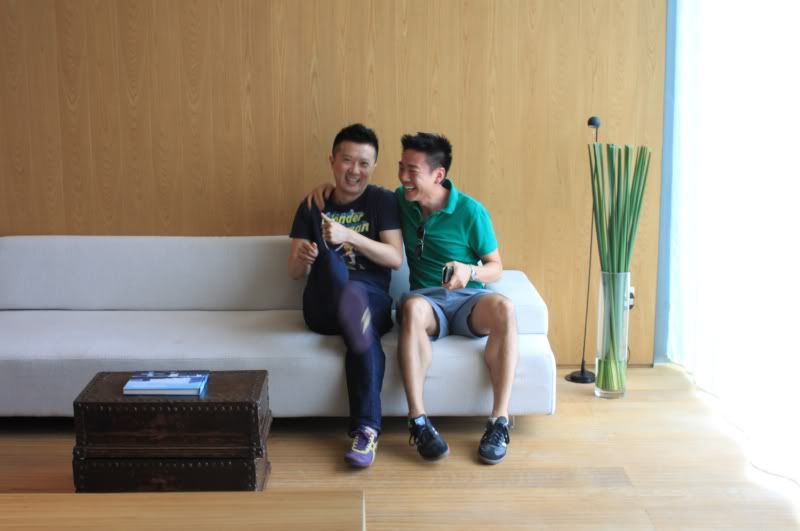 ENWEI & ALEX
"Would you like a breakfast martini?"
And with that, Alex Chen, The Opposite House's Director of PR, introduced himself to Hyperactive. It was love at first sight. It helped, of course, that Alex was wearing a tight-fit emerald green polo shirt and short shorts.
How much better can a Saturday morning proceed?
We were seranaded by the soothing rustle of bamboo leaves amidst a pleasantly temperate Beijing summer whilst we perused the menu. We were seated at an outdoor table in The Village Cafe, The Opposite House's all-day dining hangout. (The cafe also delivers room service.)
"I really am not a big breakfast person," I confessed as I shoved my scrambled eggs around my plate. It's true. My esophagus is just clamped up in the morning, which makes digestion practically impossible. Alex pretty much scarfed down a bagel brushed with liberal amounts of cream cheese and smoked salmon. Unfair, I thought, as I watched him with envy. Why do some boys just deflect carbs like water repels oil?
"I eat only steamed broccoli for dinner," Alex explained, as though reading my thoughts.
Minutes later, Enwei, the hotel manager, joined us. He was wearing a Wonder Woman t-shirt. Neat. He saw my eyes wander towards the ergonomic egg-shaped baby booster chairs. "We had to fly that product in from Hong Kong especially for Harper," he shared.
I gave him a puzzled look.
"Victoria Beckham's daughter," he clarified.
I solemnly nodded. But of course. Celebrity baby requires celebrity baby booster chair.
Moments later, I was whisked to the two-storey penthouse the Beckhams called home in Beijing. Stunning. It overlooked Beijing's equivalent of Central Park. The balcony alone could have fitted four of my and Chris' Hong Kong flat. Everything is supersized in Beijing.
I spent the rest of the morning with Alex and Enwei as my personal tour guides through the hotel's facilities. It was then that it became clear, The Opposite House is the nexus of The Village, Beijing's most hip and happening entertainment and shopping district.
As though to drive home that point, we bumped into Ryan - one of the organizers of Mr Gay China.
"Are you going to the 'AIDS Walk' fundraiser tonight?" Ryan enquired.
Of course, we replied.
Could we have answered any differently?
// PARTY.
CENTRAL. //