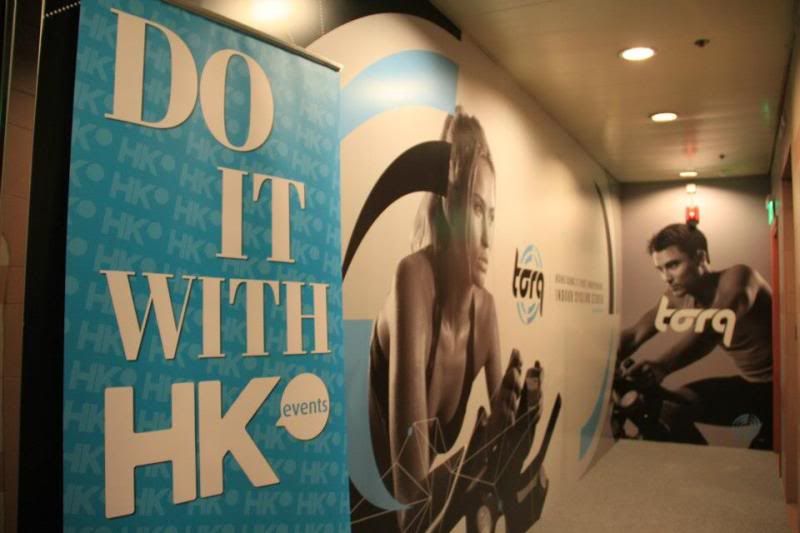 MY HOMEGURL, CHARMAINE, ORGANIZED THIS EVENT BY HERSELF.
BRAVA!
HK MAGAZINE EDITOR & 'SKIN DEEP' COLUMNIST SARAH FUNG.
SARAH - HOW CAN YOU STILL MANAGE TO SMILE?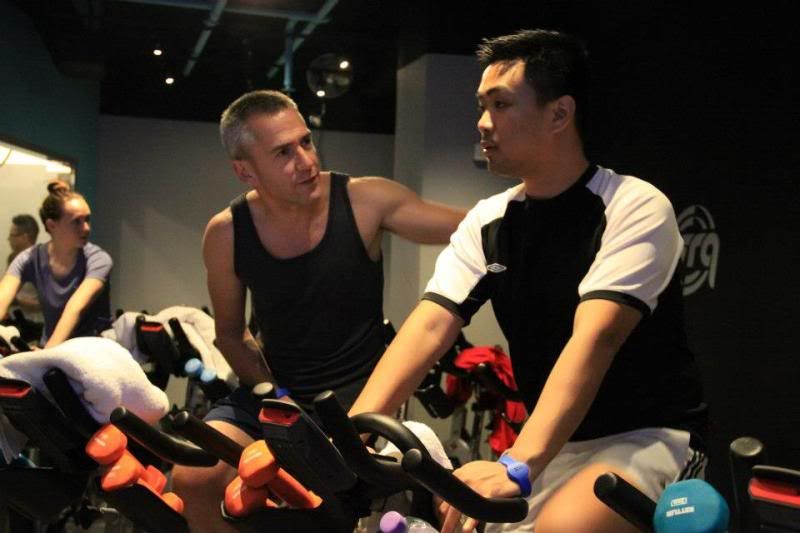 CHRIS DISHES SOME TORQNIQUE.
MY OTHER HOMEGURL, RUNNING, TOOK THIS SHOT OF CHRIS MID-SNEEZE, I THINK.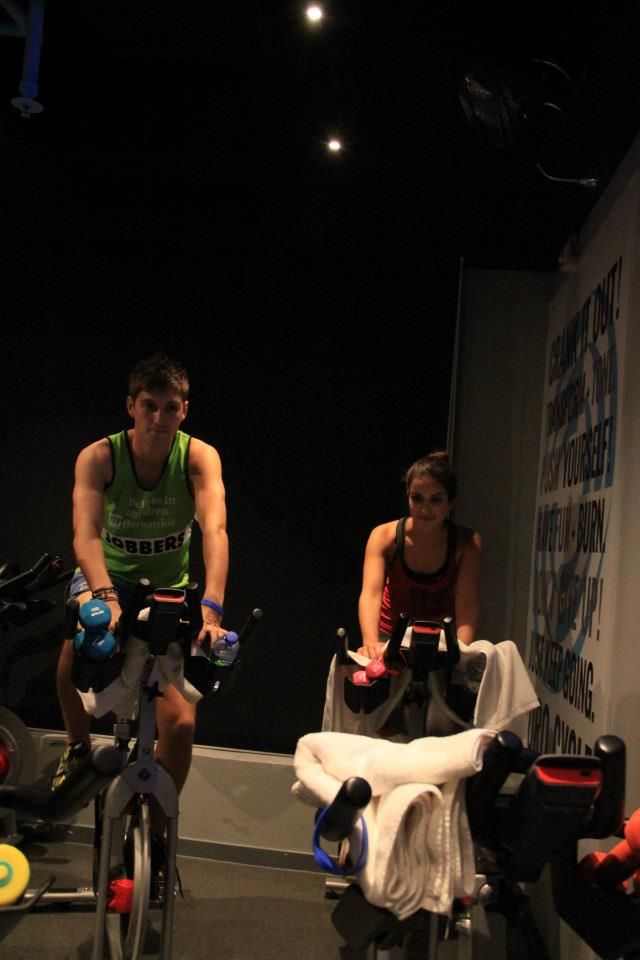 HOT, FIT COUPLE.
THEY WERE FIRST AND THIRD ON THE LEADERBOARD - AND THEY NEVER GAVE THEIR POSITIONS UP.
BRAVA!
Last Tuesday I went to the brand spanking new, state of the art spin gym TORQ for an event organized by
HK Magazine
for readers of
Sarah Fung
's
Skin Deep
column.
Apart from once-weekly trail walking with
Chris
, the most exercise I get these days is running to and from meetings, which I seem to have an endless number of. I've only gone to spin class once. I had my butt whooped by spinmeister, Kinni - who has a delicious Aussie accent. Being gay, he of course has fabulous spin tracks. Anthems galore! I felt like I was in a Sydney circuit party the entire time. I was all hot and sweaty and short of breath. I survived - but just barely.
TORQ is an intimate gym that packs plenty of power. There are only 28 bikes, each one hooked up to a giant leaderboard that broadcasts each person's RPM, energy and overall ranking. This adds not only an element of competitiveness to the experience, but also allows the instructor to track each person's workout. So although you're in a spin class, the attention is very personal. Performances are logged so everyone can track his or her progress through time. Everything is done through iPad - checking in, bike selection, redemption of rides, etc.
I ranked 4th place in the first half of the workout, which was spin-on-steroids with Loretta - a petite powerpuff girl. The second half of the workout was led by Adam - spin with weights! I enjoyed every second of it because I hardly ever get to do any sort of resistance training anymore. And even though I dropped to 8th place by the end, I was happy. At least I didn't fall of my bike, or worse, throw up. That would have been so unglamorous, especially in the presence of Skin Deep readers!!!
Seated to my right was Chris, who languished at rank 14. To my left was a super fit couple who never gave up their 1st (guy) and 3rd (gal) rankings throughout the workout. From the corner of my eye, I could see Sarah giving it her all - with a beautiful, beatific smile at that! - finishing in 5th place.
I never do better than Chris in physical activities, and so I was pleased as punch - until Loretta apologized to Chris about the problem with bike number 10. It turns out, Chris' bike wasn't logging in data properly and was due for a check. Bummer!
Lockers are touch-technology. Rain shower heads, Aesop soap and shampoo, sweet smelling towels, coconut water. Super duper.
Who wants to spin at TORQ with me?