THE AUTHOR KNOWN AS LEE HARLEM ROBINSON, THE HYPERACTIVE GAY BOY AND SKYCITY MARRIOTT'S ELIZABETH WAN
JONNY MAC CRAWLS ACROSS THE LINE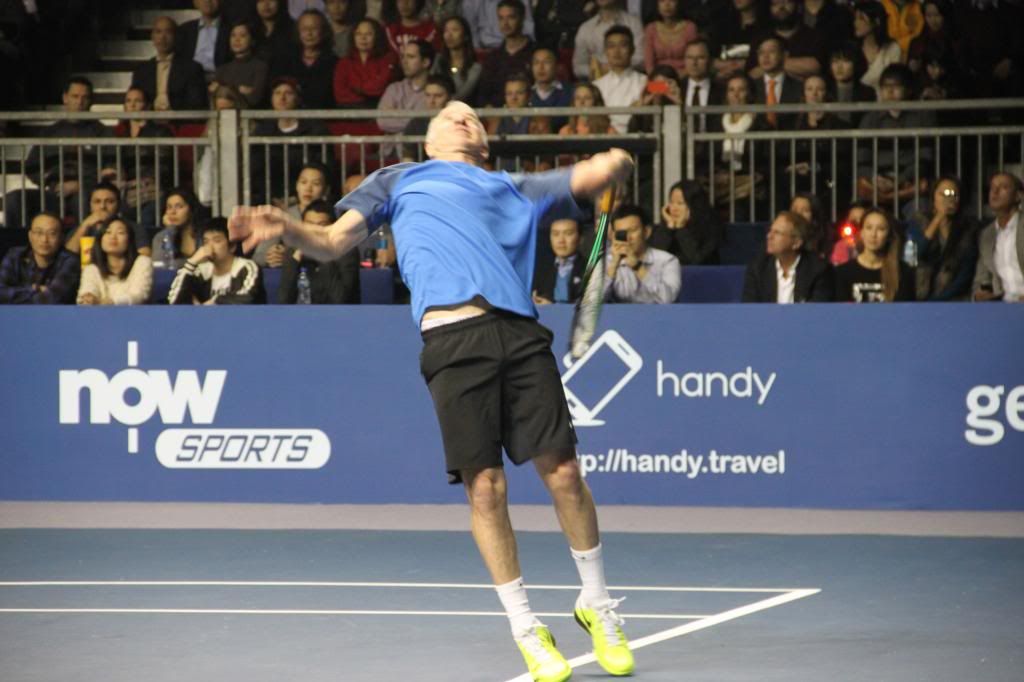 JONNY MAC MAKES A SHOT
SO CLOSE, WE COULD SEE BEADS OF SWEAT ON JONNY MAC'S BROW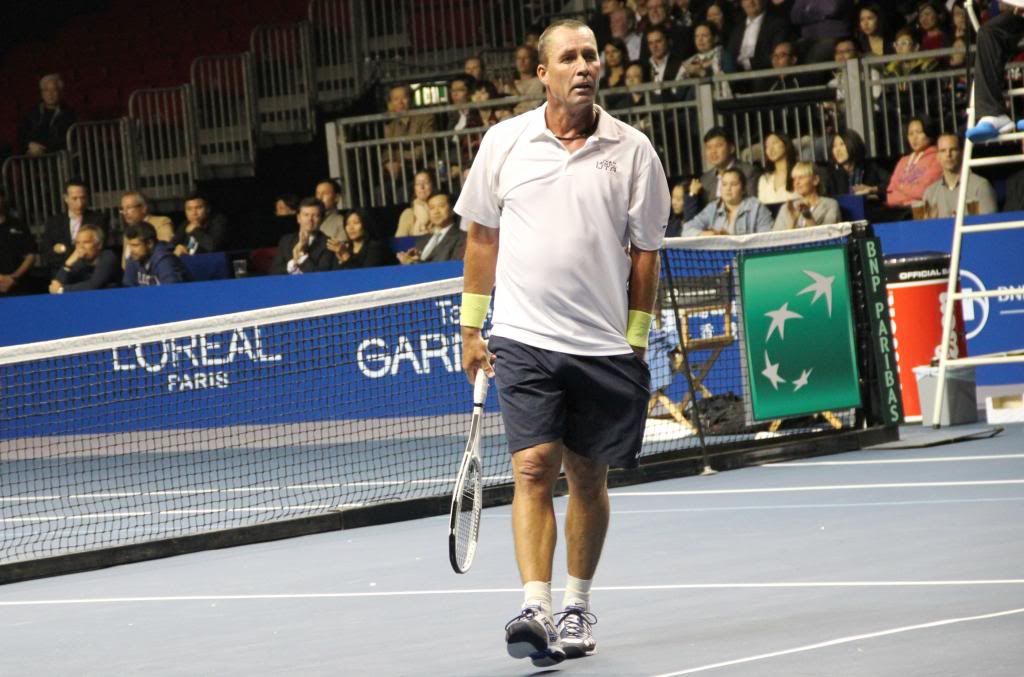 IVAN LENDL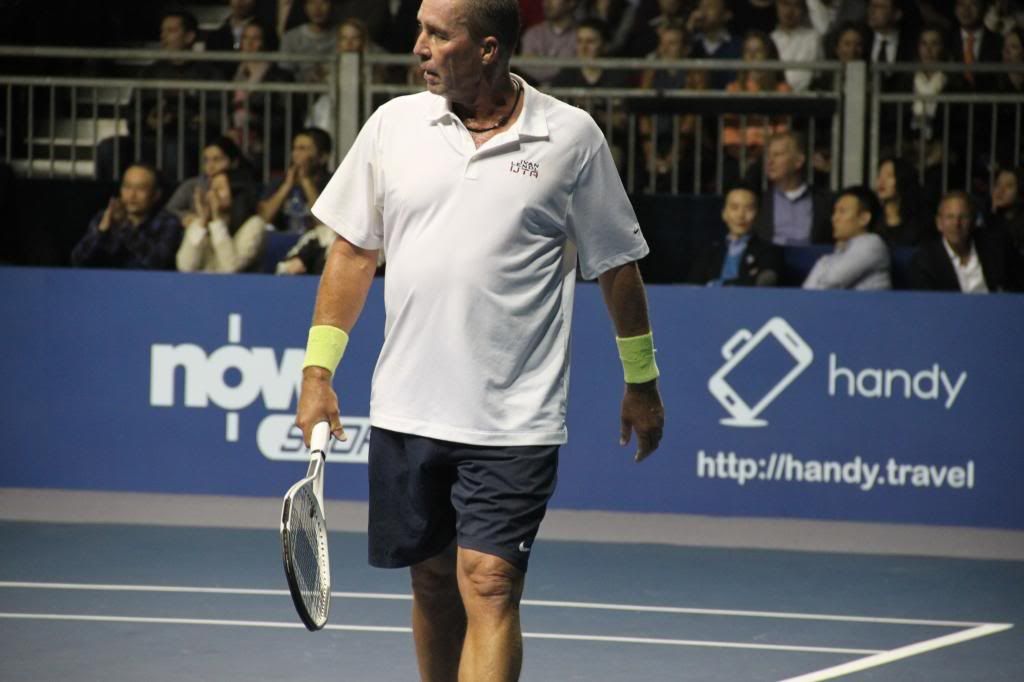 ANDY MURRAY'S COACH ABOUT TO SHOW HIS CHOPS OFF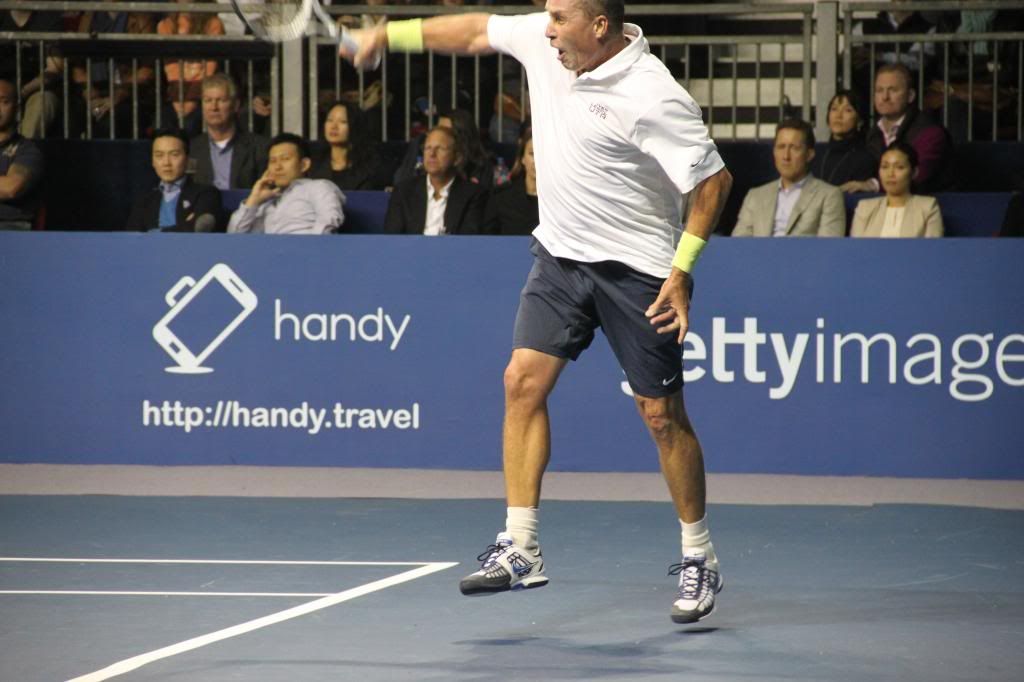 LENDL HITS HARD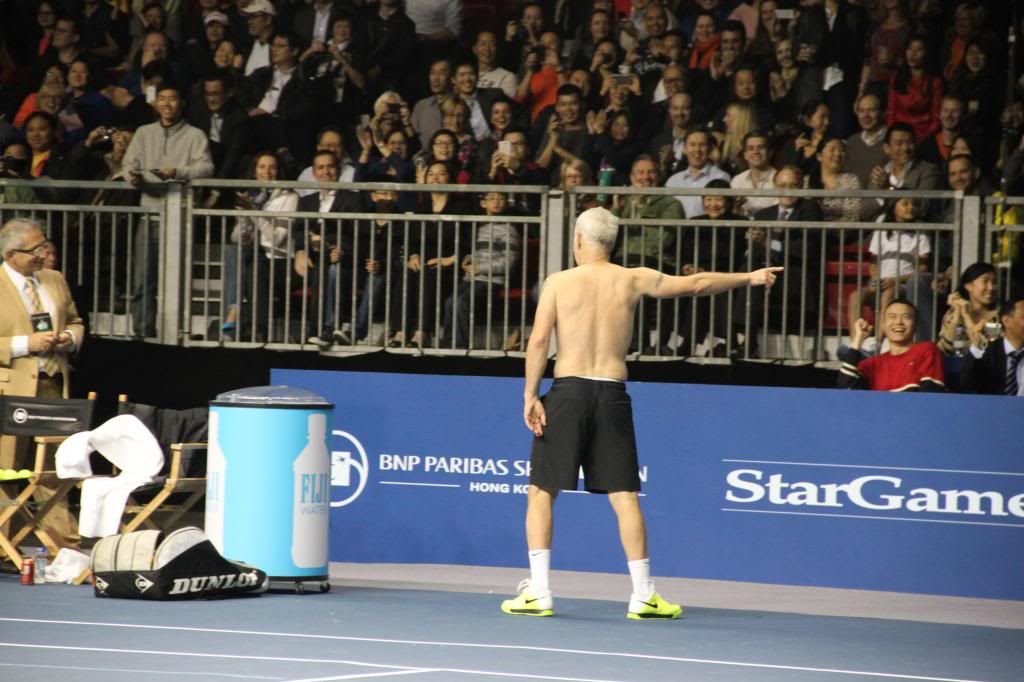 JONNY MAC WINS AND PROCEEDS TO TAKE HIS SHIRT OFF IN CELEBRATION,
A LA DJOKOVIC
TENNIS LEGENDS IN A POST-MATCH INTERVIEW
I've been a tennis fan since... well, since I fell in love with Pete Sampras. I've never seen a man with quite so much hair. Little did I know that he'd quickly lose it all, but that my love for tennis would intensify just the same.
That's why I was thrilled when an invite to the BNP Paribas Tennis Showdown came through from our friends at the
SkyCity Marriott
. Even though I haven't yet seen a tennis Grand Slam tournament live, I now had an opportunity to see some world class players.
Elizabeth Wan, the SkyCity Marriott's Director of Communications, met us at Subway just outside AsiaWorld Arena. Liz led us to our front row box seats - woohoo! - but not before I asked Chris to snap a photo. It was awesome to have been with Lore and Caro, who, like Chris and myself, are also tennis fans.
I didn't know what to expect from the game, but I certainly didn't expect to laugh and be entertained as much as I was.
John McEnroe and Ivan Lendl needled each other in a parody of their storied rivalry. Lendl was the better oiled player, I thought. He moved more fluidly across the court and seemed to have better facility of his body, despite being physically larger than Jonny Mac. Obviously Lendl, too, has benefited greatly from coaching one of the greatest players in the ATP today - Andy Murray.
Jonny Mac was rusty in the beginning, but as soon as he had warmed up properly and had unashamedly squeezed every ounce of adulation out of the crowd, he was on a roll. "This is worse than the old grass at Wimbledon," he griped after he had missed a shot.
Jonny Mac handily won, taking his shirt off and playing up to the crowd la Novak Djokovic.
The sportscaster then asked Jonny Mac, "It's been 17 years since you've played against each other. What do you think of Ivan?"
"He's done a good job coaching," Jonny Mac replied.
"Maybe I should coach John," Lendl shot back.
The crowd roared.