NOT EXACTLY THE RITZ-CARLTON,
BUT PRETTY DARN CLOSE.
DUNKIN DONUTS,
SITUATED ON THE GROUND FLOOR OF THE SAME BUILDING AS HONGDAE GUESTHOUSE,
HAS STRONG WiFi AND EVEN STRONGER COFFEE.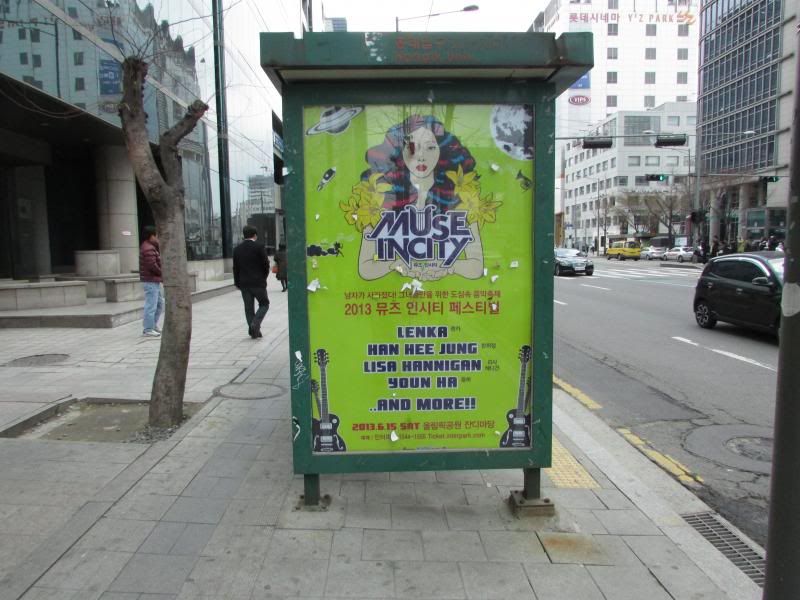 FEELING LIKE A HONGIK HIPPIE ALREADY!
My sister, Teri, booked me into
Hongdae Guesthouse
. It's a little B&B that's just half an hour away by metro from Incheon Airport. I got off at the Hongik University Station Exit 1, turned around to see Dunkin Donuts, entered the building, and took the lift to the third floor. Voila. I was in Hongdae, which marked the beginning of my very short Seoul sojourn.
My bed (number 3, on the lower deck) cost only USD38 for 2 nights. Shared bathroom (bring your own toiletries), desktop, and water dispenser. All good. Only complaint: there was no curtain in front of my bed. It had disappeared and clearly hadn't been replaced. Light from street lamps spilled into the room in the evenings, mostly onto my bed. But I was only staying for 2 nights, so whatever. All part of the cheap and cheerful experience!
Being within the vicinity of a university known for art and architecture, the area is dotted with quaint design shops, cafes, book stores, fast food eateries, and even a bustling night market (more on that on another entry - my solo Seoul bender!)
If you're doing Seoul on a shoestring, Hongdae Guesthouse is perfect. Great district, centrally located, very convenient and accessible. Just be wary of the design shops - quaint establishments that defy description. They're hipster hangouts that also sell books, DVDs, perfume, cake, paintings, calendars, watches, whatever. Always check prices before you head over to the cash register. I decided to have a beer in one such place and ended up paying USD12. I could have paid USD3 in the pub just across.
I saved money on accommodations but blew my budget on just the one beer. Classic.