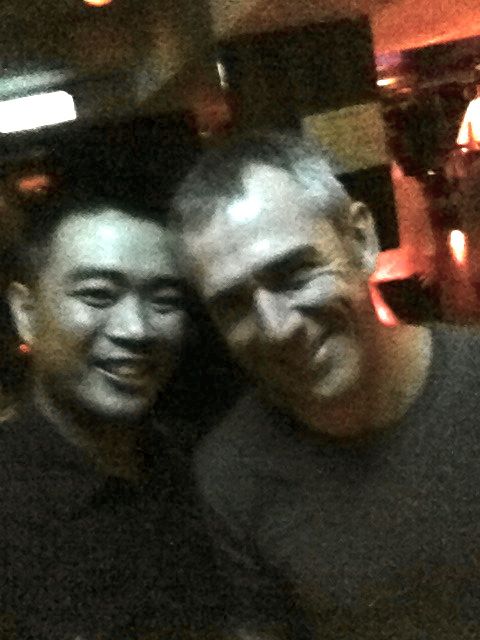 HYPERACTIVE + CHRIS
REQUIEM FOR PSYCHIC JACK
I remember Psychic Jack well for one particular reason. The weekend they scheduled their series of launch events was the same weekend I had scheduled the inaugural edition of Mr Gay Hong Kong to take place.
I was livid. I had of course announced my pageant many months prior. But PJ's PR claimed that the owners were unaware that Mr Gay Hong Kong had already claimed the date.
I felt like a big, commercial bully was taking advantage by piggybacking on the popularity of the the weekend I had tried so hard to build up. After all, the owners of PJ also own Propaganda which, to this day, is the only gay club in Hong Kong. I was small fry.
That's why at first, I was skeptical when the PR called to request a meeting with me, on behalf of PJ's owners. What for, I wondered, and and what bargaining chip do I really have? All I had was an event which, granted, held a lot of promise. But it didn't seem to me like my date mattered any which way for businessmen who have been operating LGBT-oriented businesses for decades. Theoretically, they could do as they wish without much further consideration toward context.
But much as I had erected a fortress of hostility, I was immediately disarmed by Steven's and Lawrence's (PJ's owners) authenticity. They seemed sincere with their explanation that they simply didn't realize a major event had already been scheduled, months ago, to happen on the same weekend. They were sorry, they said, for not having done the first thing they should have: Check the LGBT calendar. If I was interested, they asked, could they perhaps offer every Mr Gay HK ticket holder a complimentary entrance to Psychic Jack? They'd then function as MGHK's
de facto
after-party venue.
I was caught off guard. Until then, I hadn't even considered doing an after-party - much less, adding value to every purchase made by ticket holders to my event.
I agreed.
From then on, MGHK and PJ have had a symbiotic relationship. PJ hosted the launch of
Pink Dot HK
, the 8th anniversary of Fruits in Suits, and even Benjie's (Mr Gay HK 23013) birthday party. It has been easy. Drama-free. Steven, Lawrence and Joe (venue manager) have been complete sweethearts.
I received the news of PJ's impending closure with not a small amount of melancholy. I'd be hard-pressed to identify any other businessmen who have invested as much into the local LGBT community as Steven and Lawrence have. Apart from supporting MGHK, they also have been loyal advertisers in
Dim Sum Magazine
and anchor sponsors of the
HK Lesbian and Gay Film Festival
. They're proper pillars of the community.
"It's a sign that people care," noted Steve Freeman, erstwhile publisher of
HK Magazine,
as he scanned the mass of patrons that descended onto PJ tonight. I could only nod my head in agreement.
Psychic Jack will open its doors for business one final time tomorrow, Saturday.
PSYCHIC JACK
1/F, 30-32 Wyndham Street
Central, Hong Kong