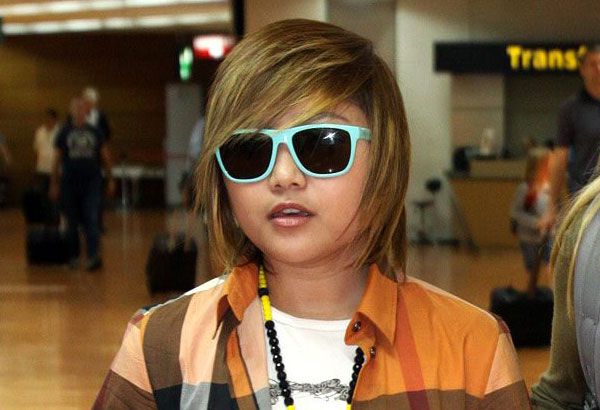 CHARICE
Many in the LGBT community question the big hullabaloo surrounding Charice's coming out. Of course we still love and support her - nothing has changed; we could tell years ago that she was
different
anyway - that she's very likely one of us; we applaud her courage to come out into the open, etc. Really -
darling, it's not a big deal!
Shouldn't we therefore lead the charge towards the day when this type of announcement isn't newsworthy or necessary any more, by collectively having a more muted reaction?
But it
is
a big deal exactly because it is Charice. Here's why:
05
She defines celebrity
today
.
Certainly there have been other Filipino artists who have blazed a trail to international stardom. Lea Salonga is Broadway and Disney royalty. She is who she is thanks in part (a
big
part) to an elite group of taste makers. Producers, directors, critics - the Culturati.
In contrast, Charice is a product of self-promotion. She's a YouTube sensation. And she's relevant because she built and nurtured a massive following
on her own
long before influential taste makers came along to validate her talent. She's a true-blue internet celebrity.
Really, Charice shares more in common with Justin Bieber than she does with Lea Salonga. Lea and Charice are both Filipinos, but...
04
Charice is the
new
Pinoy
. Relentlessly hardworking - sure. Insanely talented - absolutely. But also fearless, worldly, entitled and unapologetic.
She's got swagger. Brand Pinoy is so hot these days, it's cool. apl.de.ap. Nicole Scherzinger. Jessica Sanchez. Darren Criss. And speaking of Darren Criss...
03
Glee. Apart from Charice, who else has had guest appearances in this Emmy and Golden Globe-winning musical-dramedy television series?
- Olivia Newton-John
- Whoopi Goldberg
- Gwyneth Paltrow
- and Perez Hilton, also a true-blue internet celebrity.
Charice is in good company (hello, understatement!). Glee is arguably the most popular show about and amongst LGBT youth. There's no bigger platform for an LGBT role model than Glee. The only thing bigger than Glee is...
02
Oprah. Make that Oprah Winfrey and her ginormous sphere of influence. Once Oprah got into Charice's inner circle (we've already established that the taste makers are the late comers, in this case), the Celine Dion and David Foster connections were activated. Madison Square Garden, Las Vegas, Oscars after-parties, and an album that debuted at number 8 on the albums chart soon followed. To this day, Charice is the only Asian singer to have landed in the Top 10 of the
Billboard 200
.
She's still a long way away from Melissa Etheridge and k.d. lang - and for sure Sir Elton John belongs to an even higher echelon. But damn if Charice isn't breathing the same air as these gay music giants.
Before we start having unrealistic expectations about the music she'll be making from here onwards, though, let's be reminded that Charice is too much a product of new media. It's therefore unlikely that her music will take on an angst-y (artsy?) complexity, simply because she has arrived at the doorstep of the LGBT universe. It's very likely, however, that we'll start hearing a deeper layer of pain because...

01 She's estranged from her mother.

This, I feel, should be the crux of Charice's coming out story. My fellow Charice fans know too well that her mum, Racquel, was practically her shadow. It even seemed to me like the absence of a love interest in Charice's life was because there wasn't any physical or emotional space available for anybody else to maneuver - that's how tight they were (watch the video below).

So what happened?

The Philippine Star reports that Charice is presently staying in the house of a family friend:

"I left our home because that's what I had to do for now. Now, I can enter a house where I can do anything [without anyone passing judgment]."

Charice then thanked what she called her "second family" for accepting her. In the next breath, she expressed hope that she and her mom and her grandmother will be able to sort things out and let bygones by bygones.

Woe be unto us, human beings, when judgment and rejection come from the first place we'd hope to receive love and affirmation instead.

Whilst we celebrate pockets of victory in our campaign for marriage equality, Charice, poster child for today's LGBT youth, is fighting a war we've had to endure for decades:

The war against discrimination in our own homes.

THIS is why her story matters.