POUTING FOR DEAR LIFE,
MANAGING EDITOR SARAH FUNG & HYPERACTIVE.
HK MAG'S COUNTRY MANAGER GREG CRANDALL (R) RECEIVES THE BEST MAGAZINE APP AWARD
FROM MARKETING INTERACTIVE GROUP EDITOR, MATT EATON.
EVERYONE, PLEASE MEET OUR TROPHY! YAY!

AT FIRST, I DIDN'T UNDERSTAND WHY THE TROPHIES WERE SHAPED LIKE THE TENT CARD HOLDERS
YOU OFTEN SEE IN BARS AND RESTAURANTS.

THAT'S 'COZ THEY'RE NOT TENT CARD HOLDERS.

"THEY'RE MAGAZINES," GREG POINTED OUT HELPFULLY.
OF COURSE!


*BLUSH*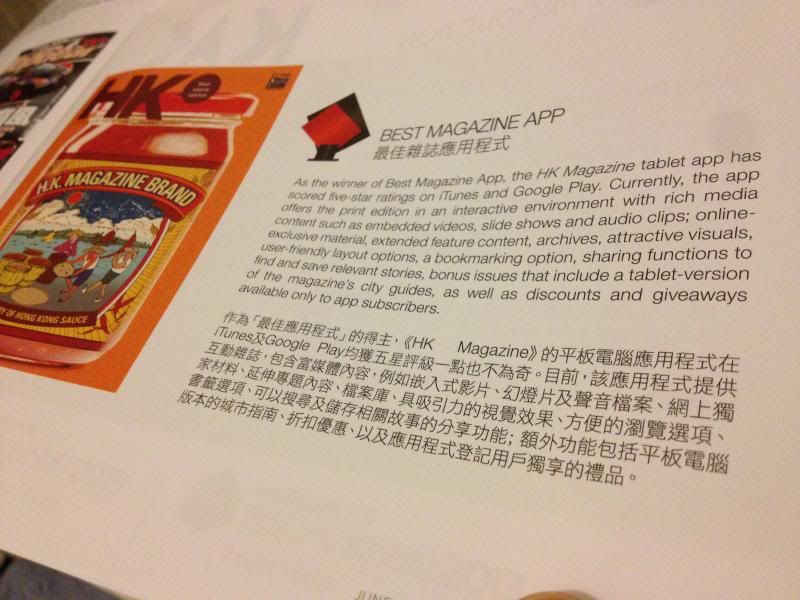 HERE'S WHAT MARKETING INTERACTIVE'S EDITORS SAID ABOUT HKTAB :)
I was beyond thrilled when I received
the
call from
Marketing Interactive
. Their editors have selected
HK Magazine
's
HKTab
as Best Magazine App of 2013. We were to receive a trophy at the Magazine of the Year Awards Gala Dinner in The Mira. The one question that immediately burned through my mind was:
What to wear?
The invite said black tie. I madly combed Central and Sheung Wan for a set of Hyperactive candy-striped bow tie and cummerbund. No such luck. I swallowed my fate. Conformity.
I've organized a few events in The Mira; I know the hotel well. The ballroom was the one spot I hadn't yet been to. Don't know why. I just never thought to ask about seeing it before. I only know that Katie Perry performed there during the hotel's Grand Opening bash in 2009. It was the Party of Year. But people in Hong Kong still remember that event - and how
impossible
it was to ensure they'd receive an invite, though that's something
nobody
will ever admit. That one event created the brand. Indeed, it foretold The Mira's position as city dwellers' favourite boutique hotel.
The Mira is one of HK Mag's closest partners. I organized the launch events of our Happy Hour Finder and HKTab at The Mira. They've staunchly stood behind us when we were launching new digital platforms, the audience for which at the time were 0. How much more faith can you ask from a brand?
"Full circle, Jakub," I messaged my counterpart in The Mira's PR team. "We launched in The Mira, we won the award in The Mira. It's poetic, the journey – but I'll stop being too fuzzy right now!!!"
"Indeed," Jakub replied. "Let's just say we're a charm :)"
Food was fantastic, drinks were OK (I had mostly fresh squeezed, pulpy orange juice because hello - it was an industry event and therefore not cool to be shitfaced), and entertainment was a hoot. It was a Quiz Night masquerading as an Awards Dinner! And that's totally cool 'coz how else do you keep an audience of marketing people engaged if you're not gonna do anything different?
This is big kudos, from one magazine to another. Thanks to Marketing Interactive for the accolade. Thanks to our advertisers who trust in our ability to create great products and build a loyal readership. And to our readers, thanks for inspiring us to communicate with you in ever evolving ways.
Onward!