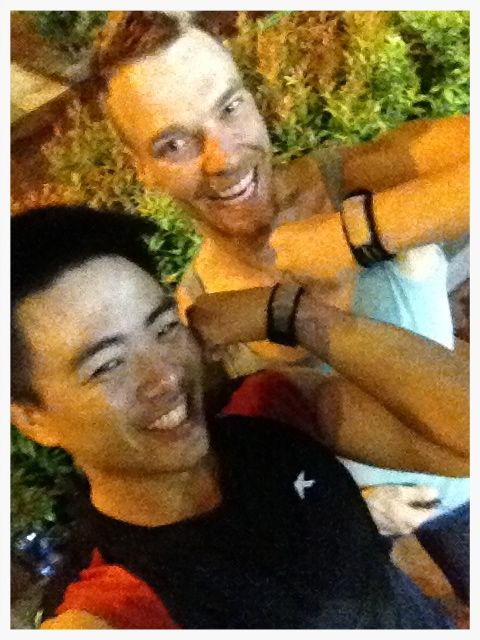 THE #FITNOTFAT OUTDOOR WERQOUT™
WITH FAB FITNESS TRAINER, J BRIDGE HUDSON.

WE'RE SO NOT SHOWING OUR BICEPS OFF - STOP!
WE'RE SHOWING OFF OUR MATCHING HIS-AND-HIS PARA'KITO WRISTBANDS.
GETTING #FITNOTFAT IS A PROPER ENDEAVOR.


HYPERACTIVE'S #FITNOTFAT OUTDOOR WERQOUT™ ESSENTIALS:

* LIFETRONS' SUPER SEXY PORTABLE SPEAKERS,
TO BLAST UPLIFTING GOSPEL HOUSE IN HI-DEF STEREO SOUND

* MEDICINE BALL,
FOR POWERED-UP BOOTY PUMPS AND PUSH-UPS

* PARA'KITO WRISTBAND AND CLIP
TO KEEP ME FOCUSED ON GETTING #FITNOTFAT,
NOT ON SCRATCHING MOSQUITO BITES!
I got a truckload of birthday presents this year - THANK YOU. I do love prezzies and can't imagine throwing a birthday party that says "No presents, please." I mean?!? It's fun to give
and
receive! That's also why I don't believe in people who say they're Top Only or Bottom Only - but let's save that for another blog entry.
This year, I thought I'd give myself a present, too.
I signed up for personal training with my dear friend, Bridge, who also happens to be the 2012 Mr Gay HK 1st Runner-up. I'm tired of being fat, especially when I have to stand for photos in the middle of my Mr Gay HK winners! So I decided to get #fitnotfat.
We have a lot of fun, Bridge and myself. We're both extroverts; outdoor exercise suits us much better. And we werqout later in the evening, since we're both frighteningly busy. We gossip a lot. It's fun having the non-threatening presence (as opposed to predatory 99% of the time) of another gay man, with whom to decompress and just process the day's events. No judgment. Just two, strong, black women - gabbing.
We gab whilst we roll out my IT band - that tough group of fibers that run along the outside of the thigh. We gab whilst doing squats, lunges, chest passes - any exercise that doesn't require me to focus on counting or on some belabored breathing. I'm only ever quiet when I jump rope or do push-ups or burpees (yuck).
Unfortunately, whilst we gab, mosquitoes feast. The mozzies at Sun Yat Sen Park are notoriously huge, bloodthirsty suckers. Half the time, I was either clapping mosquitoes dead or scratching at the big, angry bites. The next day, I came prepared with a bottle of mosquito repelling spray and some ointment to rub on inflamed bites. I did the whole ointment thing all over again after I showered. My body was riddled with spots - battle scars from my war against mosquitos. I went to bed, defeated.
Enter Plug PR to the rescue, with a care package from
Para'Kito
. The mosquitoes are... nowhere. Don't see them. I've been a happy camper since then because all I have to do to get myself #fitnotfat is get into my werqout clothes. I have my wristband on all-day anyway, and my bag is similarly clipped. I've got a "protective shield" around me.
"It smells nice," Bridge noted.
"Citronella, I think."
"I don't even feel like I stink post-werqout coz I've got this beautiful smell around me."
"Well, that's not an excuse not to wear deodorant..."
"I used to not wear deodorant when I had a desk job and wouldn't need to be out on meetings."
"Really?"
"Yeah... It's tough to find a vegan deo. Most have harmful chemicals."
"In the Philippines, you could get
tawas
... I don't know what it's called in English... It looks like a rock..."
"A crystal - yeah I've seen it!"
And so forth. We mouth ourselves off for hours and hours. Meanwhile, I'm getting a good werqout in. It might be tough to believe this, coming from bossy, old me - but working on my physical shell is also doing wonders for my soul.
I celebrated my birthday last week, surrounded by the beautiful, amazing people who have made this Hyperactive Hong Kong life so meaningful.
It has been eight years since I first got here.
And I feel like I've only just begun.
DARK CHOCOLATE!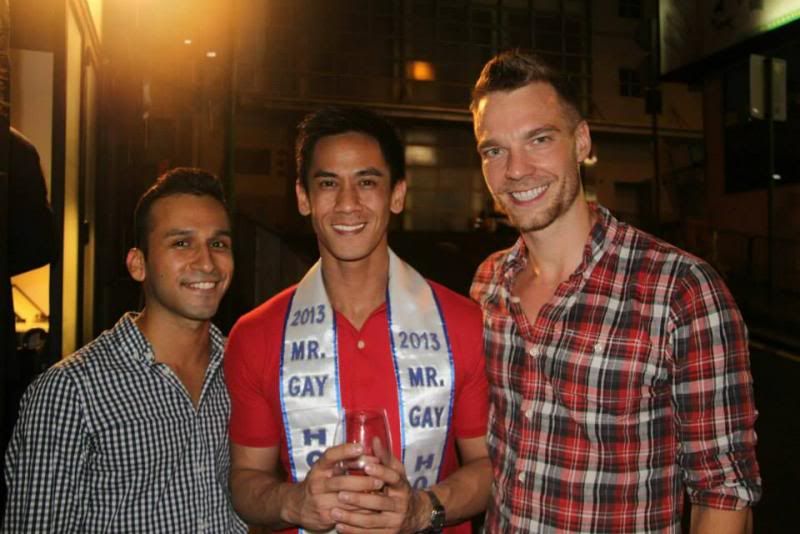 B3: BRUNO, BENJIE & BRIDGE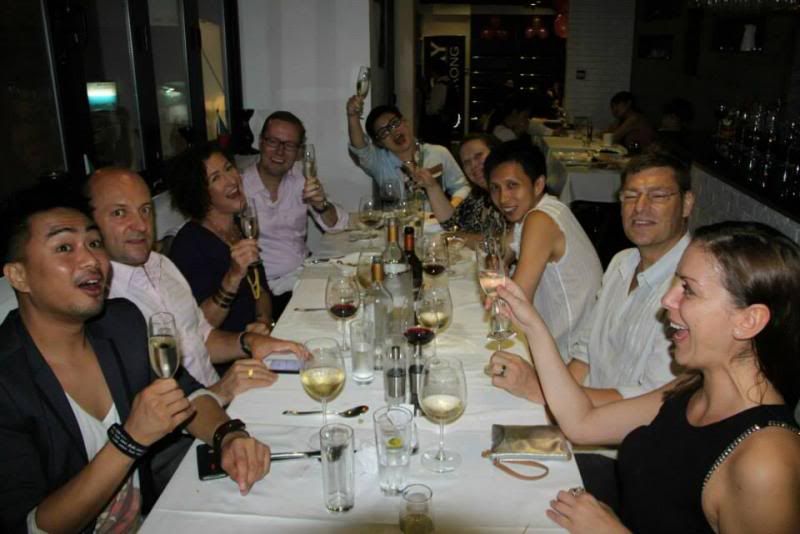 CHEERS TO #HYPR!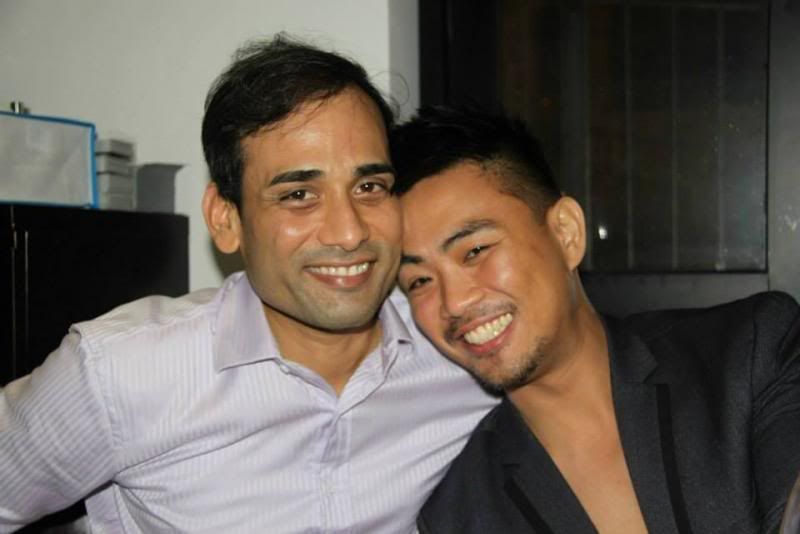 WITH MY BELOVED AD
AT MR GAY HK'S MEDIA MEET & GREET AND SEND-OFF PARTY FOR MR GAY WORLD

(L-R): RYE BAUTISTA, ANNA ADASIEWICZ, EMMA HAMMONDS, #HYPR,
LEGGY MODEL LAURA FROM GERMANY, AND HELENA CHAN OF ASIA'S NEXT TOP MODEL

PARTY POLA!
// WE START OUT WALKING
AND LEARN TO RUN! //