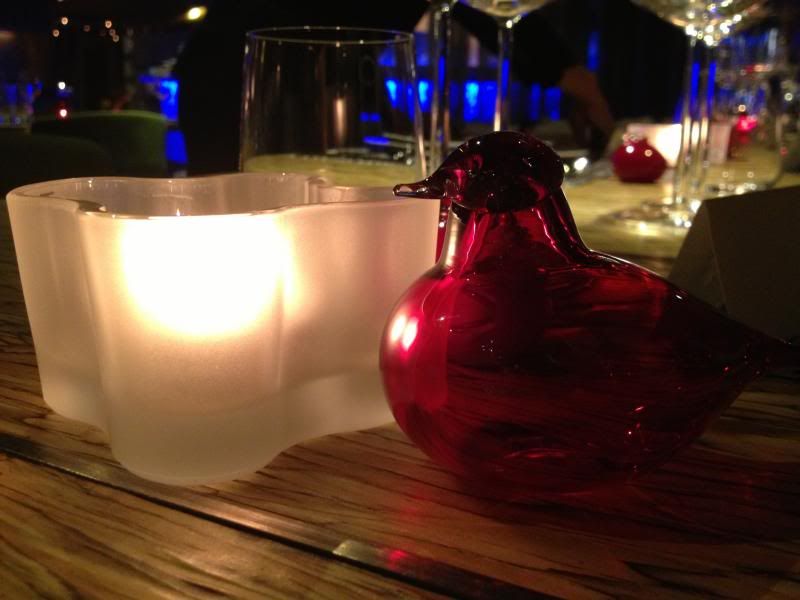 FAT BIRD MADE FROM HANDBLOWN GLASS.
I WANTED TO TAKE IT HOME.

AND THAT OH-SO-CLASSIC IITTALA CANDLE HOLDER, TOO.
NAPKINS ROLLED AND SECURED WITH A FINDS RIBBON!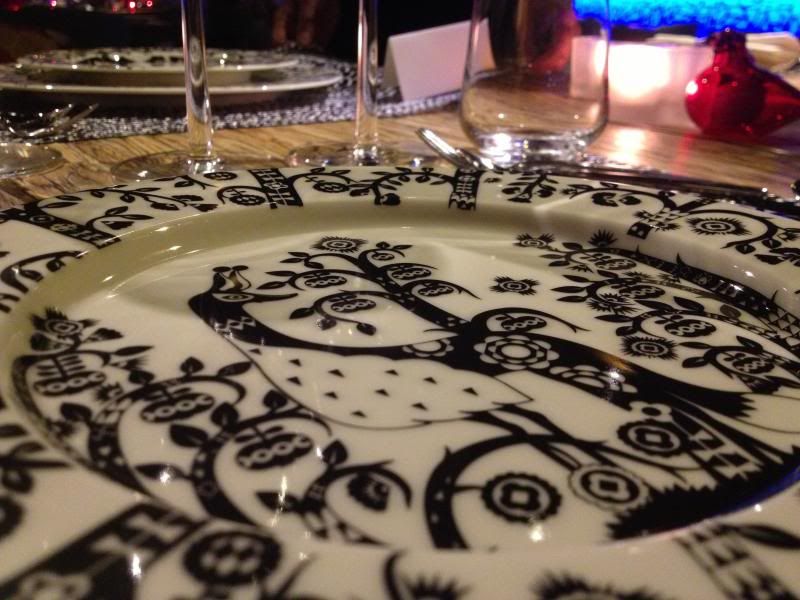 HOW PRETTY ARE THESE PLATES, SERIOUSLY?
THAT'S ME - HYPERACTIVE!
MENU + ILLUSTRATED MAP OF SCANDINAVIA WITH 'PIN DROPS' ON PLACES WHERE DISHES ON THE NORDIC EXPRESS MENU ORIGINATED.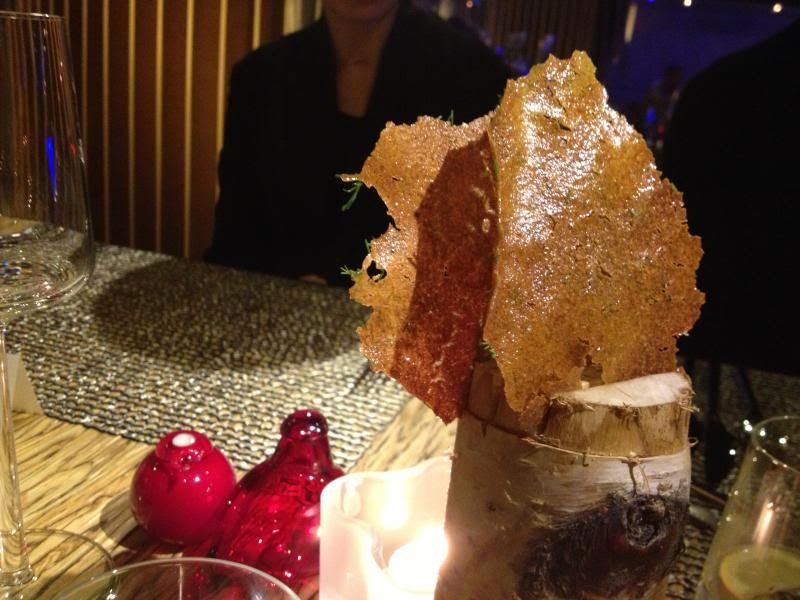 THIN RYE CRISPS SERVED ON A BRANCH OF A BIRCH TREE -
BECAUSE WHY NOT?
OH!
BREADS IN A BOX!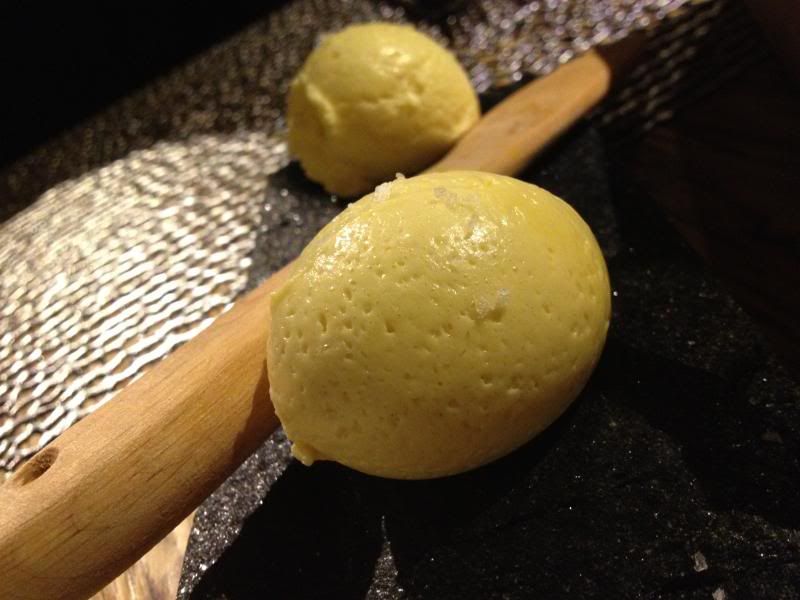 TWO KINDS OF BUTTER: REGULAR AND SMOKED (?!).
THESE BALLS HAD A COOL, FLUFFY, AND ALMOST MOUSSE-LIKE TEXTURE.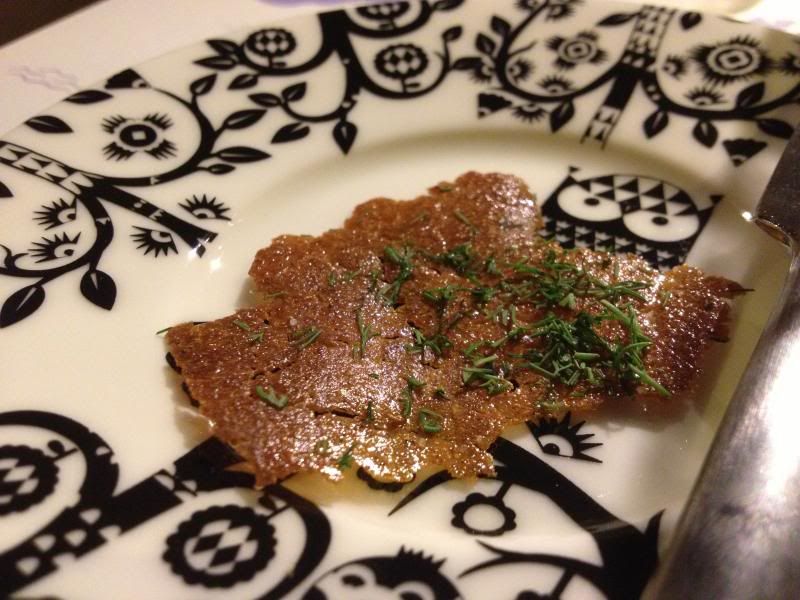 OH, THOSE CRISPS.
NOW, THEY'RE ON MY PLATE!
'LIFE OF ARCTIC CHAR' -
FROM ROE TO CRISPY SKIN!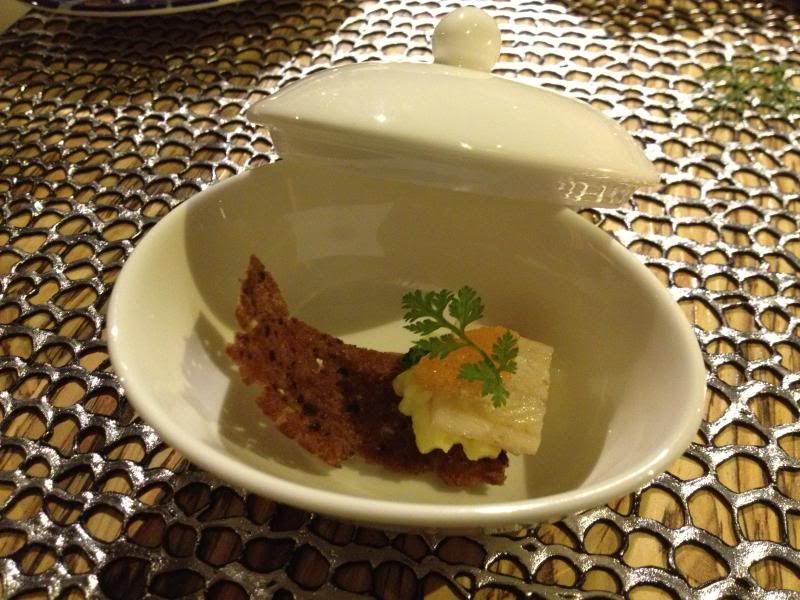 SEXY SMORREBROD
TOPPED WITH GOLDEN VENDACE ROE ON SMOKED EEL.
KINDA REMINDS ME OF THE BIRTH OF VENUS BY BOTTICELLI.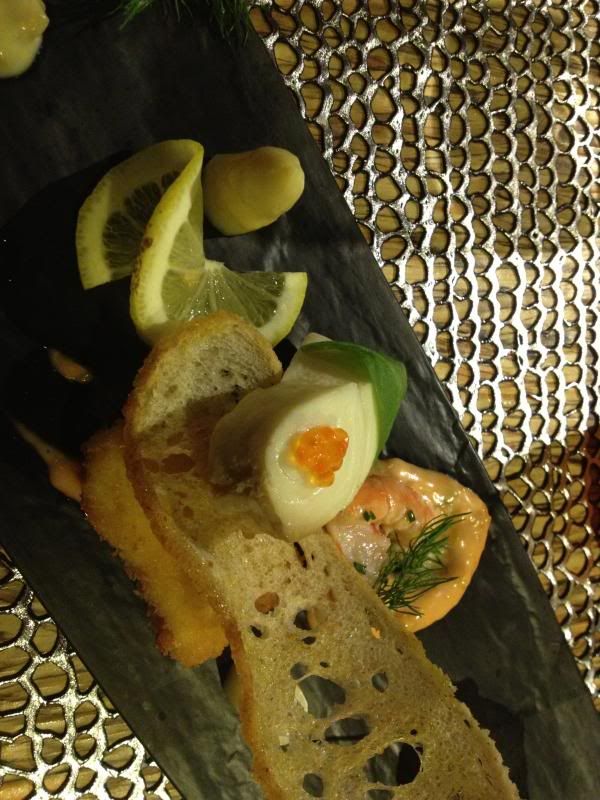 MORE DANISH GOODNESS, ALL IN A ROW -
INCLUDING A PORK RILLETTE DISH THAT THE PRINCESS OF DENMARK APPARENTLY HAD THREE PORTIONS OF WHEN SHE WAS OVER AT FINDS FOR A MEAL.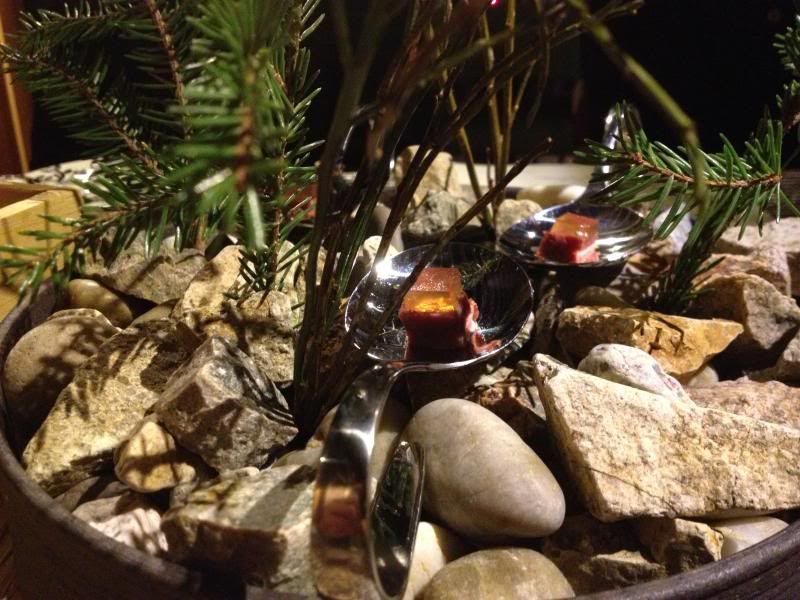 BY THIS POINT, I HAD STOPPED TO CARE ABOUT THE DISHES' NAMES.
I WAS TOO BUSY ENJOYING THE PARTY IN MY MOUTH.

I DO REMEMBER, THOUGH, THAT EACH MORSEL OF PATE WAS TOPPED WITH ROWANBERRY JELLY THAT JAAKKO AND HIS MOM MADE WITH THEIR OWN HANDS.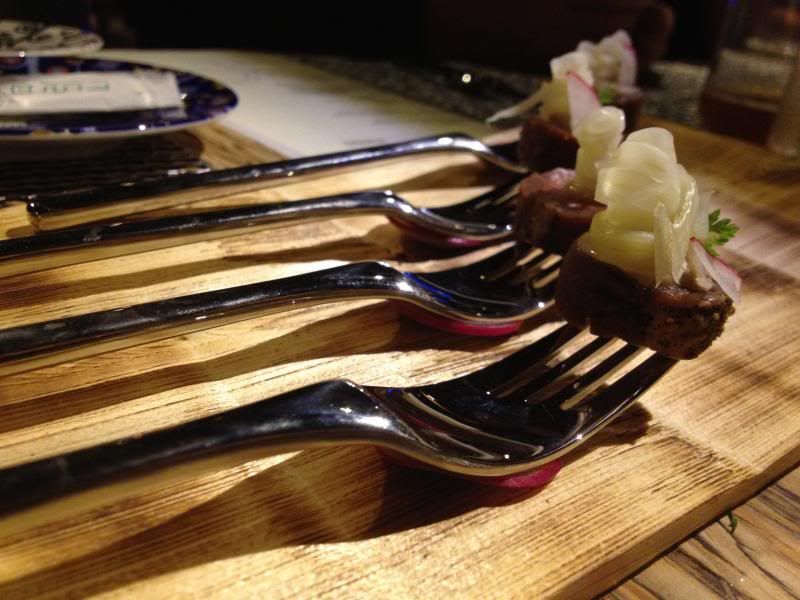 MARY HAD A LITTLE LAMB;
JAMESIE HAD A LITTLE BITE.

AND I WANTED TO TAKE THAT WOODEN SERVING BOARD HOME WITH ME.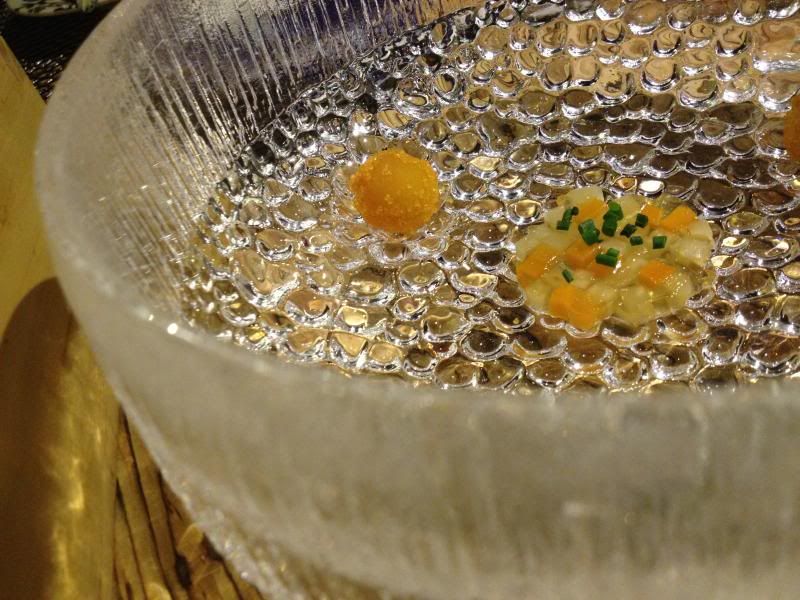 JUNIPER-SMOKED QUAIL-EGG YOLK ?!?!?!??!!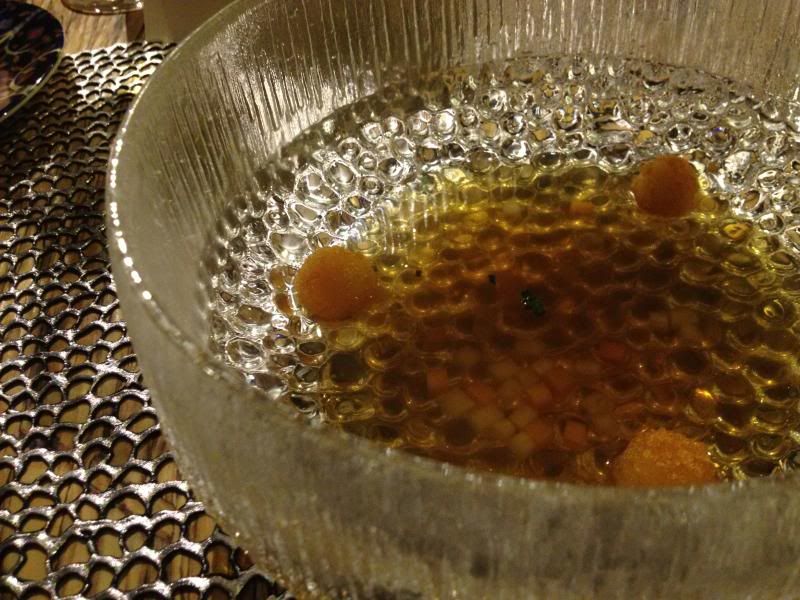 MY BRAIN WAS STILL IN OVERDRIVE,
WONDERING WHAT KIND OF EXPERIENCES IT TAKES TO ADVANCE ONE'S PALATE TOWARDS DREAMING UP SUCH FLAVOUR COMBINATIONS, COOKING TECHNIQUES AND FUCK-OFF FABULOUS PRESENTATION.

OH YEAH - THIS WAS A SOUP. I HAD ALMOST FORGOTTEN.
BROTH IS MADE WITH WILD CHANTERELLES,
FINISHED OFF WITH A FLUFFY CLOUD OPF CHILLED POTATO CREME.

THAT GLACIER-INSPIRED SOUP BOWL WAS SO PRETTY, TOO,
CAN YOU GUESS WHAT I DESPERATELY WANTED TO DO WITH IT?

TAKE . IT . HOME.
MACKEREL FISH BALLS SERVED ON HOT STONES.

BEER IS POURED OVER SUPER-HOT STONES -
CREATING A SIZZLING, AROMATIC BROTH THAT QUICKLY BATHES THE BALLS AND COOKS 'EM.

IT'S A SHOW.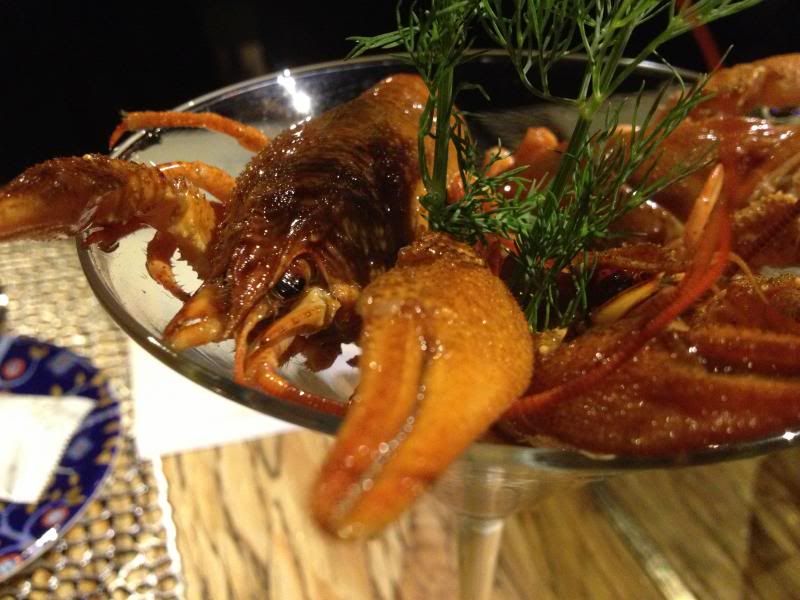 HELLOOO THERE,
CHILLED, LITTLE CRAYFISH.
I'M ABOUT TO EAT YOU NOW!
OH.
I'M MEANT TO HAVE IT ON A PERFECTLY OVAL PIECE OF TOAST....?

BUT I DON'T DO CARBS.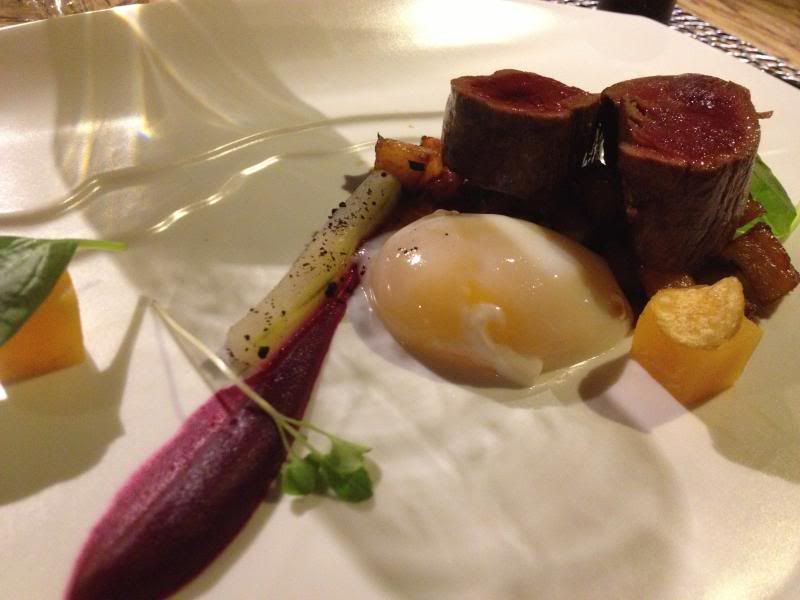 JAAKKO'S SPIN ON THE HUMBLE 'BEEF RYDBERG' -
VENISON RYDBERG!

THOSE VENISON TENDERLOIN MEDALLIONS WERE SO PEFECTLY COOKED,
I SWOONED WITH EACH MOUTHFUL. THE FLESH HAD AN ALMOST VELVETY TEXTURE.
DELICIOUS BEYOND BELIEF.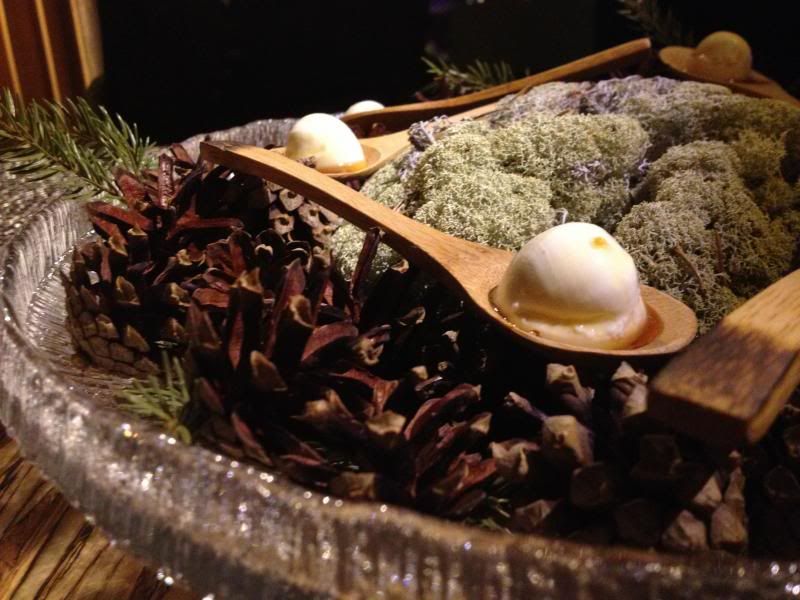 VANILLA SNOWBALLS!
SERVED ON WOODEN SPOONS!
WHICH I ALSO WANTED TO TAKE HOME WITH ME!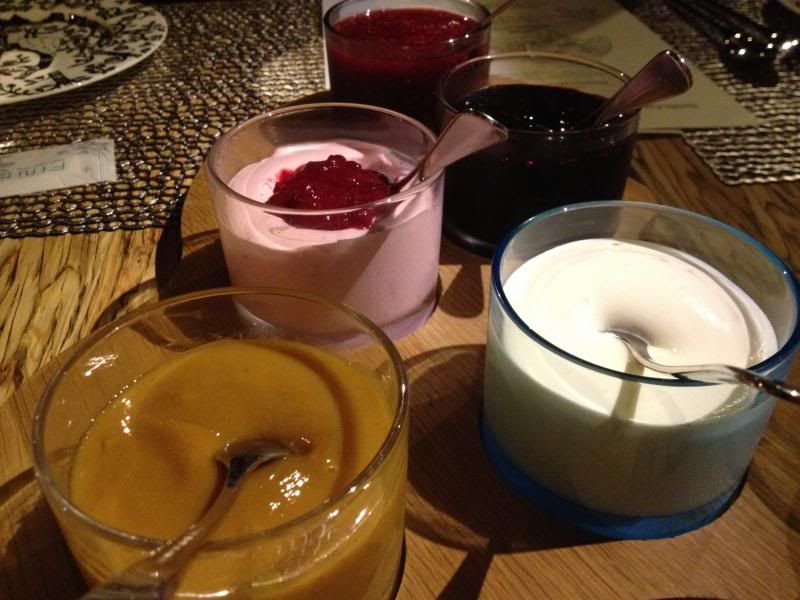 WHAT'S A PANCAKE PARTY WITHOUT A SELECTION OF JAMS?
CLOUDBERRY, RASPBERRY, LINGONBERRY, BLUEBERRY JAMES
AND SOME COGNAC CREAM, JUST COZ!
RHUBARB!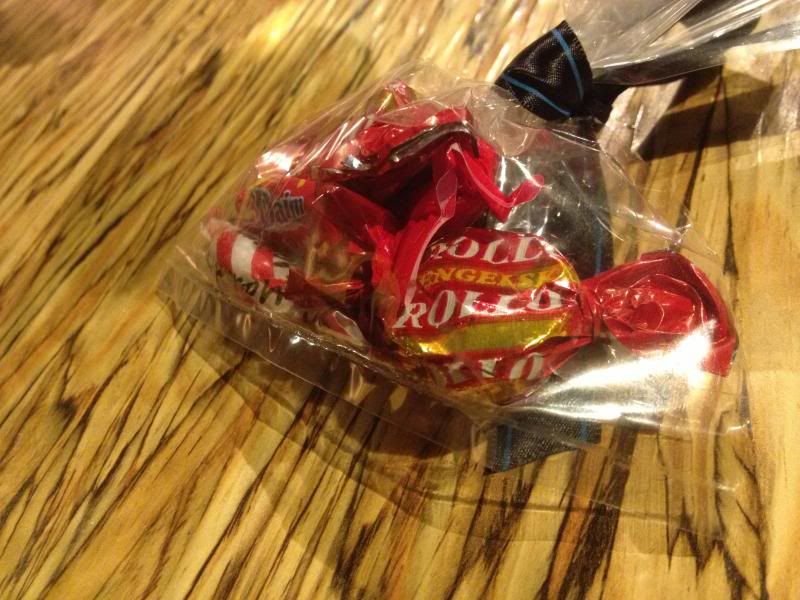 I DIDN'T GET TO TAKE HOME ANY OF THE FANCY IITTALA STUFF.
BUT JAAKKO GAVE ME A BAG OF NORDIC CANDIES, INSTEAD!

NO CONTEST - I'LL TAKE CANDY
EVERY . SINGLE . TIME.
Anybody who knows me, knows my appetite - perhaps none better than FINDS' Executive Chef Jaakko Sorsa, himself. Jaakko is a dear friend who has generously fed me on my countless moments of desperate hunger. That's, like, every day.
Five times a day.
I was FINDS' Marketing & PR Manager over three years. The amount of food I've enjoyed from Jaakko's benevolence would have been enough to feed a small village throughout a season of catastrophic drought. Because of this, the mere sight of Jaakko sends my dopamine levels shooting through the roof. Jaakko's smiling face is a neurotransmitter that tells me I won't simply be eating; I'm going to
feast
. Therefore, I'm a terrible critic when it comes to Jaakko's food.
I am not a real food critic, either. I'm just a food addict. That's why I got myself a job in a restaurant, in the first place. And so while real crits may pause thoughtfully between mouthfuls to consider taste, texture, portion and presentation, I'm too busy either shoveling entire platefuls down my esophagus or wondering when the next dish is arriving.
That having been said, I have seen how Jaakko's food has evolved and matured to a point where he's serving up complex Northern European dishes as though they were chapters in a whimsical Nordic fairy tale.
"This could have gotten so old, so quickly," I whispered to Adele Wong, HK Mag's dining and lifestyle editor. "I usually think food that requires an introduction - or a set of instructions on how to eat, much less! - is too pretentious for me to eat. I'd rather die from hunger than order a dish whose name I can't pronounce. Just sayin'."
OK, so that last line was a total lie. I'd eat
anything
. Besides - let's be honest - who knows a lot about Nordic gastronomic tradition, anyway? Not me. And as iconic as FINDS is - its 10th anniversary comes up in spring 2014 - it's not exactly propped up by a cottage industry of Nordic product and service providers that all together help to educate an entire populace. Aside from FINDS, the only other Nordic brands I have relationships with are H&M and Ikea.
Nordic Express
is a 12-course magnum opus through Finland, Iceland, Norway, Denmark, Sweden
and
Lapland. The menu is presented with an illustrated map featuring with a "pin drop" on where dishes on the menu come from. Jaakko then introduces each dish with a story - about the ingredients, about the fishermen, about a country's history and culture - often, personal. The rowanberry jelly that comes with wild game pate was made just 10 days prior to our meal, by Jaakko and his mom.
The food is delicious.
The style - eye-popping, whimsical, fresh, enjoyable, incredible. Nordic topography comes alive on the table, with rocks, branches of birch, moss and herbs so supple, they might as well have been picked from Jaakko's garden mere minutes before they were served.
I've never experienced anything like it before.
I know FINDS intimately; I helped shape (rescue?) it. It has had its moments of identity crises. That tends to happen when a brand starts off with three (!!!) managing directors, a very strong general manager, and a genius in the kitchen. Who prevails, and when?
Nordic Express
is the journey we've been waiting for all this time. It has just the one train driver. His name is Jaakko.
It has taken almost a decade to get here.
And it's worth the wait.
FINDS is back.
FINDS
1F The Luxe Manor
39 Kimberley Road
Tsim Sha Tsui, Kowloon
T +852 2522 9318
E reservations@finds.com.hk