Hello, Friends!
The cabbie who took me from Sheung Wan to
Chek Lap Kok International
blew me away. He spoke to me in Filipino because, he explained, "
ako may kabit, Pilipina
." (I've got a Filipina mistress.)
"Ako mey isa asawa Intsik, isa kabit," he proudly shared. (I've got a Chinese wife and I've got a mistress.) "Dalawa babae, pasok ng pasok. Maraming kantot. Palagi masaya." (Two women means more intercourse. I'm always happy.)
I should have stepped off the cab right then and there, considering it was
International Women's Day
and this cabbie had just objectified women in the worst possible way. I should have been insulted on behalf of my sisters, especially my Pinay sisters. But what could I do? It was 6 fucking 30 in the morning, we were cruising through bumfuck Lantau on a godforsaken highway with
a giant National Costume
, and my cabbie had me in stitches. I was so busy laughing, I almost forgot to breathe.
Sorry, sistahz, for not standing up for you. But trust me, one sexist cabbie so isn't worth it, so let's just drop it...and turn GAY.
The customs officer in
NAIA Terminal 3
- a stern-looking grandma - asked Heihei, "What's inside the big box?"
Heihei replied, "My National Costume. PAK!" And then he struck a diva pose.
The befuddled customs officer waved us through and didn't even bother putting the box through the scanner. My heart welled with joy. Our little Heihei is so ready.
When Heihei and I got to
Holiday Inn Galleria
and realized that we didn't have adapters for our plugs, our first order of business was to find a hardware.
"Can you say 'Home Depot?'" I wondered aloud. "I feel like a lesbian."
After Heihei checked in, I took a cab to the
Lancaster
, where I'm billeted. I have a 17th floor corner suite with its own small kitchen. There's a second smaller room that I've repurposed as my office-away-from-home, with a stunning view of the ghastly Shaw Boulevard traffic, natch.
So whilst Heihei met the other candidates and happily flitted about like a kid in a candy store, I met
DNA Magazine
(Australia) editor-in-chief Andrew Creagh and his partner, Noel; and Edwin Reinerie and Remco Teppema, publishers of
Winq & Mate Magazines
(Netherlands | Germany). The boys and I had dinner at the
Crowne Plaza
over getting-to-know-you chit-chat, the "Seven Senses" buffet, and some rather pleasant Sauvignon Blanc.
After dinner, I also got to meet the Hong Kong-born founder of
SFGAM
, Scott Tsui, who's delightful and a real sweetheart.
Club Polari in Quezon City hosted the
MGW
welcome socials. Each delegate was called up onstage for a round of raucous questioning by the club's hosts, plus a song or a dance number. Mexico made everyone fall in love with his rendition of Besame Mucho, Hong Kong did some fierce booty shakin', and Estonia stole the show by getting his legs up in the air. ON A STOOL.
It was a hootfest fueled by free-flowing iced lemon tea and rum & coke, 'coz everything's just better with Coca-cola. I suspect all that sugar and caffeine kept the boys
Hyperactive
™
, and I don't have a problem with that. They'll need the energy in the days to come.
The Mr. Gay World 2011 "Manila Flare" Press Presentation takes place today at 4pm.
With Affection,
James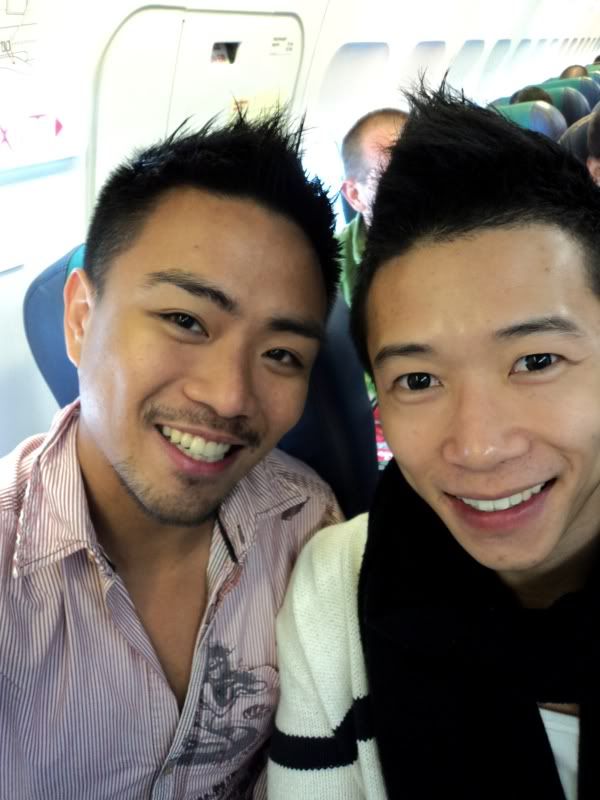 Aboard Cebu Pacific CJ109 to Manila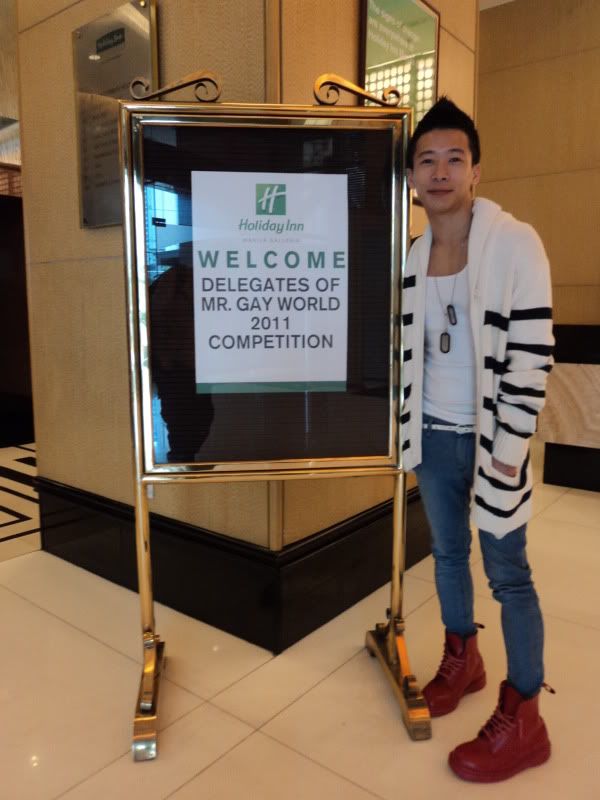 Everybody lurves Heihei's Ronald McDonald-style Doc Martens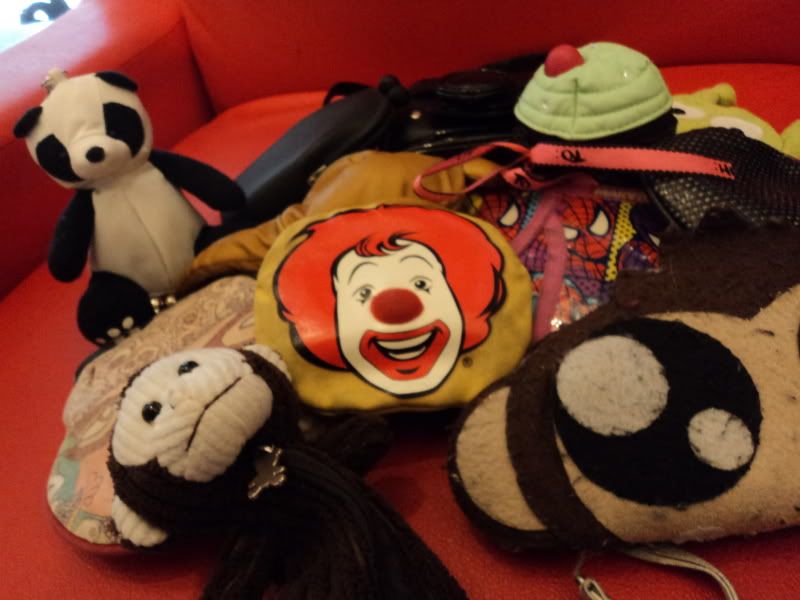 Heihei's collection of 13 (!!!) coin purses - one for every occasion.
Hungry boys eat Cambridge Weight Plan bars. Caramel for Heihei, Cranberry Crunch for Jamesey
Nobody does this better than Friday's.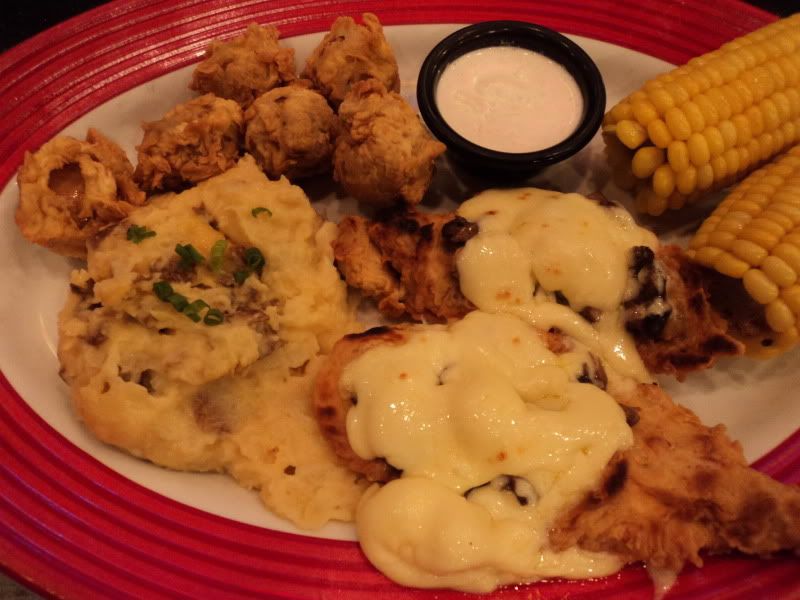 My first meal in Manila - Friday's Mushroom Chicken & Mushrooms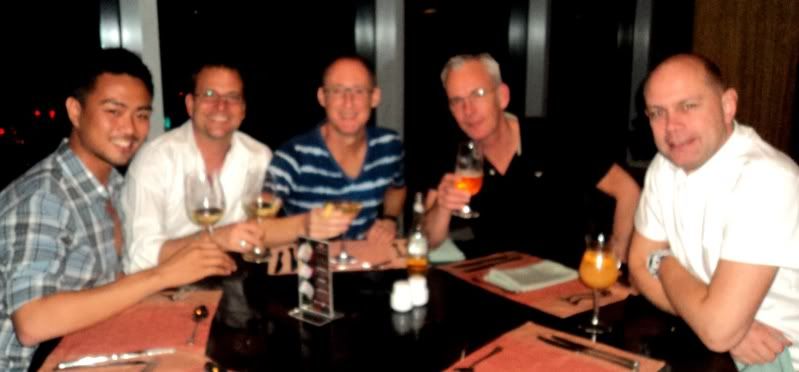 Dinner at Crowne Plaza with Noel and Andrew of DNA (Australia), and Remco and Edwin of Winq & Mate (Netherlands | Germany)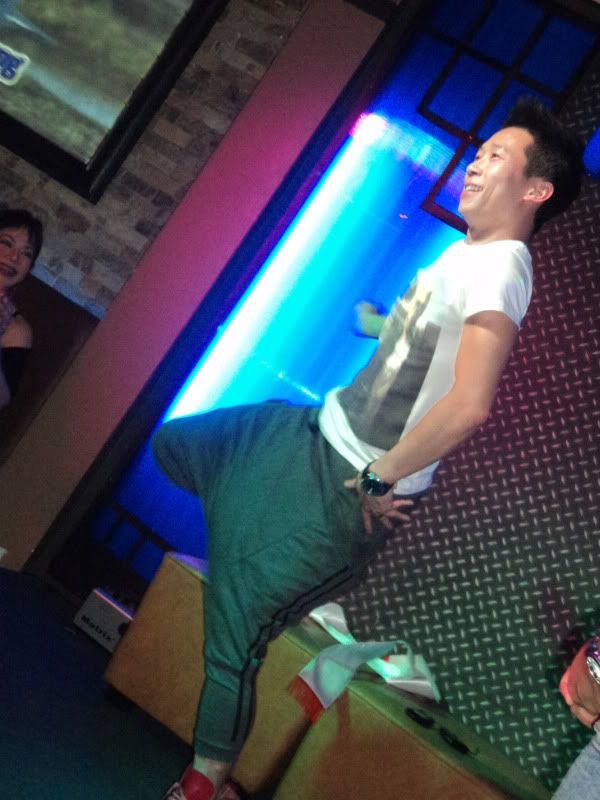 Shoulders, shoulders, elbow, arm. Heihei does an impromptu dance number.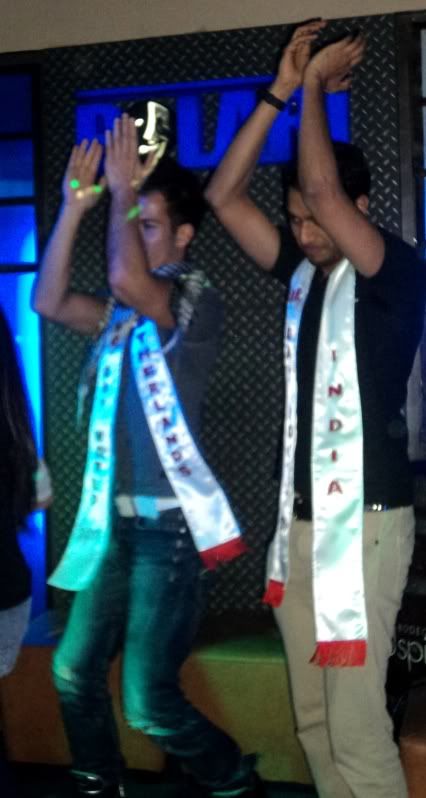 Netherlands & India: All twinks dance in that adorable hands-clapping-up-in-the-air twink-dancing sort of way, regardless of culture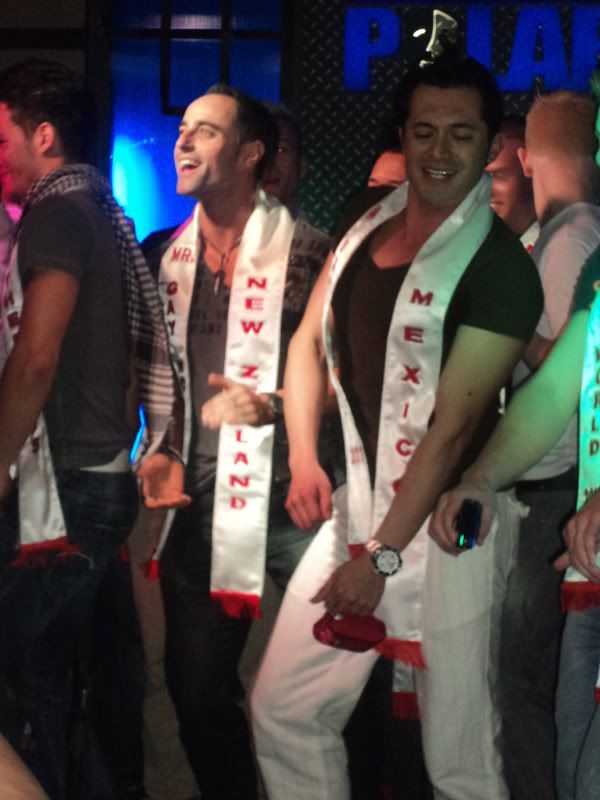 Beefcakes grind (whilst singing along!) to Shakira's Waka Waka.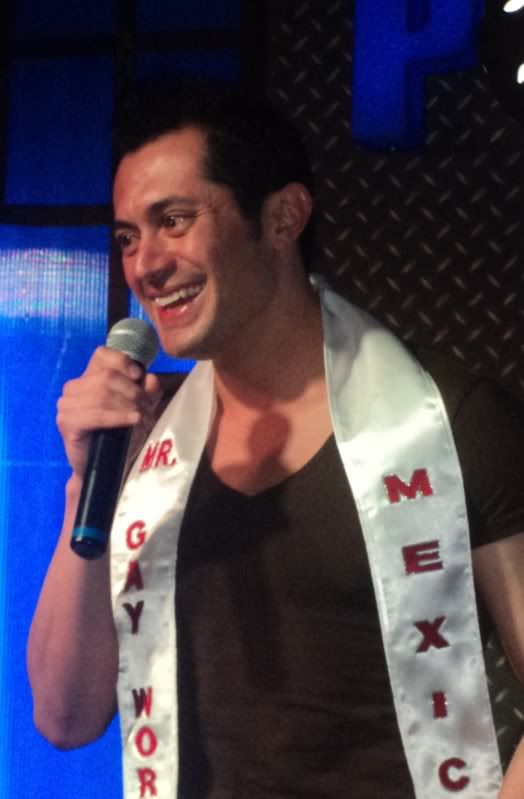 Mexico sings Besame Mucho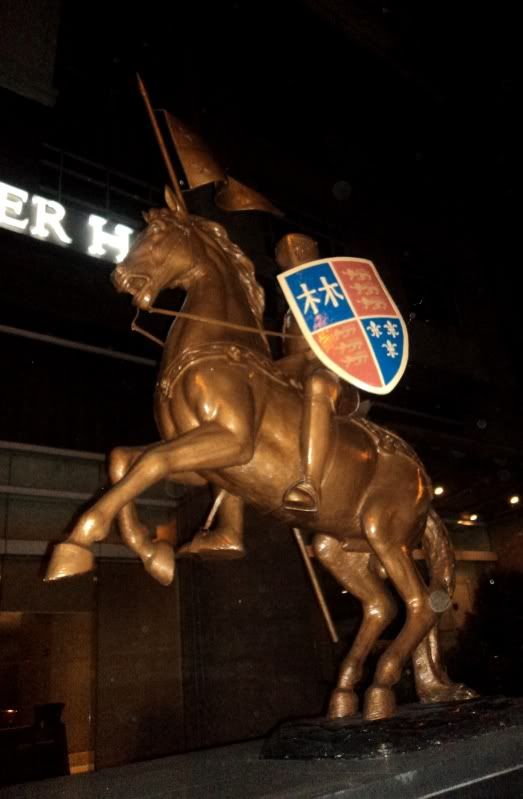 Lancaster Hotel, where I'm billeted in a corner suite on the 17th floor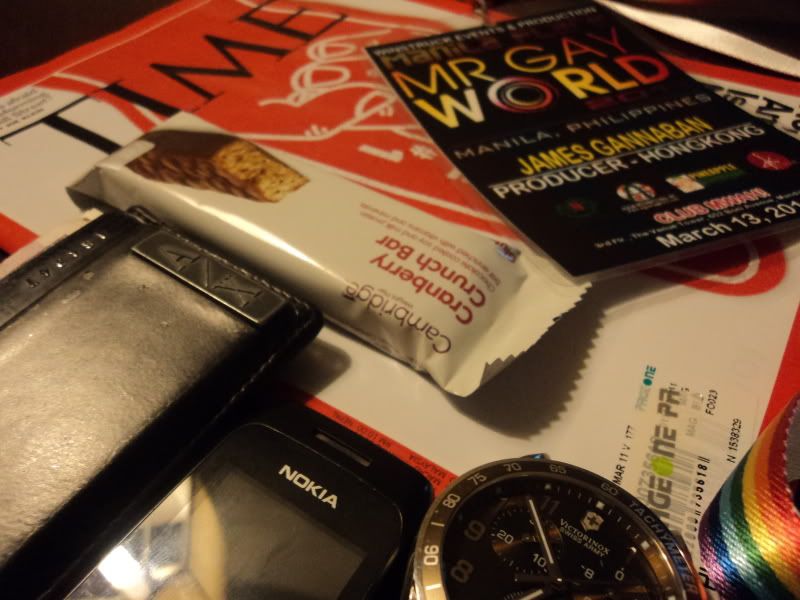 Doesn't TIME Magazine instantly make me look smarter? My hard-wearing Victorinox Swiss Army chronograph with chocolate dial; Nokia mobile phone similar to standard-issue used by MGW volunteers; Armani Exchange wallet; my perennial companion - the Cambridge Cranberry Crunch Bar; and my MGW pass.