Hello, Friends!
I swear I didn't put him up to it.
But when I saw Heihei wearing his cotton-candy-pink high tops at the Mr Gay World press conference, momma was proud. Pink has since become Heihei's signature colour at Mr Gay World.
That was a funny day for me. On the one hand, the press conference heralded the official start of the
Mr Gay World
2011 pageant. On the other hand, I've been preparing for this moment for over two years, really. I failed to go with Rick to Oslo last year because funds were so tight that Noel and I only had enough to pay for Rick's return tickets plus some nominal pocket money. This year, I promised myself I wouldn't miss it since the finals are just in Manila. This is not only Heihei's party; it's also my debut on the world stage as a producer.
Except I was so envious that I wasn't the center of attention.
If I had rotten tomatoes at that moment, I would have asked people to throw them at me. Hard.
I hate myself because, whilst I have always known that I'm a selfish bitch, I didn't realize just how selfish, really. I'm so selfish that even my moment of self-awareness lacks enough depth to guide me toward what needs to be done
now
in order for me get out of this funk and focus, instead, on the big picture.
This is not my show.
I've given up on the microphone, on the spotlights and on the stage years ago.
I've made my choice.

I started Mr Gay Hong Kong with wide-eyed idealism. Ambition. Now, I simply approach it with eyes wide open. Many things happen along the way to "doing good" for the gay community. Truth is, this "community" consists of individual personalities that have to be accommodated, confronted or engaged before any idea sees the light of day. And often, it's my own personality – nay, vanity – that gets in the way.
This is my tragedy.

I easily wear platforms and pumps and stilettoes whilst safely hidden behind hair and lashes and frocks. But really, I just long to feel free enough from cares to wear a pair of cotton-candy-pink high tops, in my size, as me.

When Heihei got a turn to speak in front of the media corps, he was asked the secret to his perpetual happiness.

I happened to be in the toilet, taking a leak.

I didn't hear his answer.


With Affection,
James

Hei, Hong Kong! Represent!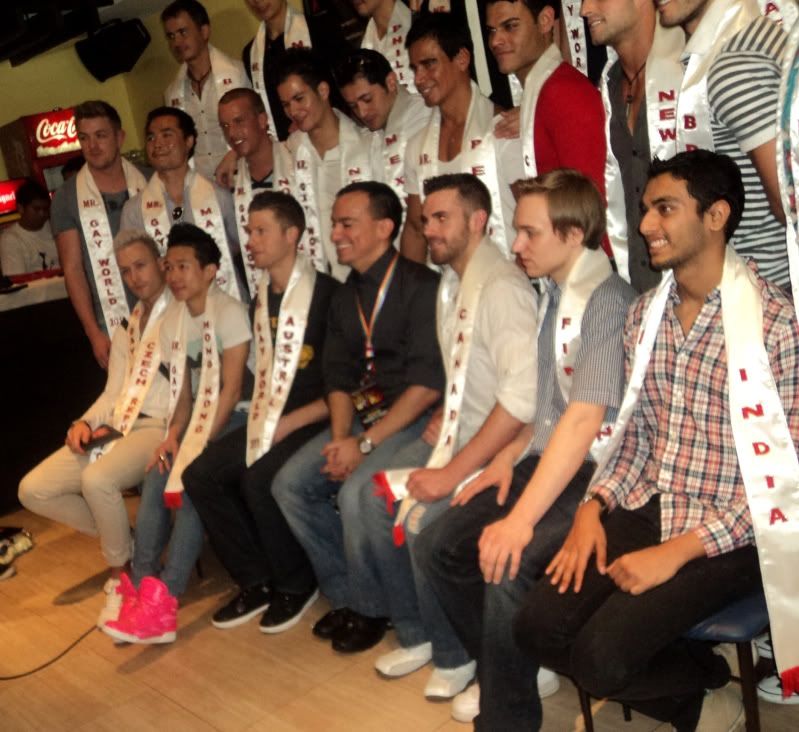 Heihei pust his best foot forward.
P.S.
The new generation Sony Cybershot is shit. I've been using Cybershots for three years now 'coz they're cheap, cheerful, and take great photographs. But after sand got into my second Cybershot in Phuket and it promptly got fucked, I wasn't able to find any more Cybershots with a Carl Zeiss lense. Sony now makes its own lenses and apparently saw it fit to impose a poorly performing attachment on a popular product. So my photos from the press conference are crap and I can't wait for Chris to arrive with the Canon tomorrow. Better pics to follow.