Hello, Friends!
I like Indian boys, honestly. I have a super-fab Indian friend, AD, whom I love to pieces. And yet despite my undying love and affection, AD claims that Indian gay boys in Hong Kong suffer from lasting stereotypes of "fat, jobless, smelly." But AD is a VP in a bank, he's tall and svelte, and he has a wiry frame from playing badminton. He has also written a book and is a warm person blah blah blah - hang on, this wasn't meant to be a sales pitch for AD because honestly, AD is fine and doesn't need my bullshit.
I had barely been in HK a few months when I had my first experience with an Indian guy. "Canadian," he corrected me, and proceeded to buy drinks all night as though to prove a point. He looked OK, so me and my mate, John, a beautiful American with yummy caramel complexion, decided to go home with him.
Indian-Canadian guy's place had serious snob factor. I'm sure if I bothered to ask, he'd point out that his sheets were made from 300 thread count pure Egyptian cotton. His bed was awesome. Hotel quality. You could drown in his pillows. His duvet, just scrumptious.
But then he just wanted me and John to suck his cock, didn't really wanna suck, and didn't want to get fucked, either. He kept trying to flip me and/or John over to fuck either of us, but by then we had already figured out that this guy just liked to take but not give - and so John and I feigned drunkenness and went home.
We picked up an older skinhead from mainland China and had a hot threesome afterwards, so the night/morning wasn't a total loss.
So the point to the story is, YES, some Indian boys are hot enough for me to want to go home with them - and that's true for any race or nationality, anyway! I'm just a lover of all kinds!
Bet you wouldn't say no, either, if a guy who looked like this wanted to take you home: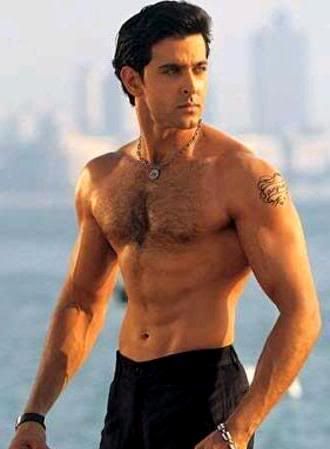 Photo from celebrity.psyphilc.om
OK, so I didn't exactly bump into Hrithik Roshan whilst hyperactively going around
Little India
with my camera, but I saw many cute boys! These days, however, I simply allow myself to "window shop," but never buy. Hello,
I'm happily attached
! Besides, there are not-so-subtle reminders in every darn corner at
Mustafa
that CCTV cameras are installed - so why even try?
Yah, so Indian boys are hot.
Damn, now I'm craving curry.
With Affection,
James