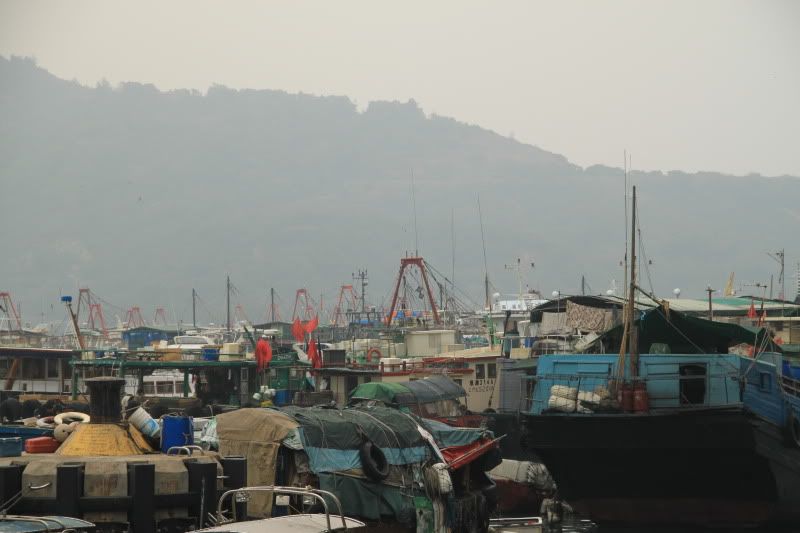 FISHING BOATS BERTHED SHOULDER-TO-SHOULDER
AT SAI WAN HO FERRY TERMINAL.
ARRIVAL IN TUNG LUNG CHAU.
LOOK, MA! NO SKYSCRAPERS!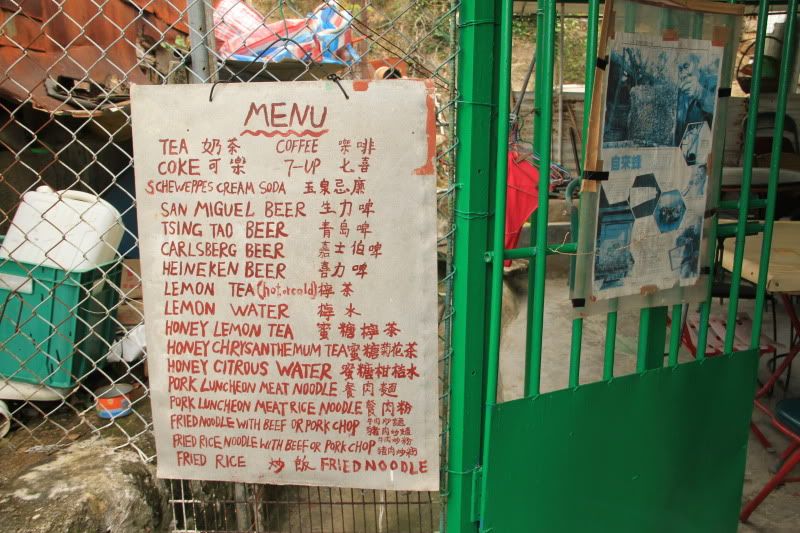 THIS LITTLE CAFE HAS NO NAME.
IT'S THE FIRST CAFE YOU'LL COME ACROSS WHEN YOU STEP ONTO TUNG LUNG CHAU.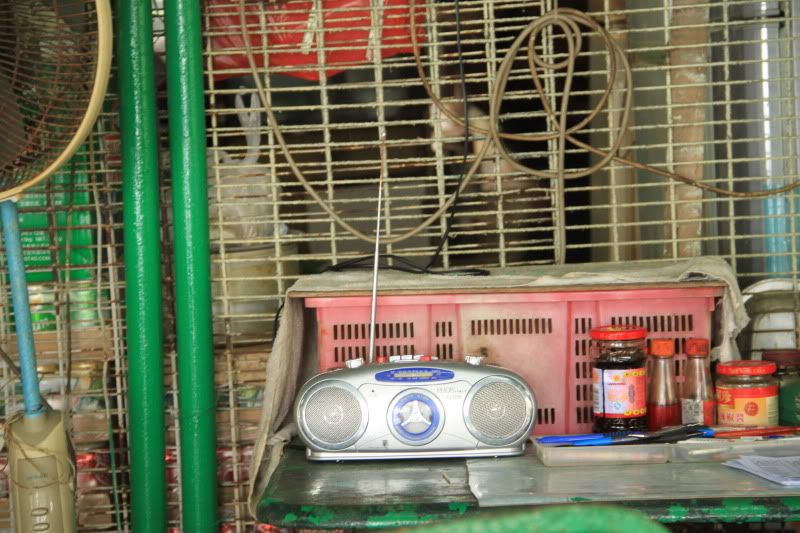 A FLOOR FAN.
A RADIO.
AND WIRES!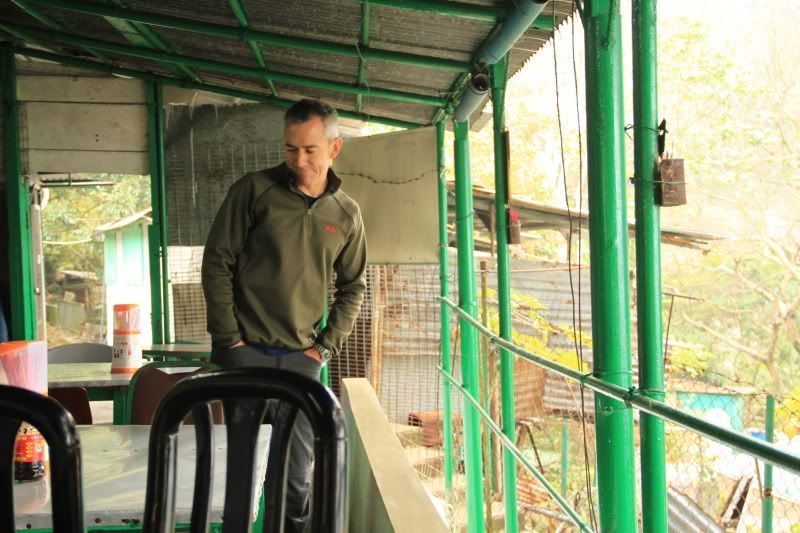 CHRIS SHIFFLES AROUND,
LOOKING FOR A CHAIR THAT'S STILL STRONG ENOUGH TO SUPPORT THE WEIGHT OF AN ADULT HUMAN BEING.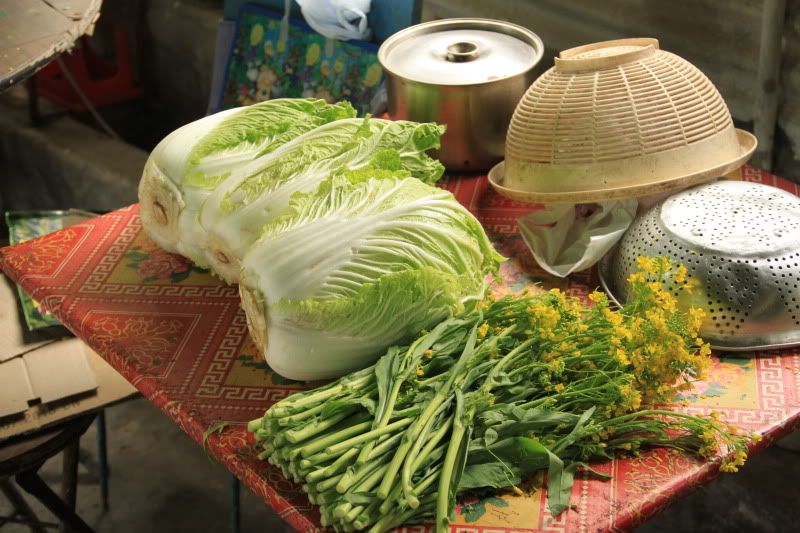 VEGETABLES ON STEROIDS,
PICKED FRESH FROM THE FAMILY'S VEGETABLE PATCH.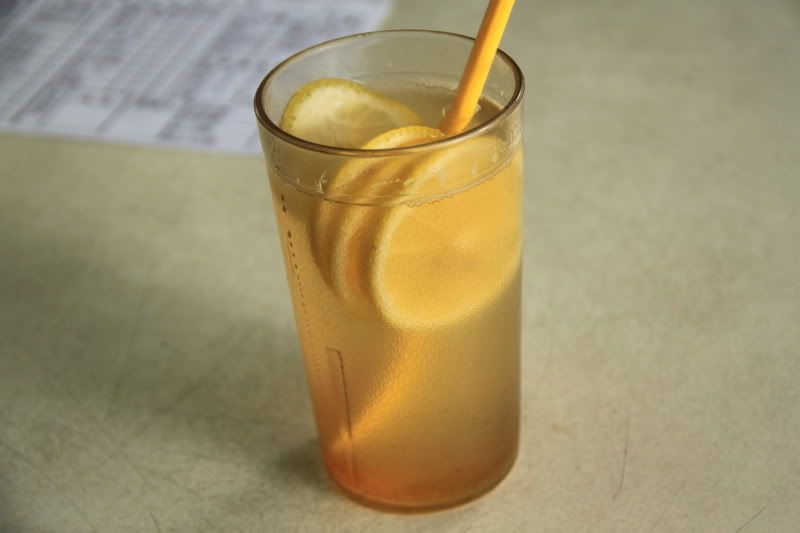 HOT LEMON WATER WITH LOCAL HONEY.
YUM.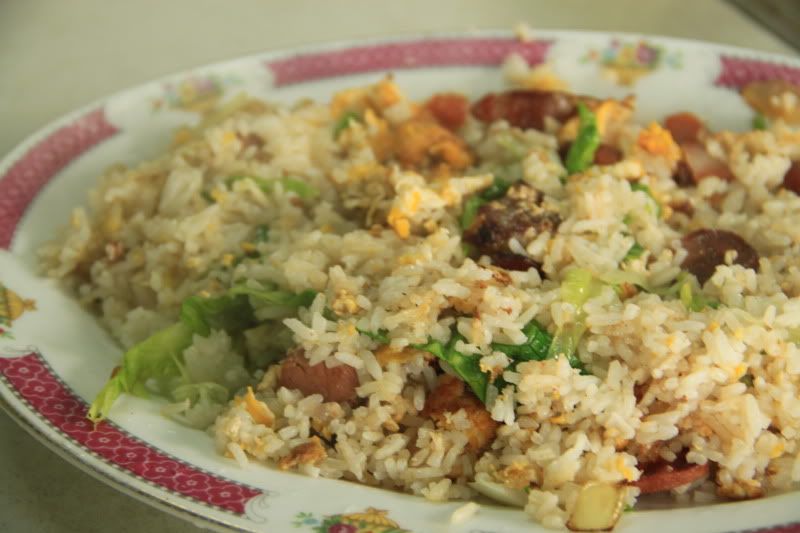 FRIED RICE PACKED WITH DELICIOUS INGREDIENTS - CHINESE SAUSAGE, HOTDOG, LUNCHEON MEAT, EGG, VEGGIES...
CHRIS AND I EACH ENJOYED A GIANT PLATEFUL BEFORE WE SET OFF FOR THE TRAIL.
Chris was beside himself with excitement when we reached Tung Lung Chau.
"Definitely not a place for expats," he sighed contentedly, surveying the island's high peaks and (what seemed to me like invisible) trails. There were no highrises in sight. The roofs of tiny houses were held down by old tarp, frayed rope, bricks...
We were fairly certain there wouldn't be another canteen on the island, so we ducked into the first one we found, for an early lunch. (We would later be proven wrong; there's a quaint shop called "Holiday Store" further inland, which also doubles as
de facto
tourist information centre.)
The family that owns the canteen is loud, friendly and helpful. Grandma was picking vegetables, mum was working the wok, great grandma was busing tables, the men were taking orders and expediting.
Our table was on a rickety terrace overlooking the ferry terminal. The chairs were equally wobbly. All part of the charm, I thought, as I saw granny's fuchsia panties waving 3 inches away from my face like a riotous flag of invitation:
"Come and eat!"