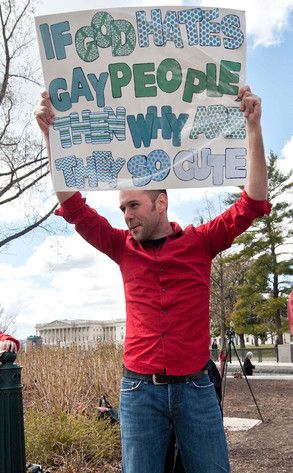 NICHOLAS KAMM/AFP/Getty Images
The fight for marriage equality is the hottest thing since a virgin twink's bum.
I'd love to get into it; I honestly would. At some point, I even considered posting that
=
sign as my Facebook profile pic. Only thing holding me back is seeing how heterosexuals have made a mess out of having had a good run with it.
I was looking into stats in Australia, being that Chris is moving to Canberra in a week. Wouldn't this move have been so much easier on us, I wondered, if we were married? Maybe not. In Australia, a third of marriages end up in divorce. 29% of Aussies don't even get married. Meanwhile, here we are gays, knocking on the wooden doors of this archaic institution, insisting to be let in.
Isn't marriage meant to be about love between two people? So why is it in reality, a hairy contract that involves the intimate interference of religion and the state? I can't imagine welcoming Julia Gillard or Pope Francis into my and Chris' bedroom. That'd be a buzzkill.
At least back in the medieval times, people were practical enough to see marriage as a means to consolidate wealth, territories, power, social status, etc. These days, we get all misty eyed thinking about that Vera Wang frock or that Armani tuxedo. Getting married is bloody expensive! It's
has
to be a production!
I still believe in marriage; I honestly do. My parents have an awesome one. My friends, Greg and Allen, have an awesome one, too. Clearly it works for some folks. I'm just not sure it'd work for me. I have a hard enough time putting a visa application together. All that paperwork! Makes my head spin. How much more if I had to put a marriage "together?" Aren't I committed enough? What more do I need, after 6 years of having been with the man I love?
I need - deserve! - the right to fail.
The right to say "I tried," rather than the lifetime torture of wondering what could have been
if
.