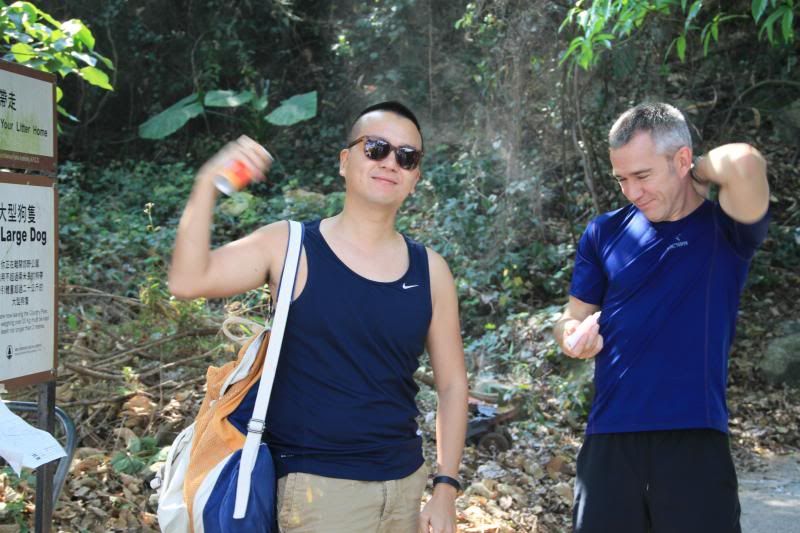 JOE AND CHRIS SLAP ON THE SPF.
JOE AND CARO LEAD THE WAY.
GROUP PHOTO ON SELF-TIMER!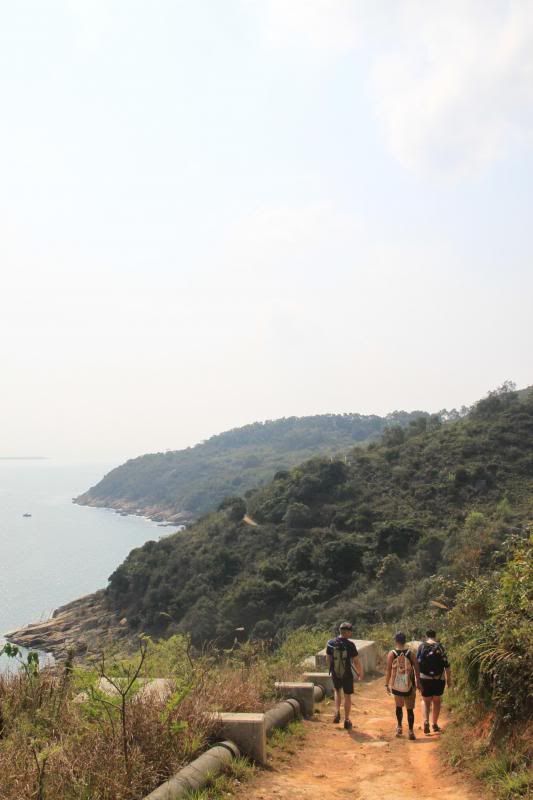 WALKING ALONG THE COAST.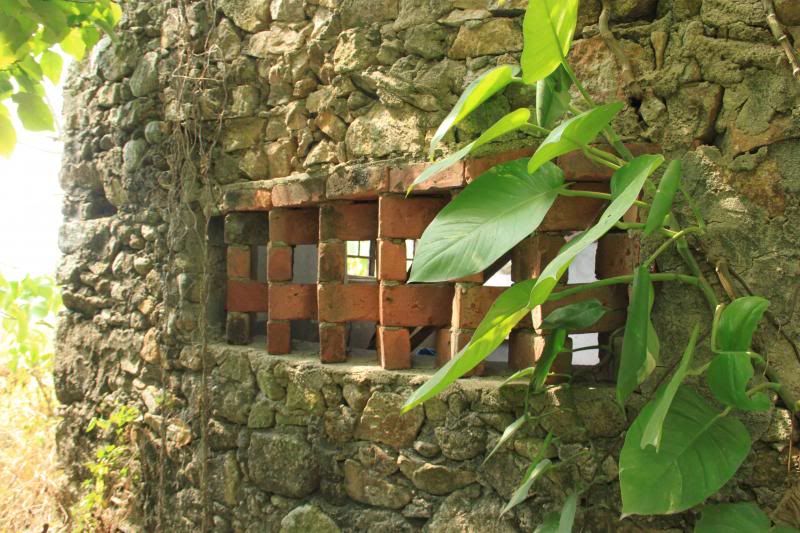 JUST ANOTHER ABANDONED HOUSE.
AND ANOTHER.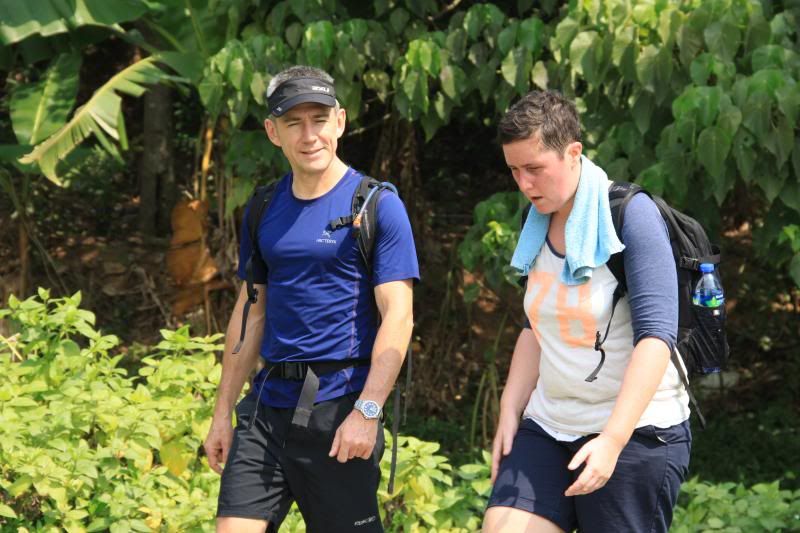 THE MIDDAY SUN POUNDS DOWN ON CHRIS AND CARO.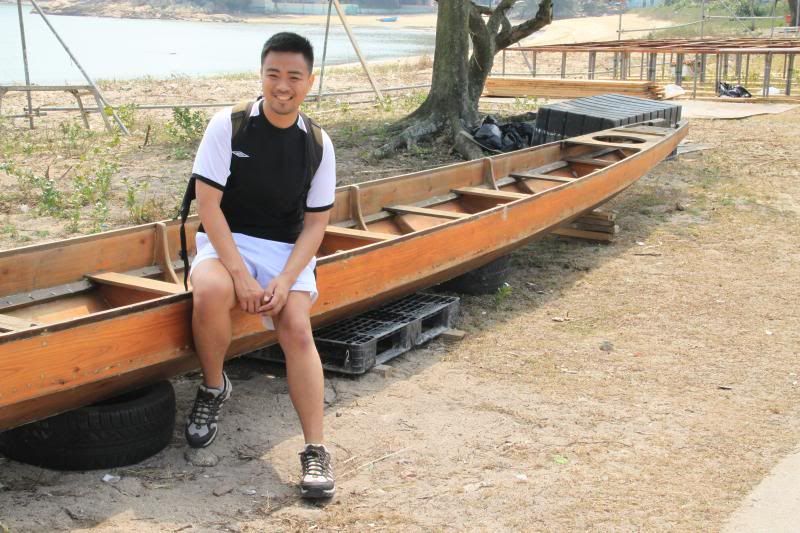 LOOK- A BOAT! WE SIMPLY MUST HAVE A PIC.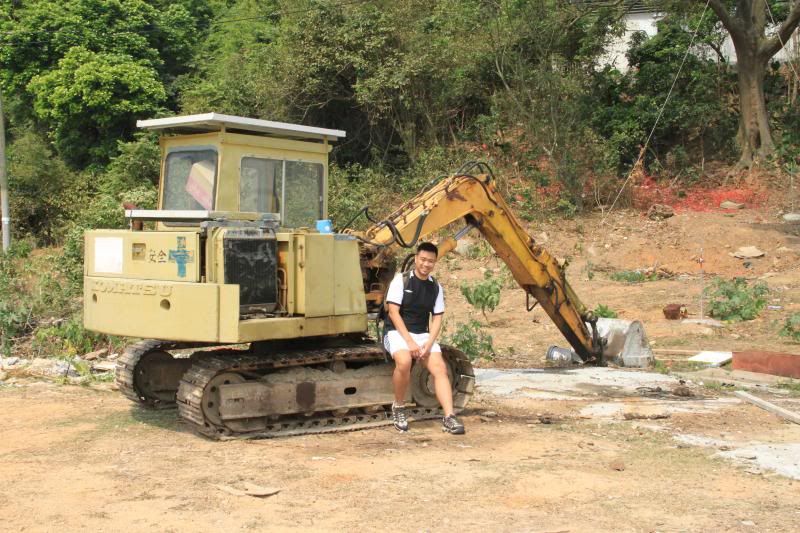 ...AND A PIC WITH THE TRACTOR, TOO!
PRETTY FLOWERS BLOOMING THROUGH GNARLY BRANCHES.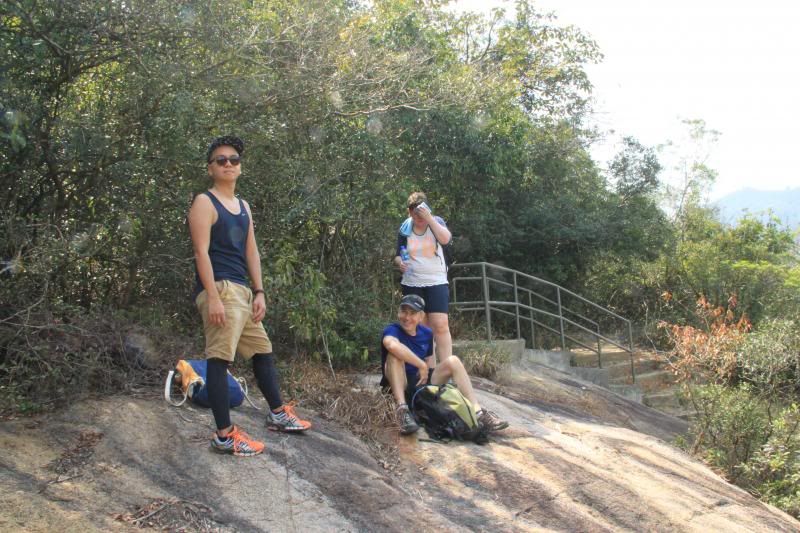 LUNCH BREAK OVERLOOKING THE CHI MA WAN RESERVOIR.
Chris, Caroline, Joe and I were meant to hike 16k from Shek Pik to Tai O. Unfortunately all buses from Mui Wo were full of grown-up people in funny costumes - starfish, cows, bears. There were some not-so-funny costumes, too - mermaid, pirates, etc. Just generally lacking a sense of fun and adventure. I mean if you're gonna look silly anyway, make sure
go there
.
But I digress.
The costumed crowd were off to do a "Beer Run," I later found out.
"What's that?" I asked my friend, Daren, who had also decided to do the run but sans costume. Instead he had brought along his little boy.
"Beer Dash. We run 1k," Daren explained, "then we down a pint. Then we do it all over again until we get to the finish point."
Awesome.
Only thing was, it threw a wrench into our planned hike because the next bus to where we wanted to start off on our 16k wasn't until 45 minutes later. I was getting more annoyed by the minute, especially after the man behind me in the queue spilled coffee on my rucksack. Bitch.
"Let's go someplace else," I growled. I was turning into a monster. Perhaps the most logical course for me, then, was to have gone along with the Beer Dash. I'm sure I would have fit right in.
Chris, sensing my darkening mood, led us towards the start of the
Pui O - Chi Ma Wan
trail.
It was something we had already done before, but I hardly cared.
The midday sun was scorching.
I just wanted to get started.