YES, PLEASE.
I LIKE THIS PLACE ALREADY.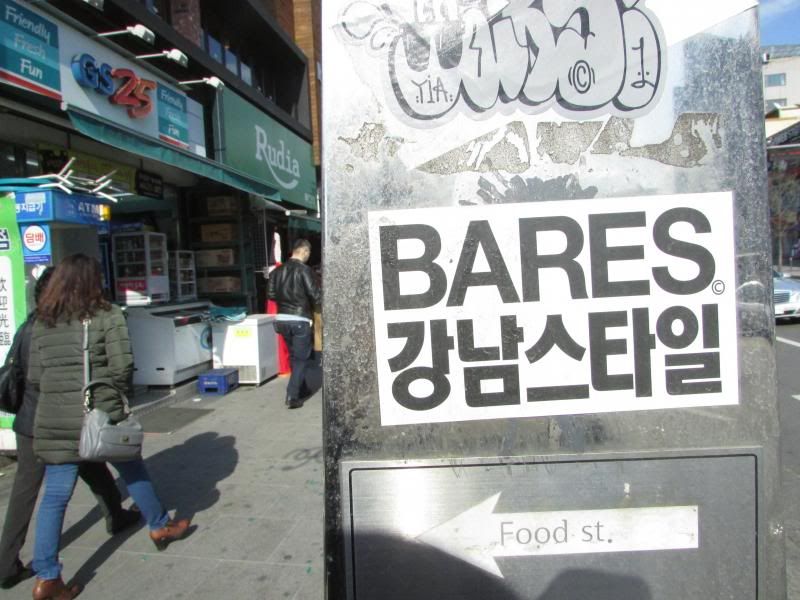 DON'T YOU MEAN "BEARS," HUN?
FROCKS FOR HOOKERS AND/OR DRAG QUEENS, APPARENTLY.
WHY WOULD I BUY AN AUSSIE MEAT PIE
WHEN I ALREADY HAVE ONE?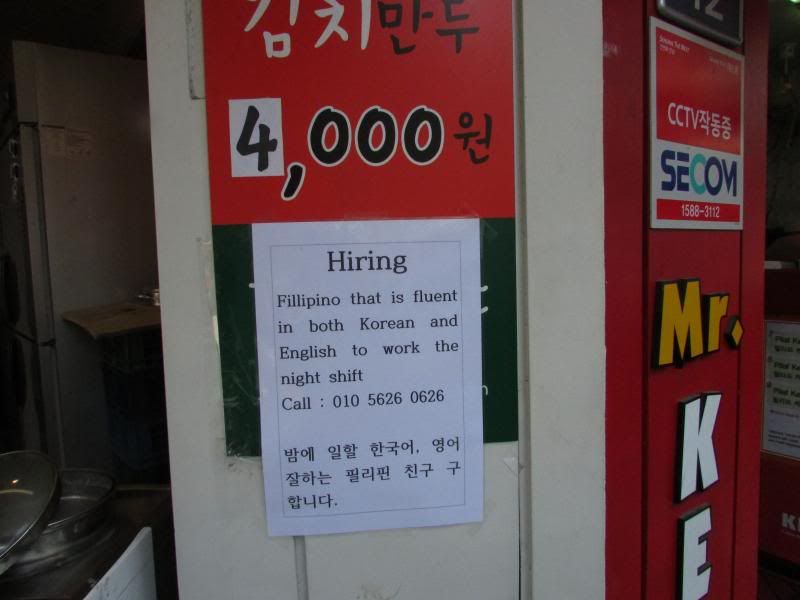 PINOYS WILL CONQUER THE WORLD
ONE KITCHEN AT A TIME.
SELF-PORTRAIT AT CLUB CIRCUIT.
LOOK AT THAT MERMAID WITH THE FUNNY HAIR.
GIRL, GET TO WERQ!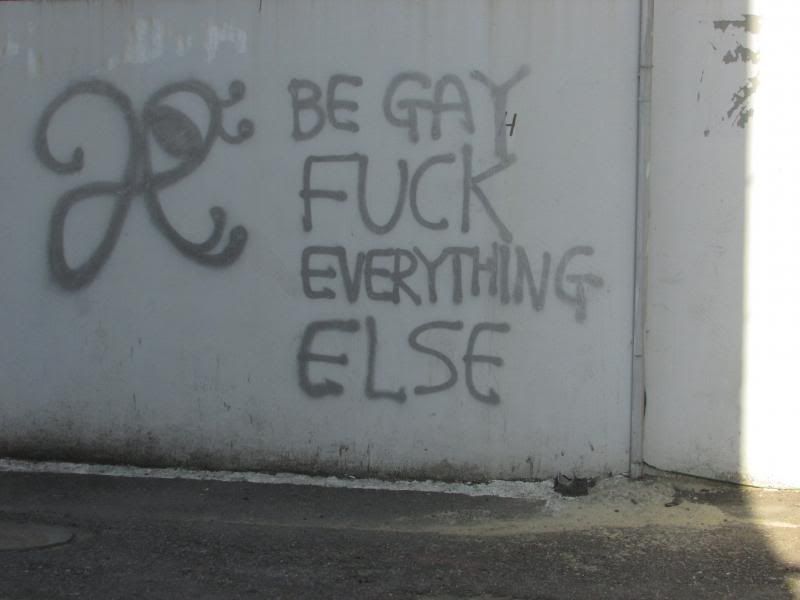 THAT'S WHAT I SAID.
WHO, ME?
OK.
WHERE'S THE FORK?
YOU CAN BE SURE ABOUT THAT.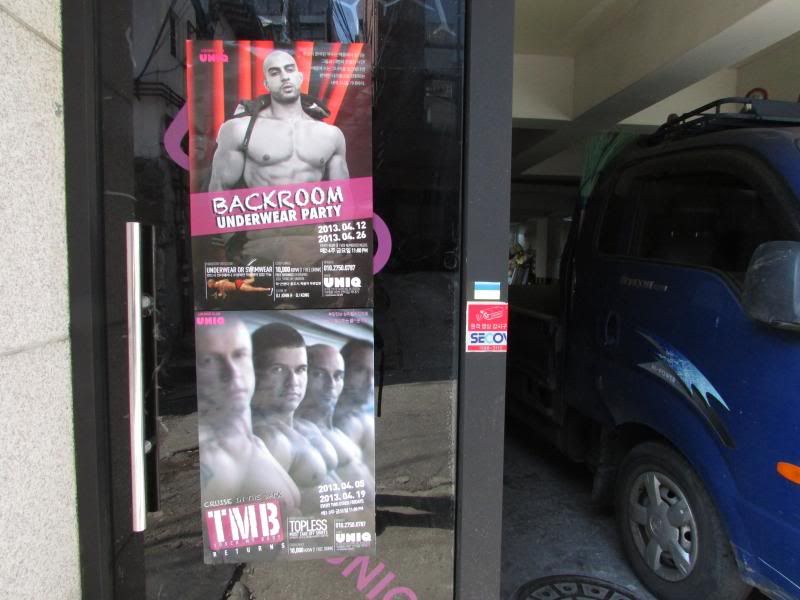 AND DOES 'TMB' STAND FOR 'TOO MANY BOTTOMS' ?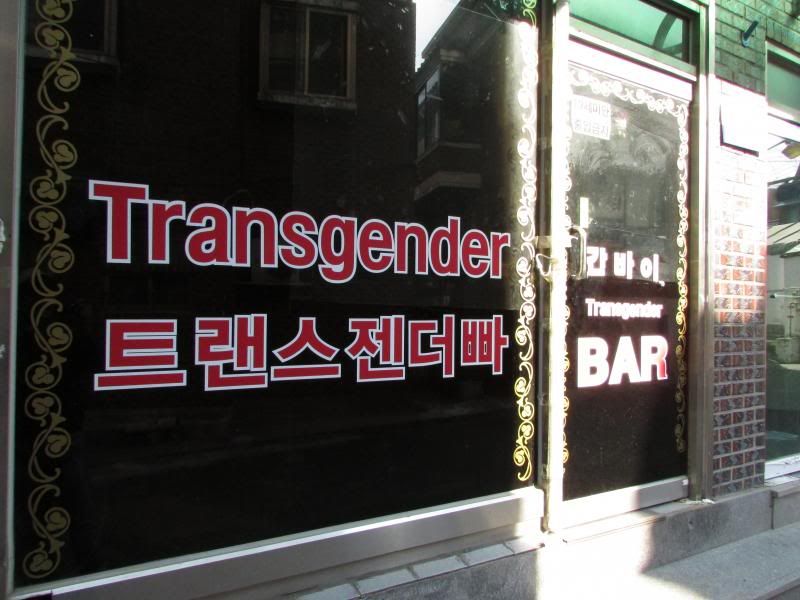 THIS ONE LOOKS LIKE IT COULD BE FUN.
IS THIS WHERE ALL OF SEOUL'S TOPS HANG OUT?
OR IS THIS JUST A CLEVER PLOY TO GET THE BOTTOMS IN?
Itaewon is apparently considered seedy. I could have been fooled. I felt right at home. But maybe that's coz I'm a trash bag.
The neighbourhood is home to many of Seoul's Muslims, its hookers and the homos. Why and how the three groups came together in that specific area, I can only guess.
A row of old, cement buildings line the main drag. The structures are clearly ancient, but the shops that now occupy them have made the effort to spruce things up a bit. Fake Goyards are sold on the pavement in front of an expensive French bakery. Koreans have a flawless sense of irony.
There are cafes of course, the obligatory Irish pub, a German beer bar, a couple of restaurants by gay Korean celeb Hong Seok-cheon (more about that on another entry) and a few kebab-erias. I walked along all these with little notice because my destination was Homo Hill.
It was dead.
There was no sign of life, except a guy peeing against an electrical post. How... primitive! I instantly fell in love. I had the
entire
gay village all to myself.
Homo Hill is a steep and narrow alley that's parallel to Hooker Hill. You'll know Hooker Hill immediately; the biggest night club is called Rio but the hookers inside are Russian, not Brazilian. This is all made clear on the club's signage.
At 5pm, none of the bars have so much as moved a stool or switched on a light bulb.
Why
is Happy Hour not
de rigeur
here?!
I can only imagine how this place heaves when the homos and the hookers finally get their lazy asses off the bed to do some real werq on the meanest streets of Seoul. The Muslims - they were awake.