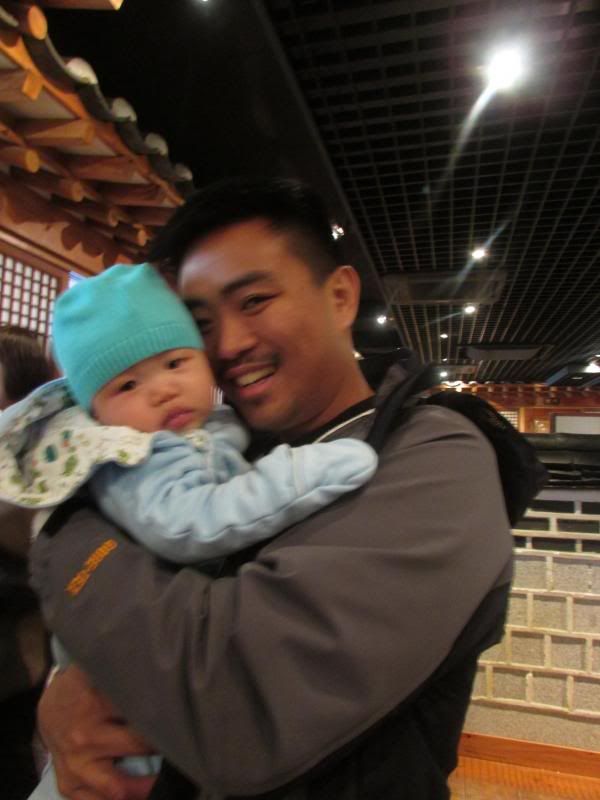 It was like I'd never seen a baby before. I was vibrating with so much excitement, the hairs on my arm were humming. I couldn't wait to pick him up. But I was also scared I'd break him into pieces if I grabbed him too quickly or held on to him too tightly.
I spent a couple of days in Seoul to meet my nephew, Robin. I knew I had to hurry up. They grow so fast, babies. Robin's mum - my sister, Teri - never fails to send photos and videos. She also maintains a
Timehut
blog (!) for Robin. We watch him grow every day.
And yet, nothing could have prepared me enough for the experience.
I was overwhelmed with love and pride and happiness and wonder and fear and overprotectiveness, all at the same time. And I wasn't even thinking about the North Korean missile crisis!
I held him throughout lunch, at the supermarket, and at home, whilst Teri helped her mother-in-law prepare dinner. We played on his baby gym, we sang songs, we walked around the room whenever he'd get restless. I did everything except breastfeed him or change his diapers. Teri and her husband have such stringent hygiene standards, they suggested I take a shower before I touched anything. I wasn't certain if it was a Korean thing. Maybe I just stank. But I was scared I'd inadvertently break one of their rules if I tried to change Robin's nappies.
I met Robin just as I was reeling from Chris' departure for Canberra.
I met him just in time.