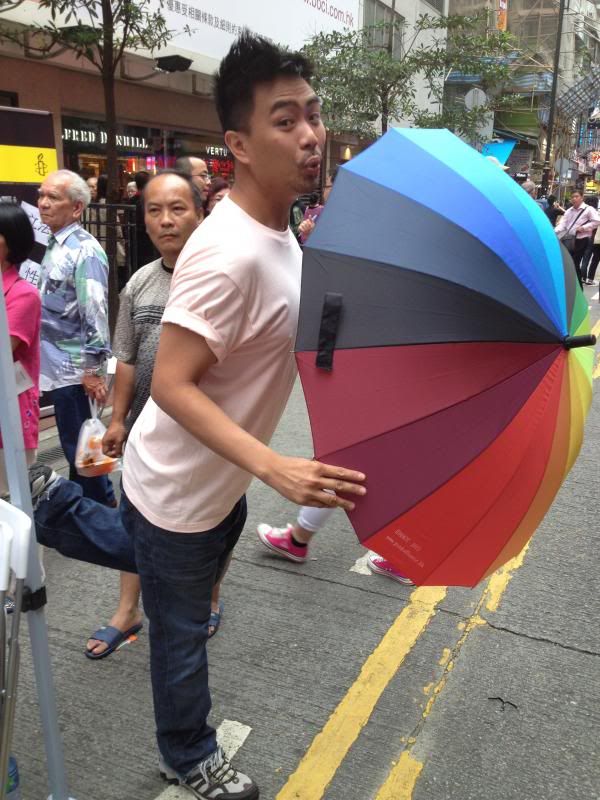 YOU CAN STAND UNDER MY [RAINBOW] UMBRELLA, ELLA, ELA, EH EH.
IDAHOT CO-MC ABBY LEE WITH MR GAY HK BENJIE CARAIG
ACTIVIST AND COMMUNITY LEADER BILLY LEUNG (AND A CANDIDATE AT THE 2009 EDITION OF MR GAY HK)
ACTS AS HIS MUM'S TRANSLATOR.

BILLY'S MUM SAID:

"I MISSED OUT ON SO MUCH BEFORE BILLY CAME OUT. I'M MAKING UP FOR IT."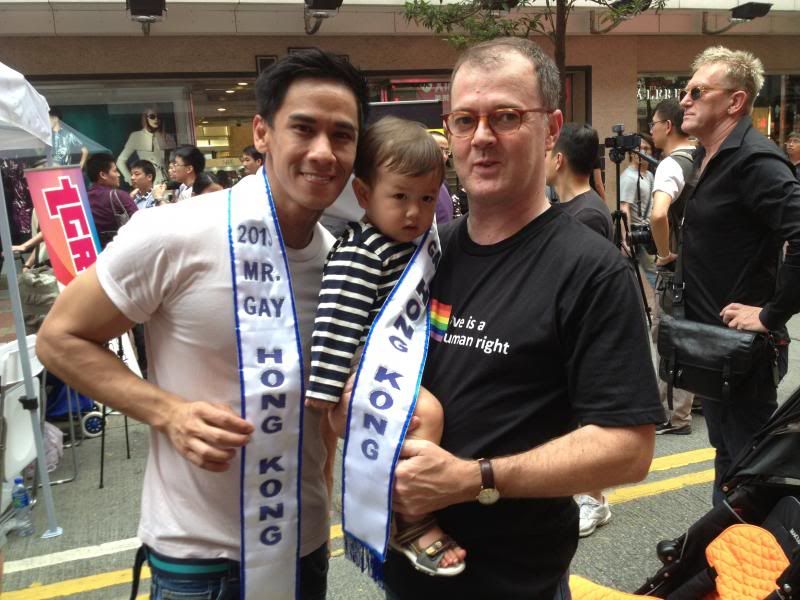 BENJIE, YOUNG ACTIVIST GEORGE, AND LAWYER MICHAEL VIDLER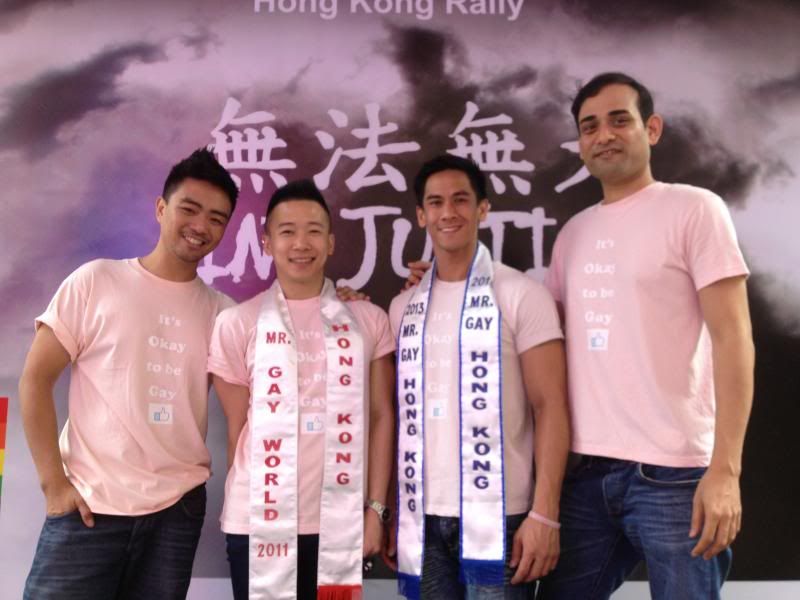 L-R: HYPERACTIVE, MGHK TITLEHOLDERS HEIHEI AND BENJIE, AND MY CO-PRODUCER AD
PHOTO BY ANGIE PALMER



IDAHOT was once again held in the middle of Causeway Bay. I had my reservations about the location. We had trouble with the authorities two years ago. The rally was shut down during an interpretative dance number by high school students. The cops claimed our lack of the requisite entertainment license as the reason. I suspect the real reason to be complaints from shop owners who were panicked at the sheer density of pink and rainbow that descended on their precious commercial area.
Hello!
- we
only
make your place prettier just be hanging around!
So last year, we did the event at Chater Garden. It went great. The area is more contained, cleaner, safer. More families attended and the press had better access to the stage. This year, we returned to Causeway Bay - maybe to reclaim the experience, maybe to influence shoppers who wouldn't otherwise be exposed to an LGBT event, maybe to just
be on the street.
Benjie, the current Mr Gay HK titleholder, spoke against bullying in all forms, at every stage of our lives. An entire squad of pink-clad boys stood behind him in support: Myself, 2012 1st runner-up Bridge Hudson, 2013 2nd runner-up Dickson Lau, 2011 Mr Gay HK Heihei Yau and my co-producer AD. We wore pink
'It's OK to be gay!'
statement tees designed by Benjie himself, sales from which go towards the campaign against homophobic bullying in schools.
(Buy it HERE.)
Activist Billy Leung, who competed in the very first edition of Mr Gay HK, acted as a translator for his mum. All the more serendipitous that we had a testimonial from a loving mother, on Mother's Day. Benjie presented a bouquet to Billy's mum afterwards.
Other notable community leaders who got up onstage were Les Peches founders Betty Grissoni and Abby Lee (who was also Reggie Ho's co-MC), first openly gay legislator Ray Chan, Cantopop legend Anthony Wong, lawyer Michael Vidler, plus many more.
My favourite moment from the event was when we all opened our rainbow umbrellas to signify the voices of the LGBT community demanding legal protection from discrimination in Hong Kong.
The tide of history is turning.
It's not merely OK to be gay; it's
great
to be gay.
// GET HYPERACTIVE! //