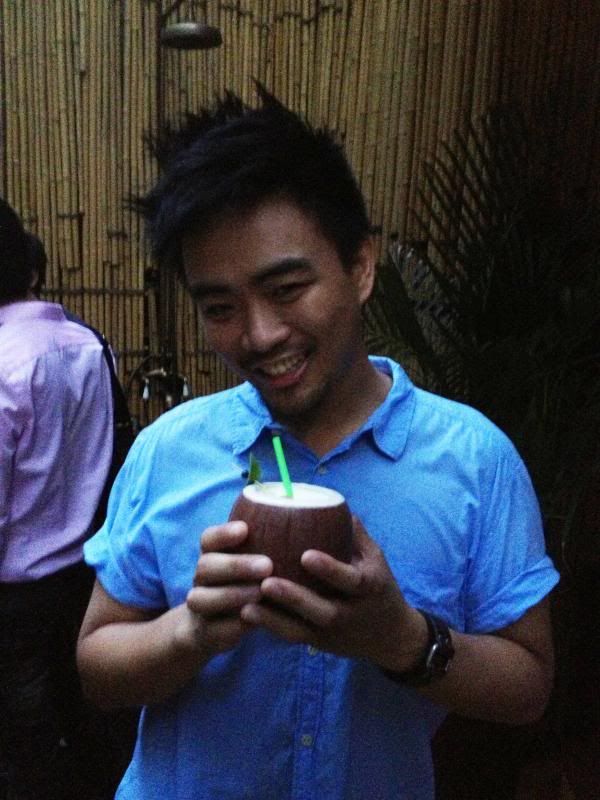 HYPERACTIVE WITH A PINA COLADA
ON THE HONI HONI TERRACE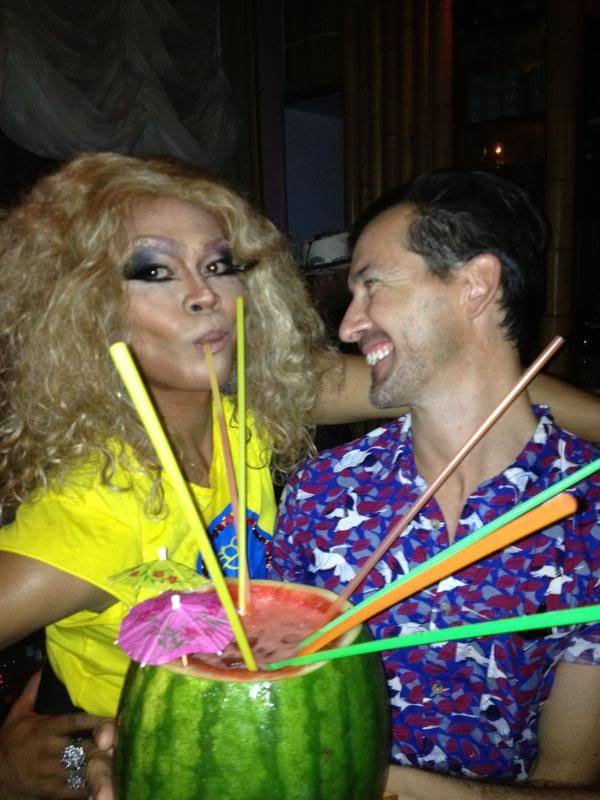 LA CHIQUITTA AND A GINORMOUS FRUIT COCKTAIL.

(WE'RE REALLY REFERRING TO THAT HUMONGOLICIOUS FRUIT COCKTAIL.
THE ONE ON THE RIGHT IS SIMPATICO MICHAEL BUSHELL. THANKS FOR SHARING, BUSHY! )
I like to keep my Sundays free from social commitments in order to prepare myself for the Hyperactive week ahead. But I made an exception last Sunday for
Pink Dollar
's Sunday Soiree at Honi Honi. My dear friend, Paul, was the organizer; my best friend,
La Chiquitta
, was the featured performer; and it was just such a refreshing type of event to have on the LGBT calendar. It was in one of Hong Kong's hottest new bars and the DJ line-up was awesome - a BIG shout out to the fabulous DJ Julez Clark, whose every thrilling track made my tush twitch with a tingling sensation! Can't believe I just said that - will someone please remind me next time that alliteration is cheap?!
I MC'd the proceedings purely by accident. Paul asked me to ask the crowd to move back so Chiquitta has space to perform. Can you guess what happened next? It was impossible to wrest the microphone away from me after just the one public service announcement. Of course I had to do a complete opening spiel.
Chiquitta's rendition of
Love on Top
escalated into frenzied heights of dancing, lip-syncing and head banging with every key change. And there were, like, 78 throughout the song. By the time it ended, I was amazed that Chiquitta's eyelashes were still firmly on. The same couldn't be said about the crystals on her vajazzled hot pants; she squirted them all over the unsuspecting patrons.
Afterwards, Chiquitta and I retreated to a fire exit to tape a new
Sip
webisode.
"Wanna make it worthwhile?" Paul whispered into my ear.
I smiled.
I looked at the glistening, sweaty heathens dancing whilst palming huge coconut and watermelon cocktails - as though Monday were of no consequence.
"Paul," I thought, "it already is."
HONI HONI BAR
A: 3/F Somptueux Central 52 Wellington Street Central, Hong Kong
E: info@honihonibar.com
T: +852 2353 0885