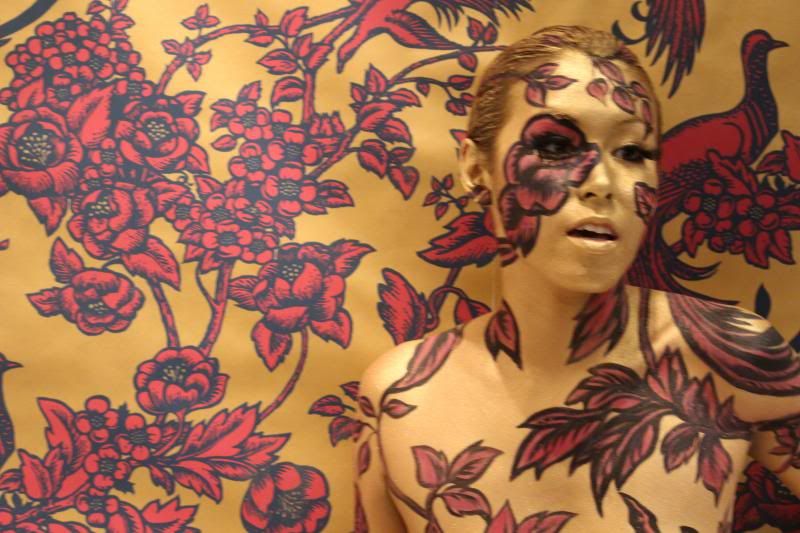 SHE'S ALIVE!
...ISN'T SHE...?
I MEAN, HONESTLY.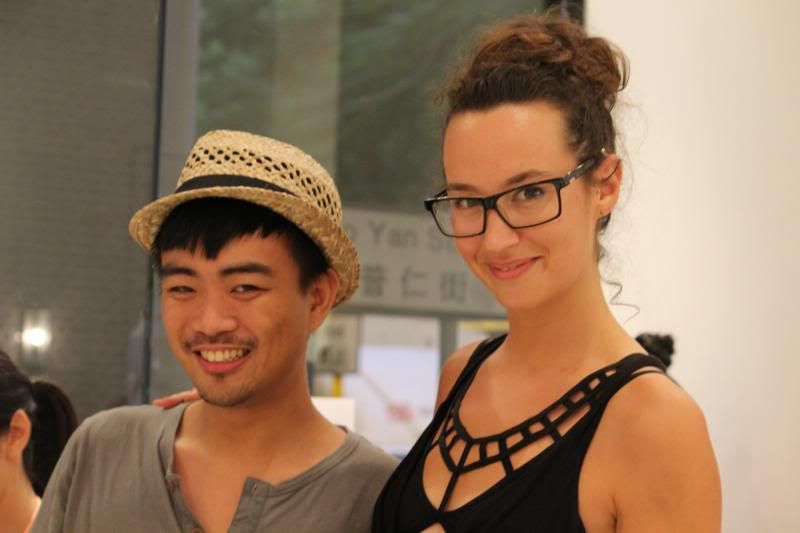 HYPERACTIVE WITH GALLERY MANAGER, TANYA BENNETT
(LOVE HER TOP; MAKES ME WANNA BE A SPIDER IN MY NEXT LIFE.)
One of the things I love about living in Sheung Wan is its proximity to cool places that have cool people inside them, who do cool things. On the one end you've got Natalie Leung and the achingly hip
SQUARE STREET
design collective; on the other end there's Max Poelnitz and the hobolicious
PoHo Bazaar
hippies.
I was on my way home tonight when I saw henna tattoo artist, Sara Mush, waving excitedly at me from inside Cat Street Gallery.
"Thanks for voting," Sara enthused, "I won The Big Henna Contest!!!" The competition was organized by California-based Siren Song Productions as part of a campaign for the 203 Henna Intensive & Retreat in Wrightwood.
"AWESOME!!!" I gushed back. Sara works her butt off, promoting henna art in Hong Kong. She networks like crazy, seems to be at every event I attend, and is a tireless promoter on social media. A nu-age henna warrior princess!
There were a couple of girls hovering over Sara, so I thought I'd give them a chance to jump in - when I thought I saw one of the sculptures move... I moved closer - and I saw, it was a waif, painted completely in gold. All that gilded gold-ness instantly brought back visions of the Prometheus sculpture at Rockefeller Center, but this one is trompe l'oeil personified - literally!!! I mean, it's a
person
- a waif! My mind was reeling every which way as I stared aghast at the girl... What if she needed to pee?
"Work started on her at 11am," a leggy brunette behind me shared. "And we have just finished." It was 7pm.
"James," I thrust my right hand out. "I wouldn't have had the patience to sit for as long as she did. I'd die of boredom. Did you do her?"
"Tanya," she shook my hand. "No, I didn't do her; she did," Tanya gestured to a woman surrounded by well-wishers. "I manage the gallery."
"Wow," I whistled, "I just gotta have a photo..."
I was as fascinated with the work of art as I was with the gallery manager who, with her gorgeous curls and open visage, looked like a Botticelli.
EMMA HACK TROMPE L'OEIL
August 29 - September 22
Cat Street Gallery
222 Hollywood Road
Hong Kong