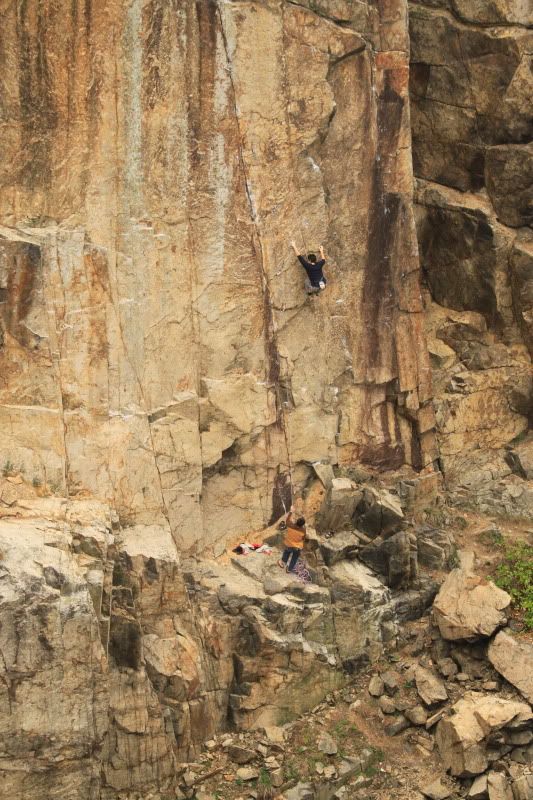 THAT'S ONE BRAVE GIRL.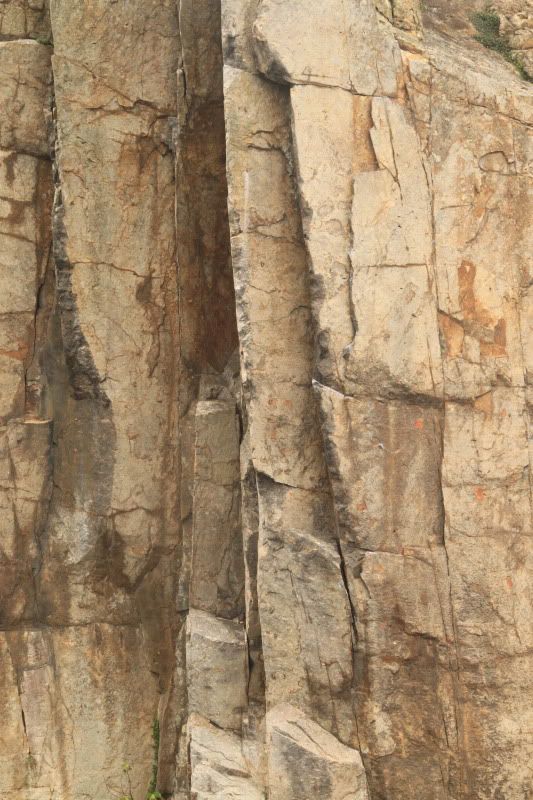 RAZOR SHARP CLIFFS, SHUDDER.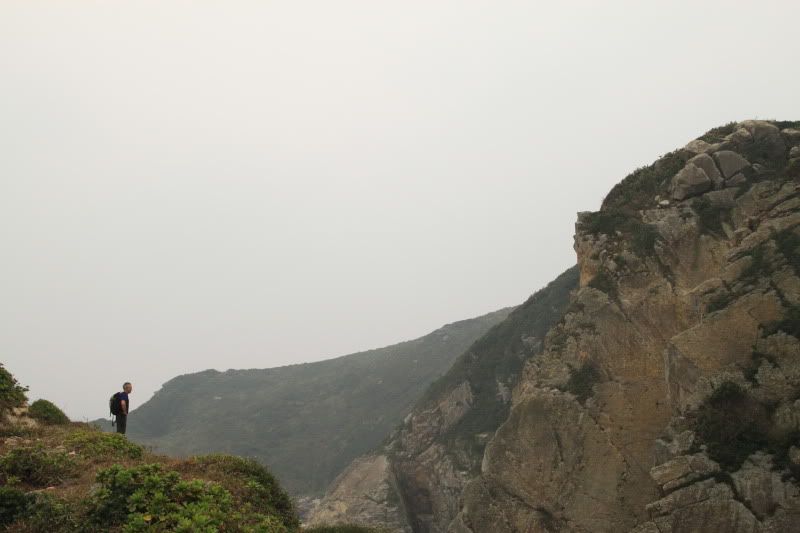 I STAYED A SAFE DISTANCE FROM CHRIS BECAUSE LET'S FACE IT,
I'M NOT EXACTLY LOOKING FORWARD TO LOOKING DOWN AT HOW MY HYPERACTIVE LIFE MIGHT END.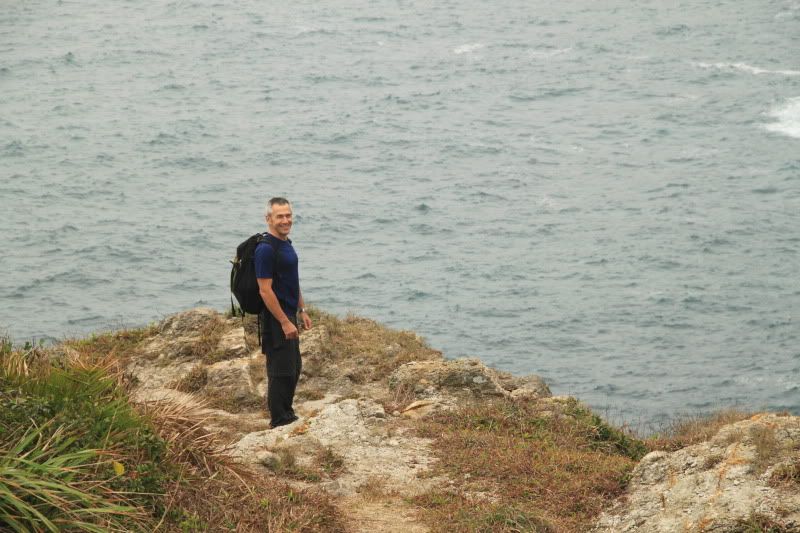 CHRIS LOOKS HAPPY ENOUGH FOR BOTH OF US, SO THAT'S GOOD.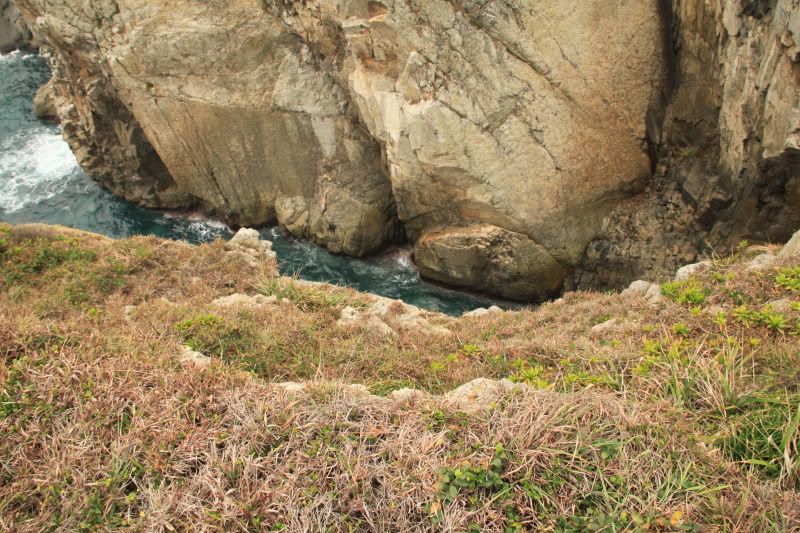 YOU COULD VERY WELL PLUNGE TO YOUR DEATH AND IT MIGHT TAKE WEEKS -
MAYBE MONTHS, MAYBE NEVER - UNTIL SOMEONE FINDS OUT.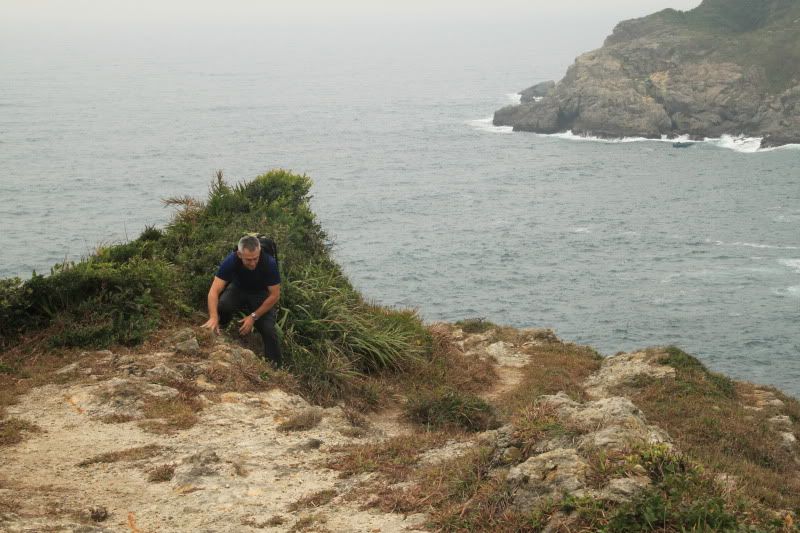 CHRIS GINGERLY MAKES HIS WAY BACK UP.
Normally, I wouldn't pay money to scare myself shitless. I hate haunted houses, I hate horror movies, I hate Halloween, I hate shirtless Justin Bieber pics.
Cliffs are scary.
Not to mention, deadly.
The cliffs of Tung Lung Chau are even more scary because hundreds of feet below are sharp rocks surrounded by roiling waters. I'm quite certain that, should you fall, you will die. If by some miracle you survive, the angry currents will hurl your hapless body against the jagged rocks within seconds. You are nothing more than a rag doll - helpless against nature's awesome fury.
It's a small wonder I was able to take these photos at all, considering I had to have one (shaky) hand on a heavy camera and the other hand tightly coiled for dear life around a tree. Of course I was paranoid that a freakishly strong wind would blow all 180lbs of me over the edge of the cliff.
Unlike Tung Lung Fort which didn't make much of an impression on me, I was properly impressed by a lady scaling an overhanging cliff. The cliff wasn't even inclined, or vertical. It was... just the opposite of inclined. Which means it's 48 times more dangerous.
I wanted to clap and cheer her on, but I was fearful she might get distracted, lose her footing an therefore die. So I just quietly walked away and hopped on back to the safety of the trail.