HK PR NETWORK & LES PECHES' CO-FOUNDER, PINK ALLIANCE CENTRAL COMMITTEE'S BETTY GRISONI
LGBT QUEEN BEE

(WITH GEORGE THE CRUSADER)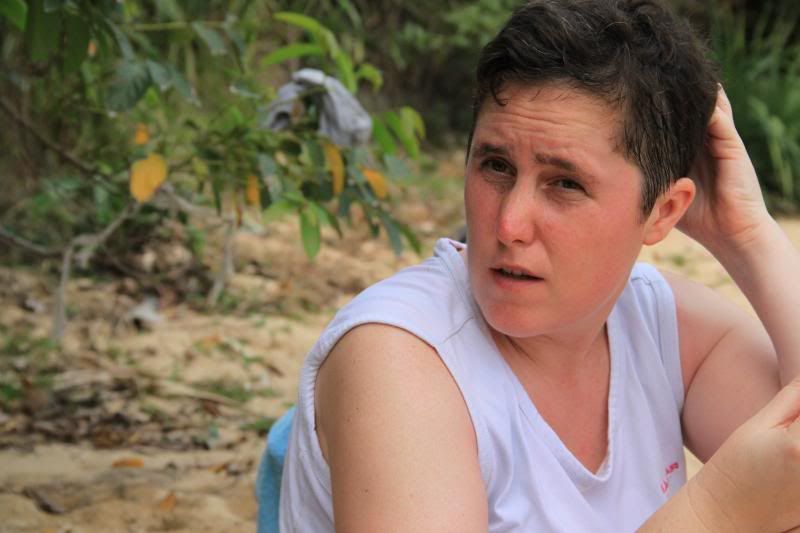 DESIGNER, LADYLIT PUBLISHER & GAY DAYS ASIA'S CAROLINE MANCHOULAS
AKA 'QUEENIE'
"Gays are the world's most evolved creatures," my trainer, Bridge, purred. "We exist purely for pleasure."
"Mmm," I concurred, breathing into a stretch. "We do love beautiful things... pretty people, art, fashion, design, travel..."
"We're at a different level than everyone else, though," Bridge frowned slightly, pulling my hands further back and pressing my shoulders down. "We seek to pleasure ourselves
only
. On the other end of the continuum, there are the lesbians..."
"...who value sacrifice and pain and selflessness," I finished. "That's 'coz they're women," I reasoned. "They've all got a motherhood instinct that's magnified especially when they don't have kids. They just mother everything else."
I can't claim to be a Lesbian Expert, although I have claimed many times to be a closeted lesbian. I love them. The way they smell. The way plain talk masks their surprisingly sweet demeanor. The way they're shockingly perfect hostesses, they'd put Martha Stewart to shame.
Last Saturday, I overdosed on lesbian love. It started at Roddy's, with a birthday dinner for Caro. The pungent aroma of cheeses wafted into my nostrils as I knocked on the door. Caro and her wife, Lore, had just returned from a rainbow tour of key cities in the United States' west coast.
"LA was so fake," Lore grimaced. "People were happy and energetic all the time, it made me sick! I suddenly missed Hong Kong. Here, people are rude and grumpy - just like in Belgium!"
I first met Caro and Lore at the 2010 Mr Gay HK Grand Finale. They had just moved to Hong Kong. I can't any more remember the exact circumstances, but I think Caro might have even zipped immediately to the pageant as soon as she got off of a plane... The girls have since entrenched themselves onto the scene, most notably as co-founders of
LadyLit
- a publishing house that specializes in lesbian erotica.
My partner, Chris, has always been better friends with the girls who, for the most part, have been surrounded by an impenetrable phalanx of gay men collectively known as The Dames: Judy, Helen, Maggie. In this nuclear family, Lore was nicknamed Jason (after the guy who recorded
Especially for You
with Kylie Minogue). Caro was called Queenie - the group's proverbial curtsy, I'm guessing, to the their unofficial, unelected monarch. There's a highly nuanced network of relationships at play that, in my constantly Hyperactive state, I've failed to understand. I've always felt inadequate and unfocused and stupid next to such intelligent people. Nevertheless the girls and the dames have been nothing but kind to me, especially whenever they'd hear that Chris is away on a work trip.
"Join us for Caro's birthday dinner at Roddy's on Saturday," Johan invited me on Whatsapp. "I'm making roast spring chicken!"
Eight beautiful, golden birds marched smartly out of Roddy's oven. My mouth instantly watered.
"Virgins," Johan promised. "None have ever laid a single egg."
I dug my fingers into the flesh, my teeth ravenously ripping crisp skin and succulent meat apart. Within minutes, I had nothing on my plate but a pile of dry bones. My mouth quivered with exquisite pleasure.
It was a feast fit for a queen.
In stark contrast, Betty's birthday party at LINQ was akin to a street carnival. Betty, co-founder of Les Peches and an all-around picture of PR perfection (just ask the HK PR Network regulars), presided over festivities that had the hoi polloi virtually bathing in champagne down the historic Pottinger steps.
Betty's wife, Abby, came along with dense slices of cake. I grabbed a piece and immediately plunged my face into its irresistible deliciousness. I slathered thick coats of icing down my bare chest, all too aware of the flurry flashbulbs popping to capture my antics.
Hedonism was everywhere.
If this is what selflessness, pain and sacrifice is all about, sign me up.
God Save the Queens!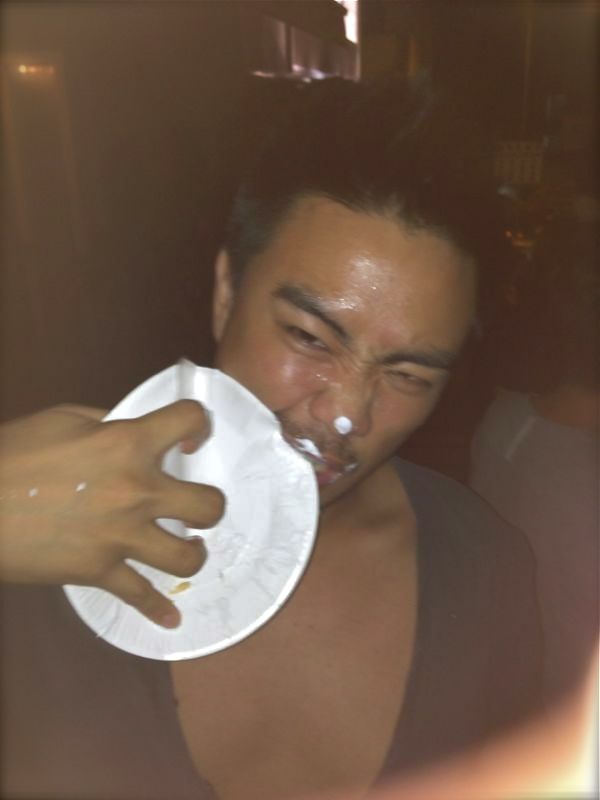 // THE HYPERACTIVE GAY BOY™ //